Are you looking to catch some of the most popular reality shows, soap operas, or a vast collection of British dramas? Provided you're in the UK, ITVX is your best bet.
It offers top shows such as Love Island and The Only Way Is Essex, as well as the world's longest-running soap opera, Coronation Street. In addition, it provides extensive regional and local news updates and an array of sports events.
The best thing about ITVX is its ad-supported tier. It gives users free, unlimited access to over 10,000 hours of on-demand content, including thousands of box sets, a growing catalogue of blockbuster films, early access to ITV originals, and ITV's traditional linear and themed streaming channels. And with ITVX Premium comes thousands more hours of acclaimed shows and box sets from BritBox.
Since its launch and the discontinuation of ITV Hub, ITVX has rolled out for various devices, including smart TVs. "But how do I get ITVX on my TV?" you may ask. Luckily, we have the answer.
How Do I Get ITVX on My TV?
Whether you have an Android TV, Apple TV, Fire TV, Roku, Samsung or LG Smart TV, or using a BT, Sky, or Virgin set-top box or another streaming device, keep reading to learn how to get ITVX on your big screen.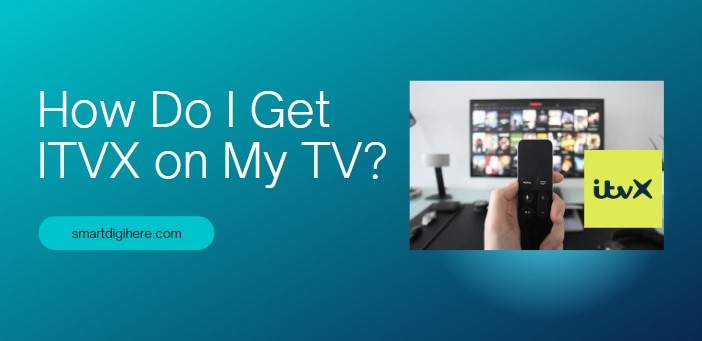 How Do I Get ITVX on My Android TV?
Whether you have a compatible smart TV or streaming player powered by Google's Android TV OS, ITVX should be available to use. Chances are you already have it, and all you have to do is navigate to the Apps tab from the Home screen, find and launch ITVX, and sign in.
It's unlikely that some of you have the older ITV Hub app on your Android TV. Still, if that's the case, visit the Play Store, navigate to My Apps, find ITVX under the "Updates available" section, and click Update. Also, enable the "Auto-update apps" option. That way, you never have to worry about manually updating ITVX each time there's a new version.
If you don't have ITVX installed, use these steps:
Head to the Apps menu from your Android TV Home. You can press and hold your remote's Home button to quickly access it.
Launch Google Play Store, then use the Search (magnifying glass) function to find the "ITVX" app.
Click Install on the ITVX app preview screen. It shouldn't take more than a minute or two (provided you have high-speed internet).
To find and open ITVX, scroll to the bottom of your "Installed apps" row and click the app icon. For more elaborate details about your particular Android TV model, check out our following guides:
The Chromecast with Google TV dongle and Google TV-powered smart TVs are essentially Android TV under different branding and slightly altered UI. Getting ITVX is easier as you can use your voice to search for the app and download it. Check out our ITVX on Chromecast with Google TV guide for further instructions.
How Do I Get ITVX on My Apple TV?
If you have an Apple TV HD (4th Gen, 2015 model) or Apple TV 4K box running tvOS 12.2 or newer, here's how you can get the ITVX app:
Use your Siri Remote to navigate to App Store from your Apple TV Home Screen.
Select the Search (magnifying glass) option at the very right of the top pane, type "ITVX", and choose the matching app in the results.
It should also be easy to find the ITVX app on the Discover page under the "Start Streaming Now" section.
On the app information screen, click Get and confirm once more.
If you have another Apple device (g., iPhone, iPad, Apple Watch) on the same iCloud account, you may need to approve the download by confirming the notification.
That's it! Click the remote's Menu button a few times to return to your Apple TV Home screen, and then scroll to the bottom to find and open the ITVX app. Learn more about ITVX on Apple TV by following our dedicated guide.
It's worth noting that ITVX is yet to implement AirPlay support, so you won't be able to cast your favourite ITV programmes from your iPhone, iPad, or Mac to your Apple TV (or Smart TVs with AirPlay 2) just yet.
How Do I Get ITVX on My Fire TV?
Amazon's Fire TV devices, particularly the Fire TV Stick, are some of the most popular streaming media devices. So it doesn't come as a surprise that ITV supports the platform. Use the following steps to download the ITVX streaming app:
Go to the Find tab from your Fire TV Home menu and click the Search.
Search for "ITVX" using the voice search functionality or the on-screen keyboard, then select the matching app under the "Apps & Games" results.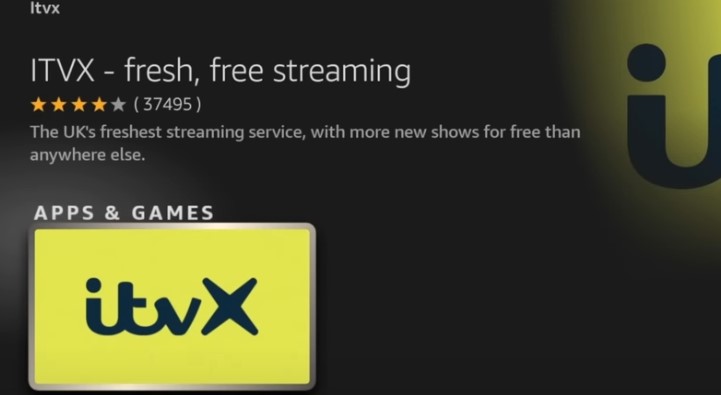 Click Get or Download on the Appstore page for the ITVX app.
Once the installation completes, you'll find ITVX at the bottom of your Fire TV Home > Your Apps & Channels menu and launch the app.
We recommend checking out our ITVX on Firestick guide for more detailed instructions on installation and activation. The following steps apply to other Fire TV devices, including the Fire TV Edition Smart TVs.
How Do I Get ITVX on My Roku?
Whether you have a Roku Express, Roku Streaming Stick, Roku Streambar, or a Roku-powered Smart TV from Hisense or TCL – the ITVX Roku channel got you covered. You can catch up with the latest episodes of your favourite ITV shows, binge new weekly series drops, tune in to the live channels, and more.
On Roku TVs with Freeview Play built-in, there's a dedicated "Freeview Play" section on the Home screen where you can find and open ITVX. However, you may need to add the app separately on the external streaming players (running v11.0.2 firmware or later).
Scroll down the Roku Home screen and select the Streaming Channels
Head to the Search Channels bar and enter "ITVX". Then pick the app from the results.
Click the Add Channel button in the following app description menu.
Verify your Roku PIN to continue, assuming you have it set up.
You'll be able to open ITVX from your apps list on the Roku Home screen. For detailed steps on how to sign in and what to watch, be sure to give our ITVX on Roku guide a look.
Are you still using one of those Roku-powered NOW Smart Stick / Box streaming media devices? Well, you're in luck! We have a separate guide covering it.
Get ITVX on Other Smart TVs & TV Platforms
Besides Android TV, Apple TV, Fire TV, and Roku, ITVX is available on a wide variety of smart TVs and internet-enabled TV platforms.
For instance, if you have an LG telly from 2016 or later running webOS 3.0 or newer, you can download ITVX from the LG Content Store and get the complete streaming experience. Our ITVX on LG Smart TV will tell you more. Similarly, if you have a Tizen-powered Samsung TV model dating from 2016 onwards, you'll find our ITVX on Samsung Smart TV guide helpful.
You can access ITVX on Sky's TV devices, including the Sky Glass and Sky Stream, with support for Sky Q expected to be coming very soon. Furthermore, Virgin Media subscribers with a TiVo V6, Virgin TV 360, or Stream box can also access ITVX at no additional cost. You'll find more details in our post about ITVX on Virgin TV. The same goes for the BT TV Box Mini and Pro and TalkTalk TV Hub devices.
Select Smart TVs, set-top boxes, and DVRs with built-in Freesat and Freeview Play also has the ITVX app. Assuming it's on your home internet, go to the Home > On Demand menu on your Freesat device or tune into Channel 100 on your Freeview Play, where you should find ITV's streamer app. Our in-depth articles regarding ITVX on Freesat and Freeview should give you an idea of what devices are and aren't supported.
With that said, whichever smart TV or streaming device you own, signing into the ITVX app is the same process. You open the app, go to Settings, click Sign in, and then continue the login process on another device, which typically involves visiting itv.com/pair, typing in the valid account credentials, and confirming a TV code shown in the app.
Enjoy ITVX on Your Big Screen!
ITVX has replaced ITV Hub and is now the new home to thousands of hours of free content, packed with original shows and exclusives in the coming months. The on-demand streaming library is replete with dramas, documentaries, American series, comedy, reality, thriller shows, hit movies, and much, much more.
ITV's streaming app is available for a multitude of Smart TV platforms and streaming devices, and we've introduced you to them through this guide. It's free to download and watch, but if you want, you can get the Premium subscription for an ad-free experience alongside access to the BritBox content. For those wondering, it's on the Xbox One and Series consoles too.
If your TV is too old to support ITVX or lacks "smart" capabilities, buying one of the compatible streaming devices (e.g., Chromecast, Fire TV Stick, Roku Express) mentioned above is a good idea. Alternatively, connect your computer or laptop to your TV's HDMI port and visit itv.com from a web browser to enjoy streaming your favourite ITV programming.