The following tutorial will show you how to activate and watch ITVX on Sharp Smart TV.
ITVX is ITV's new solution for on-demand and catch-up TV streaming and is a replacement for the older ITV Hub platform. Users can access it from their phones, tablets, computer browsers, smart TVs, set-top boxes, and streaming media players.
In fact, ITV is making 10,000+ hours of shows, movies, limited series, documentaries, and complete box sets available for free on its new streaming platform – and a couple thousand more if you get the Premium subscription, which now includes Britbox content.
Along with weekly streaming-exclusive premieres and a rotating catalogue of themed live channels, there's a lot to go for ITVX.
You've probably already seen or heard all this on TV or the internet. The real reason why you're here is to know whether ITV's brand-new streaming platform is accessible on your Sharp telly set.
The good news is that if you could previously access ITV Hub on your Sharp Smart TV model, chances are it's compatible with ITVX too. Learn more about ITVX on Sharp Smart TV below.
Watch ITVX on Sharp Android TV
If you've purchased a Smart TV from Sharp in recent years, the odds of it running on Google's Android TV operating system are pretty high.
The easiest way to tell whether your particular TV is an Android TV model is the boot animation when you power it on or the Google Play Store in your apps list.
Every Sharp Android TV distributed in the UK has Freeview Play, ensuring one's access to all the British broadcaster's TV apps, such as All 4, iPlayer, My5, and UKTV Play. Like its previous counterpart, ITVX continues to be a part of Freeview's OTT platform.
If you used the ITV Hub app to catch up with the latest episodes of your favourite programmes on your TV before, the Play Store should auto-download the ITVX update and install it over the older app when you're not using your TV.
However, some of you might have never used ITV Hub or received the update yet. If you're one of them, check out the step-by-step instructions below to install or update ITVX on Sharp Android TV.
First, head to the Apps tab on your Android TV Home screen.
Or, press and hold the Home button on your Sharp Android TV remote to open the Apps.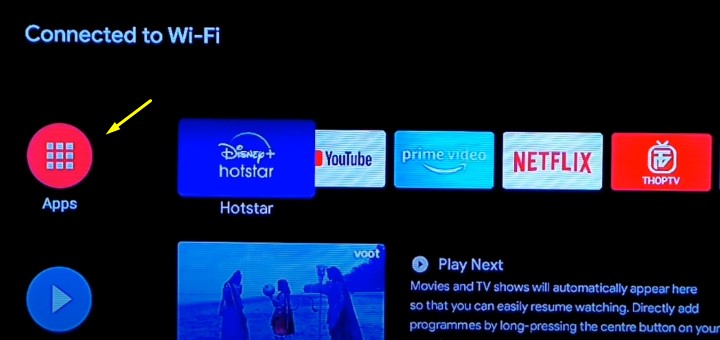 Find and launch the Play Store from your apps list. You may also click where it says "Get more apps" or "Open the Google Play store" in the menu.
Navigate to the Play Store's Search menu and use the on-screen keyboard or your voice (click the Mic icon) to find the "ITVX" app.
When you land on the ITVX app description page in the Play Store, hit the Install or Update.
Installation should take only a minute or so. You can click Open to launch ITVX on Sharp Smart TV or return to your Home screen > Apps menu to access it. Alternatively, tune into Channel 100 on your TV to access the Freeview Play interface.
You can pin the following streaming app to your Home screen by highlighting it in the Apps menu, holding the Enter or OK button on the remote, and clicking "Add to Favourites" in the pop-up options panel. After that, you can launch ITVX from your Android TV Home screen's top "Favourite apps" row.
You might also want to know: How to Get ITVX on Google TV
Alternate Method to Install ITVX on Sharp Android TV
Those who own an Android phone or tablet linked to the same Google account as their Sharp Android TV can remotely install the ITVX app on their TV via the Play Store mobile app. The entire procedure will take you less than a minute.
On your Android phone or tablet, open the Play Store, type "ITVX" in the search bar above, and choose the app (with the stylised ITVX logo) in the results.
On the following app info page, tap the down-arrow icon next to the "Install" button, select your Sharp Android TV model, and tap Install. If your Sharp TV is powered on and connected to your home Wi-Fi or Ethernet, it'll immediately start downloading ITV's new streamer app.
Don't have an Android phone or tablet? Go to play.google.com from your iPhone, iPad, or computer browser, and log into the same Google account as your Android-powered Sharp TV, after which you can follow the above procedure for remote installation.
Use the Cast Feature in the ITVX Mobile App / Website
ITV has implemented the "Cast" functionality in the ITVX mobile app (Android/iOS) and website to allow viewers to continue watching their favourite shows and channels from a smaller screen to a bigger one seamlessly. Nearly every Sharp Android TV has built-in Chromecast, meaning you can also leverage this feature.
Casting an episode, film, or channel from the ITVX mobile app or website is straightforward.
Simply pick and play the content you want to watch on your device, tap or click the Cast icon in the player, and choose your Sharp Android TV model.
You can use the in-app or player controls to pause, skip, rewind, and even adjust the TV volume without touching the remote. If you don't see your TV in the "Cast" menu, make sure your source device and Sharp TV are on the same local network and try again.
Recommended reading:  Install ITVX on JVC TV
Get ITVX on Sharp Aquos Net+ TV
If you have a Sharp TV that features smart apps but doesn't offer the same Android TV user interface, it's probably running on the company's proprietary Aquos NET+ platform.
However, despite their rudimentary functionality and limited app library, Sharp's Aquos NET+ TVs have Freeview Play support. And they come preloaded with all the necessary UK catch-up TV and paid streaming apps.
Provided your Aquos NET+ TV has access to the internet, you'll be able to access ITVX from the Apps carousel or the Freeview Play menu (Channel 100). If the TV initially came with the ITV Hub app loaded, it'll automatically fetch the ITVX app update and install it. You won't need to do it manually.
Unfortunately, if you have a 2016, 2017, or 2018 Freeview Play-certified Sharp Aquos Net+ TV model, it'll neither receive the ITVX update nor no longer allow you to use the older ITV Hub app. The news comes from Freeview's recent blog post, which counterintuitively lists the affected Sharp TVs by their mainboard part names, e.g., UMC MSD6486, UMC MS6586, and UMC 6486X.
Related Posts:
How to Activate ITVX on Sharp Smart TV?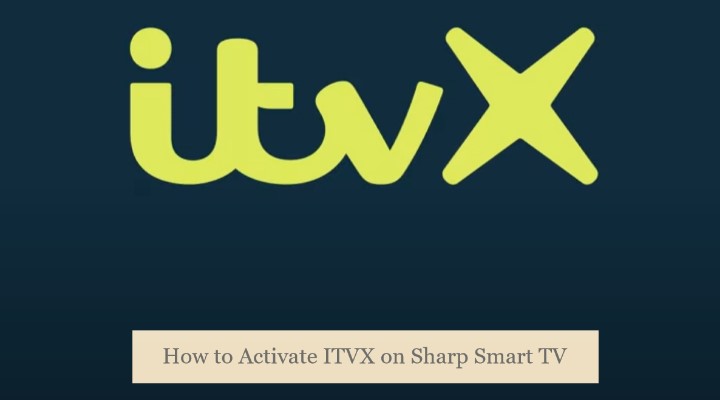 To get the most out of ITVX, you must sign in to the app or activate it on your Sharp TV with an ITV account. Fortunately, you can register for an ITV account for free and set it up in a matter of a few minutes. The process goes as follows:
Go to the Account section of the itv.com website and select Register Now.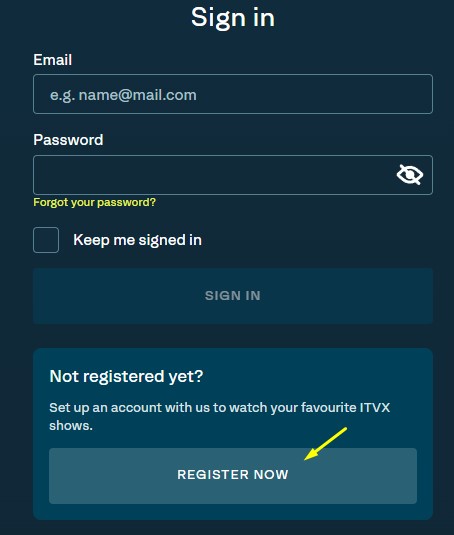 Create your login details by entering your email address and password.
Submit your valid personal information, i.e., name, date of birth, postcode, etc.
Search in your inbox or junk folder (for the email address you provided) for a verification mail from hello@itv.com.
Open the mail and click "Verify your email now" to verify your ITV profile.
Once you decide whether you want to continue with the free, ad-funded plan or subscribe to the Premium tier, follow these steps to activate ITVX on Sharp TV:
Launch the ITVX app on your compatible Sharp Android or Aquos NET+ TV.
Press the left-arrow navigation button on the remote to expand the ITVX app's side menu, then navigate to Settings (cog icon).
Click "Sign in", then continue with the "Sign in on another device" option. A pairing code will appear on your TV screen.
There's nothing wrong with the other sign-in method, but most of you will find it difficult to type in your login details using the on-screen keyboard.
On another device, log in with your ITV account on www.itv.com/watch/pair if you haven't already, then enter the respective pairing code and click Continue.
Congrats! You may now select your preferred ITV profile in the ITVX app and start streaming from the vast on-demand content library and live channels on your Sharp TV.
At the time of writing, ITVX's live TV feature is available on Android TV but not on Freeview Play devices. So if you have a Sharp Aquos Net+ Smart TV, you can tune into the live ITV channels only over Freeview aerial for now.
Conclusion
And this is where we conclude this guide to ITVX on Sharp Smart TV. ITV's latest streaming service promises an impressive catalogue of upcoming originals to be excited for, so it'd be immensely frustrating if you can't access all that content on your big screen.
Hopefully, with the help of the information we've provided above, you should be able to enjoy ITVX's offerings on your eligible Sharp Smart TV.