ITVX, ITV's new and revamped on-demand and catch-up video platform, is already shaping up to be one of the UK's most content-rich streamer apps. It offers an enormous collection (over 10,000 hours) of homegrown dramas, soaps, comedies, thrillers, and complete British box sets produced by ITV and its partner content providers.
So the broadcaster's deafening silence regarding ITVX's availability on the PlayStation consoles comes as tremendously disappointing to PS4 users – the fact that there's no native ITVX app announced for Sony's video game consoles yet.
Like its predecessor, ITVX allows users to stream ITV's linear TV and rotating themed channels, as well as live news and sports, meaning ITV's new streaming app is a must-have for tuning into ITV's FIFA World Cup Qatar 2022 coverage in the UK.
However, at the time of writing, for those using a last-gen PlayStation console as their primary streaming media device, ITVX on PS4 remains unavailable.
What's even more frustrating is that other UK broadcasters like BBC, Channel 4, and Channel 5 has made their catch-up apps, e.g., iPlayer, All 4, and My5, available natively on the PlayStation Store. Not to mention, streaming giants such as Netflix, Disney+, and Prime Video support the PlayStation consoles.
So the real conundrum is: What's exactly stopping ITV from putting ITVX on PS4? Continue reading as we discuss the broadcaster's mysterious reluctance towards Sony's home entertainment systems and more.
ITVX on PS4: Reasons behind ITVX's Unavailability on PS4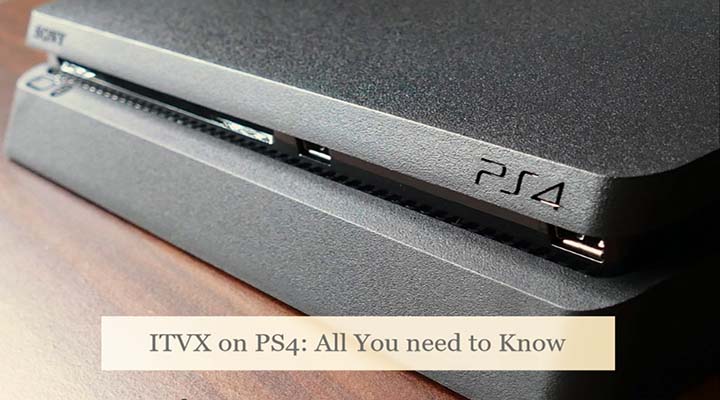 We can't think of any apparent motives behind ITV not making its new video-on-demand service, ITVX, available on the PlayStation 4. After all, ITV's older catch-up app, ITV Hub, was too missing from the PlayStation Store. However, it doesn't stop us from speculating, and our theories about ITVX's unavailability on PS4 aren't probably that far off.
One can speculate that creating a platform-specific native app for an over-the-top streaming service like ITVX from scratch requires specialised development and support teams that have access to the SDK and associated toolchain and plenty of experience building software for the particular platform. It isn't as easy as creating one universal app that magically works on every device or platform and releasing it to the masses.
Especially for an app that the end-user will use to watch and discover live and on-demand streaming content, ITV has to ensure that every version of their ITVX app delivers the same satisfactory quality experience and maintains feature parity. It boils down to the app's interface, navigation, video player, stream quality, stability, security, etc.
As to why Sony's PS4 or even the current-gen PS5 console isn't yet on ITV's radar, unlike Microsoft's Xbox counterparts, the broadcaster probably considers it a low-priority platform for streaming overall, with a target demographic much lower than other platforms.
Of course, for a brand-new streaming service like ITVX to cause a ripple in the UK's already oversaturated market, it has to reach a broad range of digital audiences. And to achieve that, ITV is clearly prioritising app development for high-demand platforms, such as phones, tablets, computer browsers, smart TVs, set-top boxes, and streaming media players.
There can also be other factors in play, including contractual rights, media licences, technical limitations, and development costs. Or, it's simply, as we just mentioned, the fact that the PS4 (and the PS5) is very far back in the ITVX development cycle. If that's the case, ITV will likely remain silent for the time being and update users about ITVX's availability on the PlayStation console when they wish to.
Related: Watch ITVX on Bush Smart TV
Is there any Workaround to Watch ITVX on PS4?
At the time of writing, there isn't any workaround to accessing ITVX on PS4. Even visiting itvx.com from the console's Internet Browser app doesn't work as ITV has implemented the Widevine DRM to its new VOD platform to prevent piracy. Since the PS4 browser lacks Widevine support, that particular type of digital copy protection results causes the live and on-demand streams not to playback and throws an error code.
The only close alternatives to streaming the live ITV channels, catch-ups to your favourite programmes, and some of the ITV-produced box sets on-demand is via the Sky Go and NOW TV app, both of which are available for the PlayStation 4 game console. The caveat is that you'll also have to pay a hefty recurring fee for a membership, whereas with ITVX, most of the content can be enjoyed for free on the ad-supported tier.
Read – ITVX on Sony TV
To Conclude
Over the years, the British TV broadcaster has remained incredulously tight-lipped about ITV Hub's unavailability on PlayStation consoles, and it seems to continue that way with their new flagship streaming service ITVX on PS4 – at least for now.
The best we can do is be vocal about it on social media, start a petition, or send ITV emails to convince them to bring ITVX to Sony's gaming systems. It's possible that they've greenlit a PS-native app already and are keeping it under wraps until the time is right, so all you can do is wait and find out.