Virtual/mixed reality gaming has never been this accessible, thanks to Oculus/Meta's lineup of Quest VR headsets. If you have one of those, you might wonder whether you can use your Oculus Quest with the PS4. After all, the last-gen PlayStation console technically supports PlayStation VR, so some users think it also works with third-party VR headsets. The Quest series works as standalone VR headsets and with Windows PCs. But can you connect Oculus Quest to PS4? We'll answer this question and discuss your options in this guide.
Before we proceed, it's worth noting that Oculus is a part of Meta, Facebook's parent company. The Quest series is now called the Meta Quest. The Quest 2, launched under Oculus' branding, is also retroactively rebranded to Meta Quest 2. Apart from the naming, both are identical in terms of hardware and features.
Can you Connect Oculus Quest to PS4?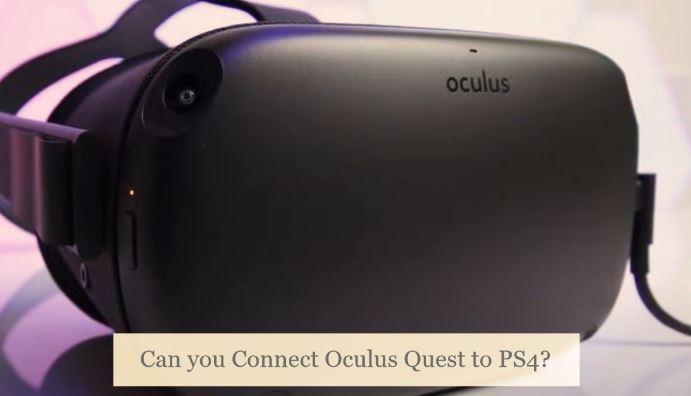 Sadly, the answer is no. The Oculus Quest lineup of headsets is not compatible with the PS4. Even if you plug your Quest into your PlayStation 4's USB port, nothing will happen, as neither the headset nor the console is designed to work with each other in the first place. It applies not only to the original Quest but also to Quest 2 and the new Meta Quest Pro headset.
For obvious reasons, Sony does not want to give PlayStation users the option to use third-party VR devices because of its own PlayStation VR headset, which works with the last generation of PlayStation consoles, PS4 and PS4 Pro, and the PS5.
At the time of writing, Sony has announced the PlayStation VR2 for PS5, with much-needed hardware upgrades and a plethora of first-party VR titles at launch. So if you were wondering if the PlayStation 5 would bring support for the Quest and other third-party VR headsets, the answer remains no.
The Oculus Quest and its subsequent models work as standalone VR headsets. Thus, the headset and the controllers are all you need to start playing VR games. If you have a Quest 2 or the new Quest Pro, you can connect it to a capable PC wired or wirelessly via Quest Link to enjoy PC VR titles.
Are there any workarounds to Connect Oculus Quest to PS4?
The Oculus Quest series is better than PlayStation VR in nearly every aspect. Not only do the headsets integrate capable hardware to run VR games without an external processing unit, but they feature room-scale tracking without needing an external camera or sensors. The controllers are also more ergonomic and allow precise movements in virtual spaces.
The only reason one would wish to connect their Quest to a PlayStation 4 is to play the standard first-party PS4 exclusives on an immersive virtual screen in stationary mode. PS VR titles are out of the question, as they won't even boot without you connecting the PlayStation VR headset to the console.
Although users have discovered a few workarounds to enjoy standard PS4 games on Quest, they're impractical at best and not worth the effort. Still, we'll highlight the notable ones below for those adamant about using the Quest with PS4.
Note that you'll have to connect a DualShock 4 or equivalent PS4 controller connected to your Quest headset or PC, depending on the workaround you choose to follow.
Sideload PS Remote Play via SideQuest
The Oculus/Meta Quest runs on an operating system that's essentially a custom fork of Android. It means you can sideload APKs on your Quest headset as you would on an Android-powered phone, tablet, or TV.
The free-to-download SideQuest app for Windows, Linux, and macOS makes it straightforward to install apps and games on Quest that are otherwise unavailable on the Quest Store. Using SideQuest, you can sideload the PS Remote Play Android app on your VR headset.
Once you log in with your PlayStation Network account, you can connect to your PS4 (or PS5) on the same network and stream your games via the Remote Play app on your Quest. Note the streaming quality is limited to 720p for the PS4 and 1080p for the PS4 Pro and PS5.
You'll also need to pair your DualShock 4 controller to your Quest headset, which you can do from Settings > Devices > Bluetooth.
Also, Read – Best Garmin Connect IQ Apps
Use PS Remote Play (PC) with Virtual Desktop
If you aren't comfortable with sideloading apps on your Quest headset, there's another way you can get PS Remote Play to stream games from your PS4 to your Quest. This method involves installing the Remote Play app on a PC, setting up the app to stream games from PS4, and then using the Virtual Desktop app on your Quest to mirror your PC screen.
However, Virtual Desktop is a paid app on the Quest Store, for which you'll have to pay $20. Of course, the app's functionality extends beyond just mirroring the PC screen, but it isn't worth the premium if you only plan to use it for streaming PS4 games to your Quest, Quest 2, or Quest Pro headset.
Another drawback is that this workaround adds two layers of streaming over the network, resulting in a noticeable input delay. For casual gaming, maybe it wouldn't be a big issue. However, games that require faster and tighter movements are bound to feel terrible.
Using a capture card to transmit PS4's video output to your PC should reduce the latency, but good luck finding a decent capture card for cheap.
Related – Fix Oculus Quest 2 not Casting Issue
Conclusion
There is no official compatibility between the Quest headsets and PlayStation 4 console, so you can't connect Oculus Quest to PS4 to play the PS VR titles.
While this guide highlights two workarounds to using the Quest with Sony's console, they aren't practical and definitely not worth the hassle and expenses. You can try them regardless, but there are hardly any advantages to doing so.
Instead, you're better off playing VR games built for the Quest (e.g., Resident Evil 4 VR, The Climb, Vader Immortal)  or linking it to a compatible PC to enjoy the massive catalog of PC VR titles (e.g., Half-Life: Alyx, No Man's Sky, Pavlov VR, Hitman 3, and more). If you're interested in playing PS VR titles on your PS4, get the PlayStation VR headset.