Virtual/augmented reality was a pipe dream to most people even a few years ago. The Meta Quest 2, developed by Oculus, has permanently disrupted the VR market for the better, making immersive experiences in virtual worlds available to the masses at a reasonable price.
While the Quest 2 has speakers built-in, they're far from optimal for total immersion. Sure, you could plug in any 3.5mm or USB-C headphones, but most headphones' cables are so long that they're bound to dangle from the VR headset, which can quickly get annoying.
You may wonder, "What about Bluetooth headphones, then?" Meta doesn't specify Bluetooth audio for the Quest 2, after all. However, you can continue following this guide to learn further about the VR headset's wireless audio support and know how to connect Bluetooth headphones with Meta Quest 2.
Does the Meta Quest 2 Support Bluetooth Headphones?
If you go to Meta's support page on what headphones you can use with Quest 2, you'll see no mentions of compatibility with Bluetooth audio devices. Meta officially states that its headset works with only 3.5mm and USB-C headphones, but that doesn't tell the whole story.
The company is actively working on new features for its existing lineup of VR headsets, some of which often end up early in the development phase in the "Experimental Features" section of the Quest Settings for users to test out and provide helpful feedback.
One such functionality is "Bluetooth Pairing," which initially popped up as an experimental feature for the headset in 2020. However, with the V38 stable firmware update that Oculus pushed to the Quest 2 back in March 2022, the option has silently moved to the primary Settings menu, meaning it's ready to use for the general public. Users can finally pair their headsets with Bluetooth headphones/in-ears.
So even though the Meta Quest 2 doesn't "officially" support Bluetooth audio devices, it's now possible to connect the VR headset to wireless headphones and earbuds. Check out the below section for more details.
How to Connect Bluetooth Headphones to Meta Quest 2?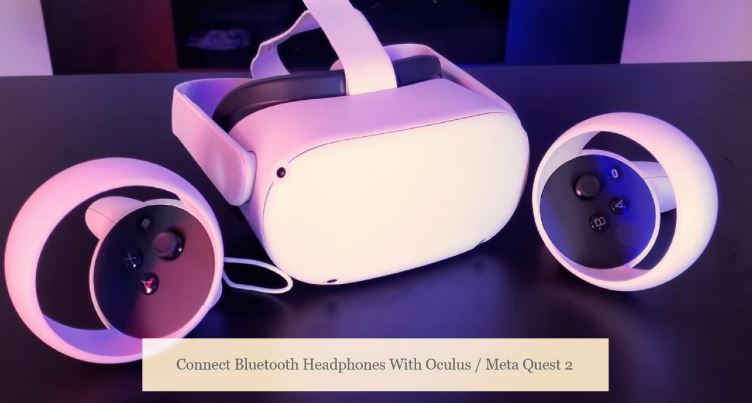 Pairing Bluetooth headphones with the Oculus Quest 2 is a straightforward process now that the option no longer hides behind the "Experimental" menu. Here's what you have to do:
On your Quest's universal menu, hover over the Quick Settings title and click it.
In the control panel that appears, highlight and click the Settings option in the top-right corner.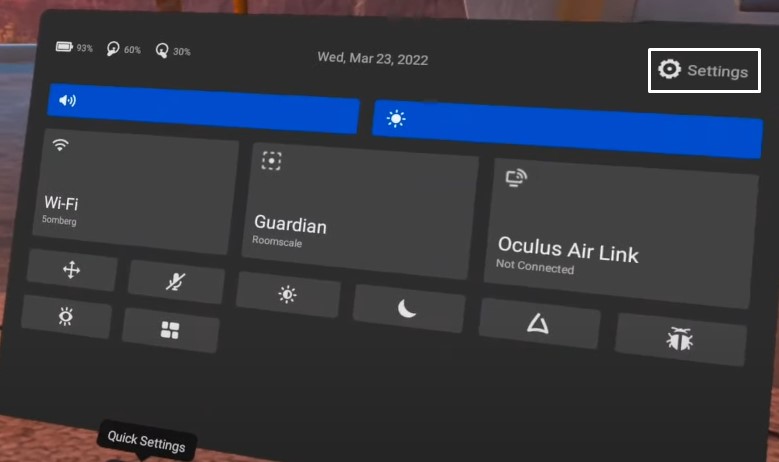 Next, find the Devices tile in the Settings menu and select it. It should land you right on the Bluetooth menu.
In the Bluetooth menu, select the Pair button next to "Bluetooth Pairing."

Now put your Bluetooth headphones or wireless earbuds in pairing mode. If you don't know how to do that, refer to your headphones' instructions manual.
On your Quest 2, select "Pair new device" and wait for your Bluetooth headphones to appear below "Available devices."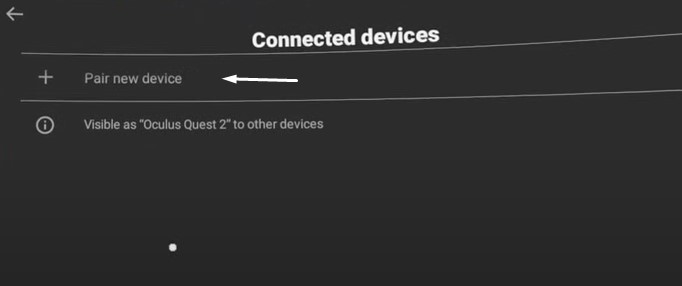 Once it shows up, choose your headphones' name from the list. The screen should go black for a second, then prompt you to pair. Click the Pair button to continue.
And that's it! You can now use your Bluetooth headphones or earbuds with your Meta Quest 2 to play games, watch movies, and do whatever else you do on your headset.
How To Use Bluetooth Headphones With Oculus Quest 2 (Step-by-Step Video Guide)
Drawbacks of Using Bluetooth Headphones with Meta Quest 2
The most notable drawback of using Bluetooth headphones with the Quest 2 headset is the audio latency. It isn't inherently a Quest 2 issue, mind you. Bluetooth isn't just optimized for low-latency wireless connections in the first place.
In the worst-case scenarios, pairing Bluetooth headphones/in-ears to the Meta Quest 2 adds roughly between 300 to 700 milliseconds of audio latency, resulting in the gameplay and audio being out of sync. It not only breaks the immersion when playing rhythm games like Beat Saber but also leaves you feeling disoriented.
For media consumption, the added latency may not be that noticeable. However, some may find the occasional lip-sync issues in movies and videos jarring. External interference can cause the Bluetooth signals to drop, which results in audio dropouts.
And for unknown reasons, some VR games don't seem to play well with Bluetooth headphones, causing in-game frame drops, terrible audio lag, and crashes. This issue is persistent even on the latest Quest firmware, according to several user reports.
Reduce Bluetooth Audio Lag on Meta Quest 2
The Creative BT-W3 is a USB-C Bluetooth audio transmitter that you can use with your Meta Quest 2 to reduce audio latency when using Bluetooth headphones or earbuds. It works with all Bluetooth headphones but offers the best experience with models that support the aptX LL or aptX HD codec.
The USB-C transmitter is a plug-and-play device and doesn't require you to install any app on your Quest 2. All you have to do is plug the dongle into your Quest 2's Type-C USB port and press the button on the dongle while your headphones are in pairing mode. Once paired, you can enjoy a nearly lag-free audio experience when using your wireless headphones with the Meta Quest 2.
If you're looking for the best pair of wireless earbuds for your Quest 2, check out the Soundcore VR P10 Anker recently introduced.
These "Made for Meta" TWS earbuds offer dual connectivity, which is rare for this breed of audio devices. You can use them in regular-old Bluetooth mode or in 2.4 GHz "LightningSync" mode that utilizes a tiny USB-C transmitter Anker cleverly tucks inside the charging case.
The Soundcore VR P10 uses the LC3 lossless protocol that significantly reduces Bluetooth latency to less than 100 ms at the cost of slightly compressed audio fidelity across compatible Bluetooth 5.0 connections. However, when using the earbuds in 2.4 GHz mode, the latency is brought down to single digits in best-case scenarios.
The Type-C USB dongle has an angled plug, so it sits flush and doesn't stick out from the Quest 2 like a sore thumb. It also has a passthrough USB-C port to let users charge the Quest 2 while the transmitter is still connected. The buds offer up a six-hour playtime on a single charge and up to 24 hours with the charging case.
Finishing Up
That brings us to the end of this guide, in which we've discussed the state of Bluetooth audio support on the Meta Quest 2 and shown you how to pair Bluetooth headphones with the VR headset.
A cord dangling around your face as you make agile movements in VR while slicing blocks in Beat Saber, dodging bullets in Superhot, or breaking a sweat in Supernatural can pull you out of the immersion. Connecting a pair of wireless headphones/earbuds can alleviate the problem, albeit with some limitations. Lucky for you, we've also offered ways to reduce Bluetooth audio lag on the Quest 2 in this guide.