Your favourite ITV shows have a new streaming home, as the broadcaster has finished transitioning to ITVX from its older catch-up app, ITV Hub. It's already available for phones, tablets, web browsers, and a good deal of smart TVs, streaming boxes, and even the Xbox game consoles. But is ITVX on PS5 out yet?
Compared to the latter, ITVX gives users the freedom to pick from a sizeable catalogue of ITV-produced content, including some of the best British dramas, comedies, mysteries, reality, and lifestyle shows, as well as thousands of box sets from the biggest commercial TV networks in the country. Throw in the upcoming ITVX originals in the mix, and you've got 10,000+ hours of content – all accessible for free with advertisements.
Not only that, but ITVX also offers live ITV channels alongside a curated host of streaming channels running some of the broadcaster's best shows non-stop – and live sports. The service even integrates the entire BritBox library for Premium subscribers.
Chances are you've just tried looking up the ITVX app on PlayStation Store but couldn't find it, which has ultimately brought you here. After all, it's available for the Xbox consoles, so you should be able to get ITVX on PS5, right? Apparently not.
Unfortunately, like ITV Hub, the broadcaster has once again ignored the majority of console owners in the UK, leaving PlayStation users in the dark. It's frustrating, especially considering you can find other UK catch-up apps like BBC iPlayer, My5, and All 4 on the PlayStation Store but not ITV's streaming app.
So, what's exactly going on with ITVX on PS5? Read on as we discuss the possible reasons behind ITVX's unavailability on Sony's current-gen console and whether a native ITVX app for PlayStation 5 will ever see the light of day.
Why is ITVX not supported on PS5?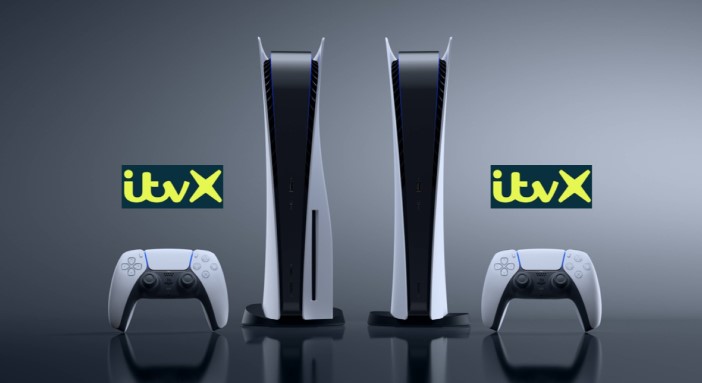 As we were somewhat able to shed light on ITVX's unavailability on the previous-gen PS4 and PS4 Pro in a previous article, it's easy to see why ITV hasn't prioritised Sony's home video game consoles over other devices and platforms.
Firstly, adding another device to the development cycle demands more time, effort, and most important of all, cost and resources. While the newer PlayStations are supposedly much easier to develop games and apps for, one still has to hire experienced coders and software engineers with access to the right tools to build a platform-native app.
Statistically speaking, most people would play games on a console more than stream movies and shows. It makes them niche low-priority platforms, especially for building an advert and subscription-based video streaming app targeted to reach the masses in an already saturated market. Instead, ITV is laser-focused on supporting devices used at a larger scale for online streaming, such as Android phones and tablets, iPhones and iPads, smart TVs and streaming boxes, and computer browsers.
So why is it that one can download ITVX on Xbox Series X/S but not on PlayStation 5? Both are current-gen game consoles sharing the same DNA hardware-wise, after all. It can be for several factors, but the one that's speculated the most is legal reasons.
Some say that ITV is yet to figure out contractual rights and streaming licences to content they acquired from third parties for the PlayStation consoles. Others theorise the UK broadcaster hasn't reached a satisfactory deal with Sony concerning platform fees. Or it's a combination of both. Whatever the case, one can only hope for ITV to take customer feedback strongly and bring ITVX to the PS5 and PS4 consoles in the near future.
However, based on this recent tweet from the official ITVX Help Twitter account and a previous tweet from the ITV Hub Help handle, maybe it isn't too far-fetched to speculate that it's already in the early stages of development for PlayStations. But ITV is probably holding on to the announcement until they improve and optimise ITVX on other devices and provide the best viewing experience.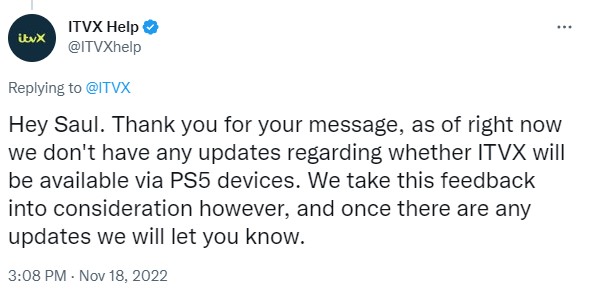 Are there other ways to watch ITVX on PS5?
Strictly speaking, there are currently no possible workarounds to watching ITVX on PS5. And the scope is even more limited than the PS4, given the current-gen PlayStation console doesn't have a browser app. That said, streaming from itv.com via the PS4 Internet Browser doesn't work anyway due to ITVX's use of Widevine DRM.
If you're really that desperate to watch ITV programmes on your PS5, one way to do so is via the ITV Catch-up channel on Amazon Prime Video. Sign up for a Prime Video subscription, get the channel add-on, download the app on your PS5, and sign in –  you'll be able to stream catch-up episodes of popular ITV dramas, soaps, reality TV series, and occasionally live sports.
If you're looking for BritBox exclusives, originals, and the best British box sets, you can add the BritBox channel to your subscription and stream them through the Prime Video app on your PlayStation 5.
Alternative options for watching live ITV channels and on-demand programmes on PS5 also include the NOW and Sky Go apps. However, like Prime Video, both are paid services and don't offer an ad-supported tier.
Wrapping up
Like on PS4, ITVX on PS5 is currently unavailable, and there are no feasible workarounds to watching your favourite ITV shows on the console for free. Until the broadcaster announces support for Sony's gaming machines, it's better to invest in a dedicated streaming device like a Chromecast, Android TV box, Fire TV Stick, or a NOW/Roku streaming player to fulfil your content needs.