The following article will show you how to fix Max lagging issue.
We've all been there—eagerly settling in for a cozy night of streaming on Max, only to be greeted by a frustratingly laggy app, video playback freezing at the most critical moments, and that aggravating stuttering that throws off the entire viewing experience. It's enough to make even the most patient among us want to throw their popcorn at the screen in exasperation.
But fear not, for we're here to help! If you're tired of lag robbing you of your much-deserved entertainment, and you're ready to unleash the full potential of Max, then this guide is your ticket to streaming nirvana.
Our comprehensive guide tackles the infuriating issue of Max lagging head-on. We'll dig deep into the myriad of factors (e.g., network hiccups, device limitations) that can contribute to the problem, uncovering what's wreaking havoc on our streaming bliss and arming you with practical solutions to squash the pesky culprits.
How to Fix Max Lagging Issue?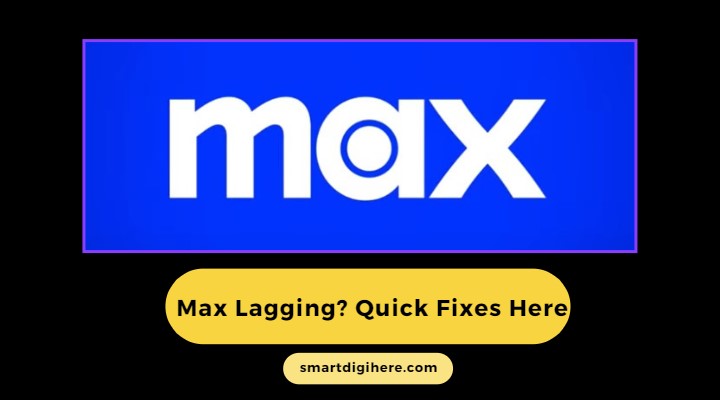 Close & Relaunch Max
When you encounter lag or stuttering in the Max app, closing and relaunching it might be the solution, as it resets the app's state and resolves any temporary bugs or glitches, or memory constraints affecting the performance.
Depending on your device, swipe up from the bottom of the screen or press the Home button to access the app switcher or home screen. From there, navigate left or right to locate the Max app and swipe it off the screen. Or tap the Close button to shut it down completely.
Wait a few moments. Give the app a pause to ensure it's fully closed, terminating any lingering processes. After that, locate the Max icon on your device's home screen or app drawer and tap it to reopen the streamer app. Since you're starting with a fresh instance, it should alleviate the lagging issue.
Restart Your Device
If Max keeps lagging even after relaunching the app, we recommend restarting your device. It helps free up system resources by eliminating redundant background processes, boosting the device's overall performance.
First, ensure you've exited Max completely, whether it's on your phone, tablet, or TV device. Next, locate your device's power button and press and hold it until you see options to power off or restart.
Select the "Power off" or equivalent option, and give your device about 10 to 15 seconds to ensure it has powered down. Then, press and hold the power button again until your device starts up and the manufacturer's logo appears on the screen.
The easiest way to restart a smart TV or streaming media device is to unplug it from the wall, wait for 15 to 20 seconds, and reconnect it to the outlet. However, you may also find the Restart option on your device's Settings > System menu.
Once your device has fully restarted, navigate to the home screen or apps menu, locate the Max app, and select it to relaunch. As mentioned earlier, restarting your device can help free up system resources and potentially resolve lag or stuttering problems. If the Max lagging issue persists, consider exploring the next round of troubleshooting solutions below.
Update Max (And Your Device)
Is your Max app up to date? Newer version updates often include bug fixes, performance improvements, and general optimizations that can address known complications and significantly enhance your streaming experience.
On your phone or tablet, open the app store (e.g., Play Store, App Store), enter "Max" in the Search field, and check if there's an update pending for the streaming app, in which case tap the Update button to download and install the latest version of the Max app.
On Smart TVs/streaming boxes, launch the app store or marketplace on your device, e.g., Play Store on Android TV, App Store on Apple TV, Amazon Appstore for Fire TV, or Content Store on LG Smart TV. Search for "Max" and update the app if a newer version is available.
We also strongly recommend you check for and download the latest device software to ensure stability, security, and optimal app compatibility. Navigate to your device's Settings menu and look for the "Software Update" or "System Update" option. Tap on it to check for any available updates. If an update's found, install it according to the instructions provided.
However, if your lagging issues on Max began after you updated the app/device software, it may have resulted from a new bug. In that case, contact Max customer support or report the problem to your device manufacturer.
Similar Max Guides:
Try Using Max on Another Device
If the lagging is persistent on Max, try streaming on another device. Sometimes, the problem may be specific to the device you're using. By switching, you can identify whether the lag persists across multiple platforms or it's isolated to a particular device.
Assuming you have access to another device, smartphone, tablet, streaming dongle, or game console, consider using Max on it for testing purposes, provided it meets Max's minimum system requirements.
Get the app from the device's respective app store, launch the Max app, and sign in to your account email and password. Alternatively, visit max.com via another supported web browser (e.g., Chrome, Firefox, Edge, or Safari) if you're watching Max on your PC or laptop.
Once logged in, choose your profile, pick a movie, TV show, or any content on Max, and start streaming. Pay attention to the performance, including app navigation, video playback, and general responsiveness. If lag is absent on the alternative device, the problem may be device-specific.
Clear App Cache & Data
Clearing the Max app's cache and data can solve any corrupted or bloated files or lingering bugs from the previous app version that might be causing performance issues in the first place. It allows the app to rebuild its data cache from scratch. Thus, you may expect a potential boost in smoothness.
Note: Clearing the app data will remove your preferences, settings, and any locally stored offline downloads within the Max app. However, it won't delete your Max account or profiles or affect your watchlist.
To do this, access the Settings menu on your device. Look for "Apps," "Applications," or "App Manager" within the options. The naming may vary depending on your device. Scroll through the list of installed apps and locate the Max app. Select it to access the app settings.
Next, you should see options like "Storage" or "Storage & Cache." Selecting it will expand storage-related details. Look for and choose Clear Cache to clear the app's cache, removing any temporary files.
On the same page, you may find an option to "Clear Data" or "Clear Storage." Tap it to proceed. A warning message may appear, but confirm your selection regardless to remove all the app's data and reset it to its default state. Then restart your device to ensure any remaining background processes related to the streaming app are terminated.
Once your device has restarted, locate the Max app and launch it. Sign in with your account credentials, and see if you can enjoy your content without the same lag issues.
Enjoy Streaming Max Without Lag
Now that you've made it to the end, you should be well-equipped with all the knowledge and troubleshooting solutions we've provided to fix the Max lagging issue on your device and get back to binging your favorite shows and films without the frustration that lags, stutters, and sluggishness brings.
If you encounter the same problem or need additional assistance, leave a comment below or check out our other Max troubleshooting guides. Also, don't hesitate to head to Max Help Center (help.max.com) and consult further resources.