Even though it is a very powerful VR, the Oculus Quest 2 has casting problems, which makes it less than perfect in games. The Oculus Quest 2 typically won't cast because the device you're casting to isn't connected to the same wi-fi network. Other times, the wi-fi network is unavailable. In essence, the problem is connectivity-related. Rarely, there can be a problem with the app you're using, or the software might not support Oculus Quest 2 casting. But don't worry; we have you covered. In this article, we will show you how to fix Oculus Quest 2 not Casting Issue. 
Why is the Oculus Quest 2 Casting not Working?
The chances of your Oculus Quest 2 being broken are very if it appears to be functioning to be all normal. Here are some handful reasons why this amazing VR is not casting:-
The application doesn't support casting.
The software of the VR or the application may be out of date.
Issues with the Wi-Fi network.
Your device and The Oculus Quest 2 headset are connected to two different wi-fi networks.
The Bluetooth or location data on your device is probably switched off.
Temporary Software glitch.
Check out: Cast Meta Quest Pro to Vizio Smart TV
How to Fix Oculus Quest 2 not Casting Issue?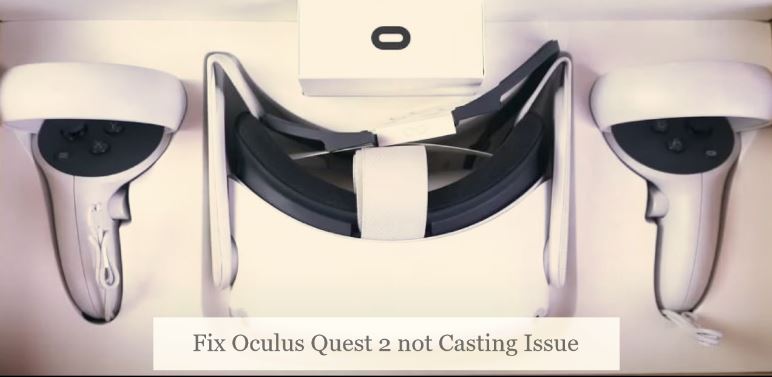 There are numerous ways to fix a casting issue with the Oculus Quest 2. Here are some briefly explained below:-
Restart the Headset & Device
Restarting the device most often fixes temporary glitches. Thereby try restarting the Oculus Quest 2 by press holding the power button till you're notified with the power off message also restart the device you're casting (phone, pc, smart TV). Relaunching the device often fixes the issue but if it still fails proceed with the next steps from the article.
Enable/Disable the Wi-Fi in both devices
You might try disabling and enabling the Wi-Fi in both devices which usually fixes small network glitches.
Restart your Router
All routers have different ways of restarting themselves. Some have a power button that you can press once to power off and then press again to power on, and some routers may consider unplugging the power cable which you can plug back in to restart the router.
Application not Supporting Casting
Not everyone is acquainted with the fact that not all apps on the Oculus Quest 2 is capable of casting. In that case, it's advised for a quick run to the app page where it generally specifies whether it supports cast or not, and if it fails to inform there, you can always run for a Google search which will set you on your way, but if the application is not capable of casting (which the creator might have disabled for numerous reasons), then there is no way out with it.
The Devices are not Connected to the Same Wi-Fi network
Often time both devices fail to connect to the same wi-fi network. In that case, we'd suggest you double-check whether both devices are connected to the same Wi-Fi network.
The Placement of your Router
The placement of the router can also be a problem so just make sure you're within the periphery of the range of the router. Sometimes metal objects or any electrical device may also interfere with the signals, move those things around and we are good to go.
Check the Bluetooth and Location data for both of your Devices
Since The Oculus Q 2 uses your phone's Bluetooth and GPS tracking, both these options should be active on your phone to cast from your headset.
The Application or The VR is out of Date
The Oculus Quest 2 and its applications do a pretty great job of keeping themselves updated but this might end up being a problem if it was disconnected from the internet for a long time which is why it was unable to update itself.
You can always update the apps from the Oculus app store. Just find the application on the and hit the 'update' button.
And if you want to update the actual software for the Oculus Quest 2, you need to keep up with the following steps;-
Put on the Oculus Quest 2 headset.
Open the Oculus Quest menu.
Open/Select 'systems'.
Select 'Software Update'.
If there is any update available, you will be prompted to install it.
Read also: Fix ITVX Not Working on Smart TV
Reset the Oculus Quest 2 Headset
If everything is failing you in getting rid of your casting issues with the Oculus Quest 2 headset then you might need to reset everything including the devices which are involved with casting.
Here are the steps to how you can reset your Oculus Q 2:-
First, uninstall the Oculus App from your smartphone or PC and then reinstall it and then restart the device.
Factory reset your Chromecast device by pushing and holding on the back of your Chromecast device until the LED indicator starts blinking yellow in case you're casting to your TV. Release the button when the indicator turns white and still.
Factory reset your Oculus Quest headset and then restart it.
Remove every device you've connected to your google home app whether it be your phone, pc, or smart tv, and then pair it with your VR newly.
Restart the Oculus Quest 2 and see if you can cast from the headset.
Recommended Reading:
How to Fix Oculus Quest 2 Not Casting to Phone?
Fix Oculus Quest 2 Not Casting to TV
How to Cast Oculus Quest 2 to PC?
 FAQs
Do you need to have a PC or a computer to use the Oculus Quest 2?
The answer is No. The Oculus Quest 2 is a standalone device which means you do not need any computer or PC to use it. Furthermore, you only need your smartphone to work with it.
What are the things I can do with the Oculus Quest 2?
The Oculus Quest 2 is a virtual reality gaming platform but you can also use it to watch movies, interact with people, participate in virtual reality meetings and enjoy every other experience.
How long can the Oculus Quest 2 run once it's fully charged?
The Oculus Quest 2 battery comes with a 3640mAh lithium battery and it usually takes two and a half hours to get itself fully charged and can give a performance for a little more than 2 hours if you're playing games and about 3 hours if you're watching movies or engaged in other media.
Can I expand/add-up more storage to the Oculus Quest 2?
The Oculus Quest 2 comes in two storage variations, one having a storage of 128 GB and the other having 256 GB but unfortunately, the Oculus Quest 2 does not allow any storage expansion.
Does the Oculus Quest 2 come with a controller?
Yes. The Oculus Quest 2 comes with both a right-hand controller and a left-hand controller.
How to charge the Oculus Quest 2 controllers?
The Oculus Quest 2 controllers do not come with rechargeable batteries instead you have to replace them with a single AA battery for each controller.
Read also: Does the Apple Watch Come Charged?
Conclusion
We hope this article was able to help you through your Oculus Quest 2 not Casting problems and fix them. The Oculus Quest 2 is a very user-friendly device. There are very slim chances that your Oculus Quest 2 is broken unless it's not turning on at all but other than that we are positive that you can fix the problems by yourself.