Getting your hands on a new gadget is exciting. And if you're anything like us, you want to get the device out of the box and start using it immediately, especially if it's the latest Apple Watch. Of course, there's that pesky first-time pairing and setup wizard you need to go through, but the question that many of you ask is, "Does the Apple Watch come charged?" Here's what you need to know.
Does the Apple Watch Come Charged?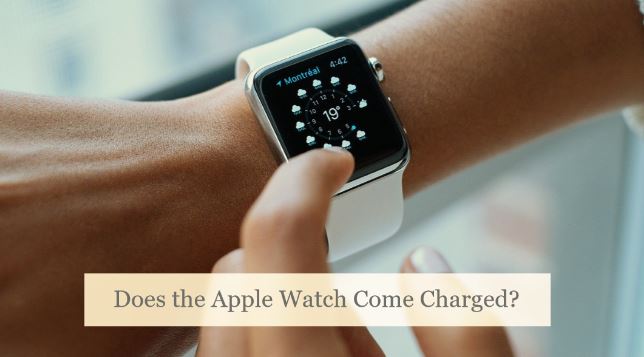 You will be glad to hear that most Apple Watches come out of the box with enough battery life so that users can set them up for the first time. However, it's best practice to charge a new Watch fully before using it, as the wearable may not have enough juice to carry through the initial setup process.
Your Apple Watch should turn on when you press and hold the side button, but if it doesn't, set the Watch on the charger, leave it there, and grab a coffee while it charges. This guide will walk you through the charging process and more.
How to Charge Apple Watch for the First Time?
If you've bought an Apple Watch Series 8 or Series 7, look for the Apple Watch Magnetic Fast Charger to USB-C cable in the box. Older Series models come with the regular Apple Watch Magnetic Charging Cable instead. In its infinite wisdom, Apple doesn't include a charging brick, so you'll have to use your iPhone power adapter or buy a new one that supports USB-PD of 5W or more.
Assuming you have everything in hand, here's how you can set the charger up and charge your Apple Watch for the first time:
First, plug the supplied Magnetic Charging Cable into a USB power adapter.
If you have the Apple Watch Ultra or a Series 8/Series 7 model, you'll need to use at least an 18W USB-C adapter with the Magnetic Fast Charger to get fast charging.
Place the charging cable or charger on a flat surface, then plug the adapter end into a wall outlet nearby.
Next, place your Apple Watch on the Magnetic Fast Charger or Charging Cable with its back facing it. The charger's concave end will snap magnetically to the back and align itself.
After a few seconds, a green charging symbol should appear on the watch's face. You may let your charge your Apple Watch with its band flat or on its side.
There also are other ways to charge the Apple Watch, including the new MagSafe Duo Charger and the Apple Watch Magnetic Charging Dock. Assuming you have one of these, simply lay your Watch flat on the dock for charging.
How Long do you Charge Apple Watch First Time?
The battery capacity of Apple Watches was always on the smaller side. Depending on your Apple Watch Series, 0-100% might take up to 2.5 hours.
However, if you own an Apple Watch Ultra, Series 8, or Series 7 that supports fast charging, it'll take roughly an hour to 80% and about 1.5 hours to 100%. That's assuming you use a certified 20W USB-C power adapter with the included charging cable.
While Apple's new charging cradles feature overcharging protection, you might not want to leave your Apple Watch on charge for an extended period at 100% battery percentage. We recommend taking it off the charger as soon as the battery capacity reaches 85-100%. It's so that the battery doesn't deteriorate quickly.
What's the Expected Battery Life of an Apple Watch?
As far as smartwatches are concerned, Apple Watches are notorious for their short battery life. Apple claims up to 18 hours of battery on its Apple Watch SE, Series 7, and Series 8 models, but your mileage may vary depending on your usage habits.
Continuous use of GPS and LTE is detrimental to the Watch's runtime. Even frequent time and notification checks affect the overall battery life. Though according to Apple, enabling Low Power Mode on compatible Apple Watches (Series 4 or later) can get you double the average battery life.
Those who own the brand-new Apple Watch Ultra can expect an all-day battery life of up to 36 hours. With Low Power Mode enabled, you may squeeze up to 60 hours of usage, thanks to the larger cell and improved hardware with even better power efficiency.
Is it Normal for an Apple Watch to have a Dead Battery on Arrival?
Yes, it's normal for an Apple Watch (and battery-powered devices in general) to have no power out of the box. If your new Apple Watch won't turn on, all you have to do is set up the charger and place your Watch on it for about ten minutes or so. In the meantime, get a drink and wait patiently for the Apple logo to appear on the watch face.
Once you go through the first-time setup and pairing process, check the battery health of your Apple Watch, just in case. Simply open the Settings app on your Watch and tap Battery, followed by Battery Health. In the following menu, check if the maximum capacity of your Watch's battery is 100%.
If the projected capacity is lower than that, or your Watch runs out of battery quicker than usual, the battery is likely defective. In that case, you should contact Apple Support for a replacement under warranty.
You might also want to know: Whoop vs Apple Watch (Comparison): Which One Is Better?
Conclusion
In most cases, the Apple Watch does come charged so that you can set it up for the first time. If it doesn't turn on for some reason, simply charge it using the supplied magnetic charging cable. Should the Watch not charge or turn on at all, here are a few things you can try before reaching out to Apple Support for a return:
Plug the charging cable into a different power adapter and try again. You may try plugging the power adapter into another wall socket as well.
Also, make sure to insert the USB end of the magnetic charging cable all the way into the adapter. The same applies to the power adapter, which goes into the outlet.
Remove the plastic wraps from both flat sides of the charger if you haven't already.
Reposition the Apple Watch on the charger so that its magnets align correctly.
Apple devices are picky about third-party charging docks, especially if they aren't certified. Use the original charging cable shipped with your Apple Watch instead.
Please let us know if you found this article useful for answering the question "Does the Apple Watch come charged?"