Does Waze work on Apple Watch? All of your questions will be answered in this guide. Learn more by reading on.
Technology has become an essential part of everyone's life. We all use different apps daily to perform various tasks such as bill payments, shopping, navigation maps, etc. These apps offer a high-end convenience to us and make it easier for us to do different things in a few clicks.
Apple smartwatches are one of the market's most trending electronic gadgets available that offer accessibility over a wide range of apps. Despite having a lot of features, Apple Watches are still lagging in some parts, and one of the most prominent is Waze.
Yes, Waze is still absent on Apple Watch. The guide will provide complete solutions to your different queries related to the functionality of Waze on the Apple Watch.
What is the Waze App?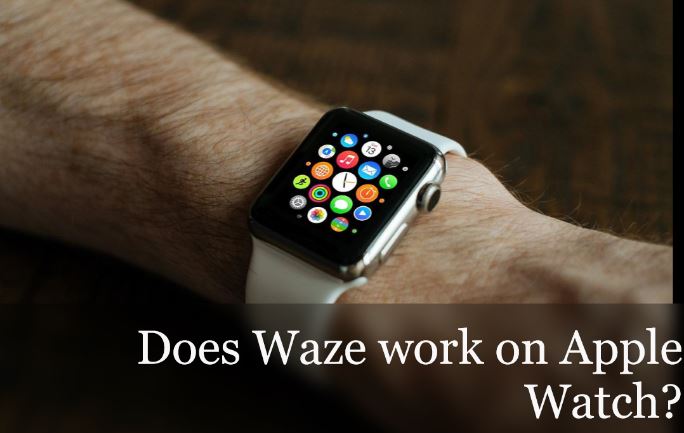 Waze is a community drive GPS and navigation app that offers users the freedom to check the shortest possible routes while driving. The app serves real-time traffic and weather information in more than 270 cities worldwide. The main motto behind the app's development is to aid people in getting absolute directions. It is the best app that helps you to prevent traffic jams.
Whether it is about traffic accidents or police traps, you can quickly get complete information about everything coming into your route. Once activated, the app keeps sending turn-by-turn navigation instructions and alerts to the users so they can eventually change their lanes or take exit ramps. It is one of the most popular navigation apps worldwide that is available to be used by both android and iOS users.
It is a smartphone-based application that is loaded with a lot of features to ease up the tasks of users. The Waze app has been on the iOS platform since 2013, and the developers included are trying to integrate the same on the Apple watch. The app is expected to be available on Apple watches soon, which will further help users get useful navigational information while driving.
The application is available in over fifty languages and can easily be installed on different devices supporting GPS. The app is much similar to Google Maps and is a complete application for all who want accurate navigation and map features.
You May Like – Can you wear Whoop on your Ankle?
Is it Essential to have a Navigation App in a Smartwatch?
A Smartwatch navigation app makes it convenient for drivers and runners to monitor their routes consistently. It is the best way they can learn about the different obstacles. Runners can use this app to make a run rate record and the calories burned. Having a navigation app in a smartwatch saves a lot of time and makes access much more convenient.
When could we expect Waze on Apple Watch?
It is pretty challenging to announce the exact date of the availability of the Waze app on the Apple watch. The reasons behind the unavailability are still unknown. The developers are working on the same consistently. Apple hasn't made an announcement related to the availability of the Waze app on the Apple Watch. However, if you are eager to enjoy easy navigation through your Apple Smartwatch, you can use the Waze app's alternative applications.
Is there any shortcut to get Waze work on Apple Watch?
Waze is a highly functional GPS-based navigation app that is loved and used by millions of users globally. It's one of the most advanced apps with diversified features to ensure optimum functionality. Apple Watches still lack this feature as inbuilt options. However, one couldn't install and use the same while applying different shortcut methods. One has to wait still to enjoy the facilities effortlessly at Apple Watch.
Related – Does the Apple Watch Come Charged?
Alternatives of the Waze App
Waze is a highly functional navigation app that offers seamless and accurate navigation all across the globe. As the app is still missing on Apple Watches, the users can opt for the other navigation applications to keep in touch with the traffic and weather conditions. The leading alternatives to the Waze app are:
Apple Maps
Apple Maps is one of the best alternatives for the Waze app that offers absolute navigation to the users. It is a valuable navigation app that provides accurate and total navigation without failure. The app features many features and makes it easier for the users to track their route while walking, driving, biking, etc. The application is designed to keep information about the most often visited stores such as restaurants, businesses, and addresses and offers you convenient navigation and access to those.
Whether you are willing to get tourist and travel information or are eager to know about some towns and cities, the application is a perfect guide for you. One can get to know about their expected destination before reaching it. Moreover, users can use this app to get complete information about transit for buses, trains, and other public means without any issues.
Google Maps
It is another beautiful alternative to the Waze application that comes up as an inbuilt feature in the Apple Watch. The app provides absolute navigation related to the surroundings. The app can be easily paired with the watch and phone and can help one get directions to a particular destination. The app also offers an estimated time for traveling, making it easier for people to know the thing by which time they can reach a specific goal.
While using the application on your Apple Smartwatch, ensure that you have enabled location tracking and set the travel mode and address of the destination place. Once done, you will start getting absolute and accurate directions to reach that particular destination through a dedicated route.
Magic Earth
It is another best alternative for the Waze app that offers users crowd-sourced traffic data. Whether you are walking on the road or driving a car, the navigation app makes your journey much more convenient. The application features a powerful search engine and open street map data that help users get information about the public transportation routes.
The app provides complete information about the short and fastest routes to your specified destination. Users can easily acquire real-time traffic data updates every minute and keep you safe from traffic jams and other obstacles.
Read – How to Turn Off Fitbit Versa 2
Does Waze work on Apple Watch?: Conclusion
Apple Watch users have to wait for more to get the Waze app. The availability of the Waze app on Apple Watch in the future is also a question. And that's why we advise you to opt for its alternatives to get absolute navigation while performing the different tasks or moving around the various locations conveniently. The Apple Watch comes up with an inbuilt GPS-based navigation app known as Google Map and offers absolute navigation to a preferred destination.