The following guide will show you How to Turn Off Fitbit Versa 2 in easy steps. There are moments when you would want to turn off your Fitbit Versa 2. Most people have their Fitbit watches on all the time, taking off only when charging them. Since Fitbits actively track our activities and biometrics to create a highly-accurate journal of your overall wellbeing, it makes sense that we rarely shut them down.
Your Fitbit Versa 2 can offer up to 6 days of battery life. However, using features such as GPS and always-on-display can significantly reduce the runtime. Those who regularly utilize these features need to charge their Fitbits more often.
But by learning to turn off the watch when not in use, you can preserve your Versa 2's battery life and get extended use out of it on a single charge. Powering it off and on can also resolve various software and connectivity issues. In this guide, we'll teach how to turn off Fitbit Versa 2 or reboot it.
How to Turn off Fitbit Versa 2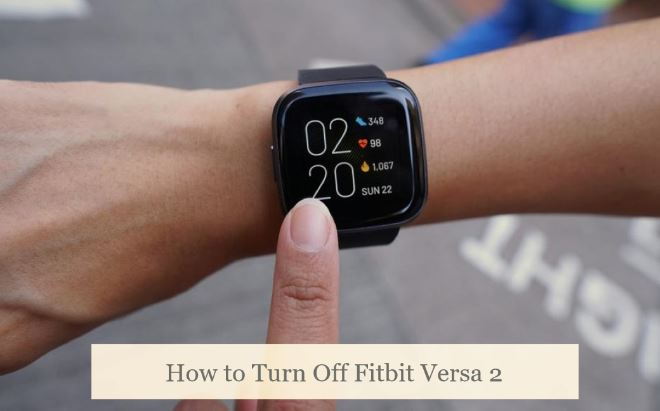 There are a few Fitbit models (i.e., Charge and Inspire) that users can't turn off, but the Versa 2 isn't one of them. Here's how to do it:
On your Versa 2, swipe to the left from the watch face, find the Settings icon, and tap it.
Next, scroll to the bottom of the Settings menu and tap the About option.
Go down again and tap Shutdown. Select Yes when prompted to turn off the device.
To turn it back on, simply press the Back button on the left side of your Versa 2. The Fitbit logo should appear, followed by the clock face you've set on the watch.
Steps to Restart Fitbit Versa 2
If your Fitbit Versa 2 won't sync, track your steps or other activities, register touch responses or button presses, or show any notifications, the universal tried-and-true solution to all these issues is a restart.
To force reboot your Versa 2 or put it through a power cycle when it's unresponsive, press and hold the side button for ten seconds. Once you see the Fitbit logo on the screen, release the button and wait for the device to boot back up.
Note that rebooting the watch only powers it off and on without wiping your activity data.
Should I turn off my Fitbit Versa 2?
Turning off a Fitbit, in general, has almost no benefits. However, it may be helpful when giving away or selling the Fitbit to someone else via courier. Or, if you forget to bring the charging cable to your vacation, turning off your Versa 2 while you're in a car or plane will save battery and maximize its usage time.
And although there are no federal requirements for turning off Fitbits on domestic flights, some airlines may still ask you to turn off your Versa 2. In such instances, the shutdown option on the watch comes in handy.
Tips to Extend Versa 2's Battery life without Turning it off
There are other ways to boost your Fitbit Versa 2's battery life without turning it off. Feel free to try out the following tips:
On your Versa 2, go to Settings and use the brightness option to dim the screen. You may also turn on auto-brightness so that the watch automatically changes brightness according to the ambient lighting conditions.
The always-on-display feature displays basic information on the screen even when you aren't looking, cutting the watch's battery life by half. We recommend turning the feature off from Settings.
The Versa 2 features a built-in GPS, which tracks your runs/outdoor cycling sessions and adds extra information to your dashboard. However, it's a battery hog, and having it enabled all the time will get you less than 12 hours of usage. Thus, turn off GPS from the quick settings menu when not using it.
Animated clock faces can deplete the battery quicker. Switch to a static clock face to maximize battery life.
A barrage of incoming watch notifications and reminders disrupts your productivity and decreases the battery life. Enabling DND on your Fitbit or turning off specific alerts from the Fitbit app can help.
More Related Articles
How to Turn Off Fitbit Versa 2?(Video Guide)
To Conclude
Turning off Fitbit Versa 2 or rebooting it is a straightforward process, which this guide aims to show. You can power off your Versa 2 to preserve battery life, but we've also shown other ways to do so. If you still have any questions or feedback to offer, scroll to the comments below and let us know.