In this guide, you will learn How to Charge Fitbit Versa 2 Without Charger. Released in 2019, Fitbit's Versa 2 remains one of its best-selling smartwatches. It introduces a more premium design over its predecessor and adds 24/7 heart rate tracking, sleep monitoring, and Amazon Alexa integration. While the Versa 2 has slowed down in terms of updates after the release of Versa 3 and Sense, it still offers fantastic value at its discounted price.
Well, that's enough for a brief revisit to Versa 2's history. The odds are most of you already know about all this, given your presence here. You most likely own a Versa 2 but somehow lost the charger or forgot to bring it with you on vacation– now left wondering if there's some other way to recharge the watch without the charger.
We've compiled this guide to answer this very question. You can follow the suggested methods below to charge your Fitbit Versa 2 without charger.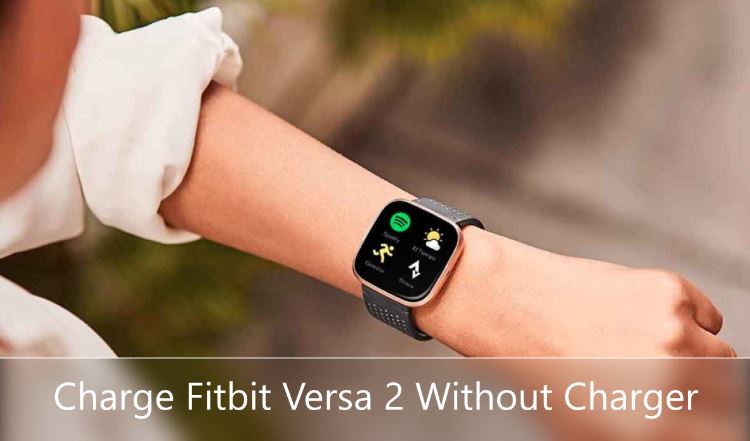 Charge Fitbit Versa 2 via a Different USB Source
As long as you have the Fitbit's charging cradle, you can charge your Versa 2 by plugging it into any 5V DC power source. For instance, the same UL-certified USB wall charger you use to charge your phone, laptop, and other devices will also work for your smartwatch.
Simply plug the Fitbit charging cable into the charger's USB port, pinch the charging cradle's clip, and place the Versa 2 in it. Make sure the charging pins align with flat gold contacts on the back of the Fitbit. If the charger works as intended, the battery percentage will appear briefly on the Versa 2's screen.
When the watch charges, double-tap the display twice to check the battery level. Additionally, you can charge the Versa 2 by plugging the Fitbit charging cable into a PC or laptop's USB port. However, it must support 5V/1A or 5W power delivery at the minimum.
Other options include a power bank and USB hub, though they also must have the same or better power delivery capabilities. Cheaper low-energy charging devices result in longer charging times and can slowly degrade your Versa 2's battery performance.
Unfortunately, the Fitbit Versa 2 doesn't support wireless charging. Hence, it won't charge if you place it on a Qi charging pad.
Trending Fitbit Guides
Is it Possible to Charge Fitbit Versa 2 without the Charging Cable?
The answer is no. If you've lost or broken the original Versa 2 charging cradle, you'll have to get a replacement one in order to top up the watch again. Thankfully, in that case, you can request a paid replacement to Fitbit support or get one at no additional cost assuming the charging cable stops functioning when your device is still covered under warranty.
You can also purchase the official Fitbit Versa 2 Charging Cable from Amazon. We usually don't recommend buying third-party Fitbit cables, but this Charging Cradle Dock from Kasmotion is an excellent alternative to the original. It's affordable, well-built, features overcurrent protection, and has a longer cord.
Of course, you'll also need a charging brick, which we recommend buying from trusted brands like Anker, Aukey, Belkin, Elecjet, or Spigen. And as mentioned earlier, feel free to use the wall charger bundled with your phone, tablet, or laptop.
Many guides on the web and users on Fitbit community forums support the idea of DIYing your own Fitbit charging cable in case of an emergency. However, we'd strongly discourage you from attempting it even if you have lots of experience with electrical wiring. Not only taping stripped wires from a USB cable randomly behind the Versa 2 watch can cause irreparable damage, but it may also put you in a hazardous scenario.
Read – How to Turn Off Fitbit Versa 2
Wrapping up
Through this guide, we've shown a few ways to charge Fitbit Versa 2 without charger. You can use a different USB power source (e.g., power bank, phone, or laptop charger) or get one of those fancy third-party Fitbit charging docks. The next time you plan to travel somewhere, perhaps it isn't a bad idea to bring a spare wall brick or a charging cable for your Versa 2. It'll save you from plenty of frustration.
Speaking of charging, be sure to clean your Fitbit Versa 2 once in a while, especially where the charging pads reside on the back of the watch. Dirt and debris can get around them, preventing the charging cradle's pins from making proper contact.