Can Fitbit Versa 2 Answer Calls? This guide will answer your question, so continue reading till the end.
Fitbit makes excellent fitness bands that allow users to stay fit and lead a healthy lifestyle. Their Ionic, Sense, and, most notably, Versa lineup of wearables are great hybrids of a fitness tracker and smartwatch. The 2019 Fitbit Versa 2, in particular, was the company's best attempt at embracing the growing smartwatch trend. Even today, its refined design, premium build, wellness monitoring suite, and user-friendly interface are praiseworthy over the first-gen Versa and Ionic of the time.
After three years since its release and predating two generations of successors, the Fitbit Versa 2 is still available for purchase— albeit now at deeply discounted prices. Chances are you've recently bought a Versa 2 on sale or received one as a gift, now wondering whether you can take phone calls with it.
Can Fitbit Versa 2 answer calls? Read this article to learn more as we dive deeper into what the Versa 2 can do and what it cannot.
Recommended reading: Charge Fitbit Versa 2 Without Charger
Can you Answer Calls with Fitbit Versa 2?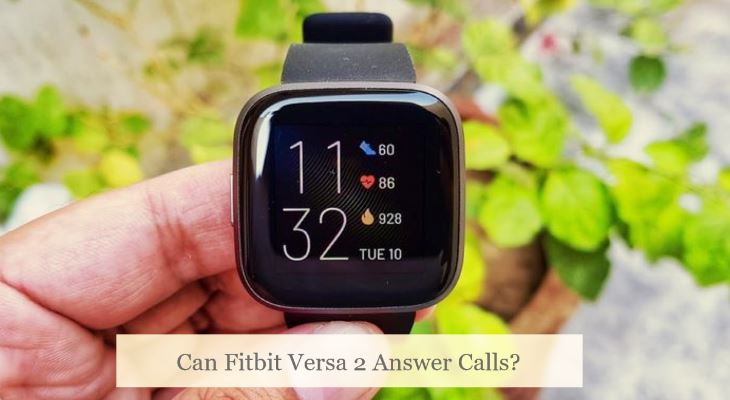 While the Fitbit Versa 2 has a built-in microphone, it sadly doesn't allow answering or placing calls. It's otherwise a very capable smartwatch for the price. For now, the passthrough voice calling feature seems to be available only for the later Versa models and the high-end Sense series.
The Versa 2 purposely features a microphone for the baked-in Amazon Alexa voice assistant. Upon long-pressing the side button, one can summon Alexa and make hands-free requests through the mic for simple things like asking questions, checking daily stats, managing smart home devices, etc.
The Versa 2 doesn't have a speaker built-in, so Alexa is strictly limited to text-based responses. Of course, not having a speaker eliminates any chances of on-wrist phone calls on this Fitbit device.
With that said, you can still get incoming call notifications on the Versa 2, with options to accept or reject the call. For this to work, you must set up call notifications through the Fitbit app and, most importantly, have your paired phone nearby. Also, the Do Not Disturb and Focus modes should remain disabled across both devices.
Reply to Texts with your voice on Fitbit Versa 2
One cool feature of the Fitbit Versa 2 is that you can reply to texts from the watch using your voice. It's part of Fitbit's "quick replies" option that lets users send custom and pre-defined responses to text messages and chats from select apps.
The caveat is that this feature is available to Android users only until Fitbit figures it out with Apple. For now, iOS users can only respond to Fitbit app notifications, including messages, cheers, and friend requests.
Assuming you daily-drive an Android phone, responding to incoming texts and messages using your voice from the Versa 2 is relatively straightforward, given Fitbit enables quick replies for all supported devices out of the box.
Make sure the Android device paired to your Fitbit over Bluetooth is nearby, then confirm that the Fitbit app is running in the background. Another thing you must verify is whether the Microphone setting is enabled in your Versa 2's Settings app. If you meet these conditions, follow these steps to dictate replies on Fitbit Versa 2:
When you see an incoming text notification, tap it. You can also view your recent notifications by swiping down from the top of your Versa 2's screen.
Tap the Reply or Replies option. Should you not be able to reply to the message, it's likely because the particular app doesn't support quick replies.
Tap the microphone

icon and dictate your message. Tap

Send

If you're satisfied with the speech-to-text result, or

Reply

to try again.
If you notice a mistake in your response, you may tap Undo within three seconds to cancel sending it.
If you're unable to use the voice replies feature on Versa 2, manually toggle the feature ON from the Fitbit mobile app > Today tab > profile photo > Versa 2 tile > Notifications menu.
Note: You can change the dictation language by tapping the three-dot (⋯) icon next to the Languages option.
You may also wonder: Is The Fitbit Versa 2 Waterproof?
To Conclude
Unfortunately, the Fitbit Versa 2 doesn't have the on-wrist voice call functionality, meaning you can't answer calls with it. What the Versa 2 does have is a built-in microphone, which you can utilize to your advantage for making hands-free requests to Alexa and dictating responses to incoming messages on Android.
If you're looking for a Fitbit that can answer calls, consider checking out the later Versa models (3 and 4) or the more expensive Fitbit Sense series.