ITV has recently launched its latest streaming service named ITVX, discontinuing the ITV Hub branding and offering a new and improved streaming experience for viewers in the UK. Those who have used ITV Hub before may know that it wasn't pleasant to use, but it looks like ITVX has undergone significant upgrades.
At launch, ITVX has 10,000+ hours of British box sets, films, documentaries, and catch-ups of all currently-aired ITV programmes on demand. The service is also set to debut a slew of original shows months before appearing on ITV's terrestrial television stations, which puts it alongside streaming giants like Netflix.
What sets ITVX apart is its advertisement and subscription-funded model, allowing viewers to enjoy thousands of hours of content free with adverts and opt for a paid tier for an ad-free experience in one place. Paying subscribers get bonus access to BritBox UK.
So, how does one watch ITVX on Windows PC or laptop? This guide has step-by-step instructions which you can use to access ITV's revamped streaming platform from your Windows-powered machine.
Ensure You Meet The Minimum Requirements
ITVX is available on many devices, including phones and tablets, set-top boxes, smart TVs, streaming media players, and more. While it doesn't offer a native app for the Windows or macOS operating system, users can access the library on its website form via supported web browsers.
ITVX's list of officially supported web browsers for Windows includes Google Chrome, Microsoft Edge (Chromium) and Mozilla Firefox. Assuming you use one of the following, you must also update it to the latest version, as ITV suggests. If you don't know what browser you're using on your PC or laptop, you can identify it by going to this site: www.whatismybrowser.com.
For instance, to ensure your Chrome or Edge browser is up to date, click the three-dot kebab (⋮) icon at the far right of the navigation bar, select Settings, and go to the "About…" section from the left-hand side. It'll automatically check for updates and download the latest build. To finish updating, you simply click the Relaunch or Restart button.

Another requirement for accessing the ITVX website is the Windows operating system version itself. It supports PCs and laptops running Windows 8 and above, including Windows 8.1, 10, and the current version, Windows 11. Windows 7 and versions older than that, such as Vista and XP, are unsupported – for obvious reasons.
How to Watch ITVX on PC (Windows 8, 8.1, 10, 11) or Laptop?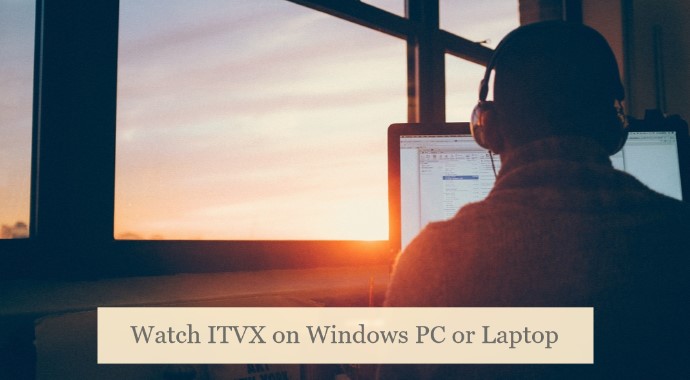 Accessing ITVX on PC or laptop running Windows 8, 8.1, 10, or 11 is just a matter of a few steps that don't involve installing anything. It's as simple as visiting itv.com, the official ITVX website, from one of the modern web browsers mentioned above.
When you visit the ITVX website for the first time, it'll ask you to accept browser cookies. Click Accept All to continue or select Manage Cookies if you wish to choose the types of cookies to allow.
Your browser may also prompt you to enable JavaScript for the website, without which it'll refuse to load any content. For detailed instructions to enable JavaScript on your browser, visit www.enable-javascript.com.
From the ITVX homepage, you can browse ITV's featured and trending content, new additions, top curated picks, and recommendations for box sets and movies. You'll also be able to access what's airing on ITV's linear channels alongside ITV News clips, sports highlights, and the best of ITVX Premium titles.
Once you pick a show from the homepage, Categories menu, or the Search option, you can choose from a season or episode and click the Play button.
Of course, you'll also have to log in to enjoy the chosen content. Fortunately, you can create a free ITVX account using these steps:
First, click Register Now on the "Sign in" page.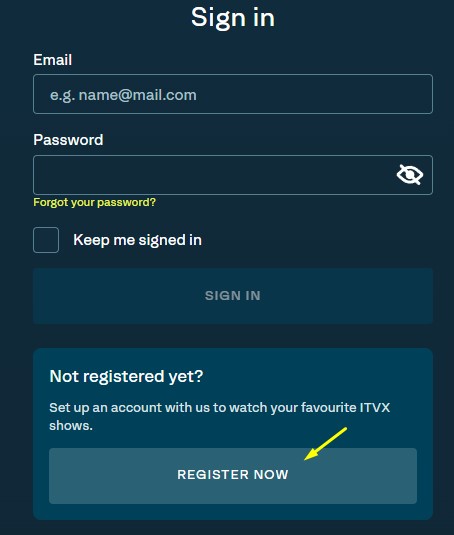 Enter your email address and set a secure password, then click Continue. You'll use the following credentials to log into your ITVX account.
Next, set up your ITV profile by entering your name, date of birth, and postcode and clicking Next on every step.
If you're stuck on the "Where do you live" page, check out our guide dedicated to UK Postcodes for ITVX.
Go to your email inbox and look for mail from ITVX@account.itv.com. Open the mail and click the button that says, "Verify Your Email Now".
Once you verify your email, click Continue. You can either start your 7-day Premium free trial or choose the free plan.
We recommend selecting the latter option since you can upgrade to ITVX Premium later.
And you're ready to stream! Simply return to the title you wish to watch and play. If you want to access ITV1, ITV2, ITVBe, ITV3, ITV4, CITV, or one of the newly-added FAST channels, click the LIVE tab above the ITVX homepage. Then, choose your preferred channel and click the Watch Live button.
The next time you want to sign into the ITVX website, click the Account icon at the top and select "Sign in". After that, proceed to enter your login details.
Fix ITVX DRM Error on Windows PC or Laptop
ITVX uses a new copy protection method for its streaming content, which doesn't work well with web browsers outside the ones recommended by ITV.
If you're facing video playback issues regardless of using Chrome, Firefox, or Edge on your Windows computer, your browser may have DRM or EME disabled. To allow your browser to play protected streams, follow these steps:
Chrome
Click the three-dot kebab (⋮) icon in the navigation bar.
Select the Privacy & security tab on the left, then select Site settings.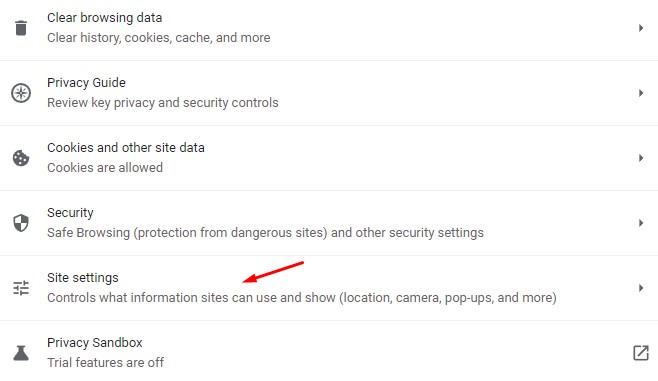 Scroll down to the "Content" section and click Additional content settings.
Now choose Protected content IDs, and click the toggle button next to the following options: "Sites can play protected content" and "Sites can use identifiers to play protected content".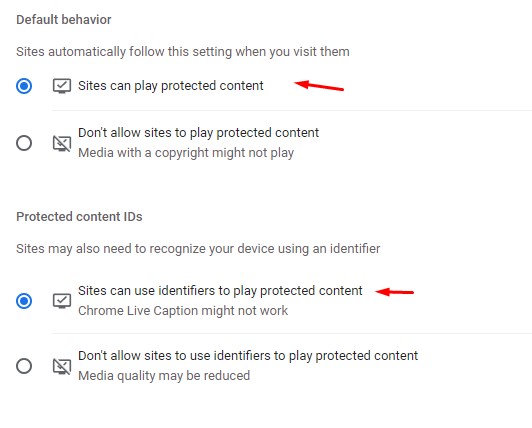 Edge
Click the ellipsis (⋯) icon on the far right of the navigation bar and choose Settings.
Select Cookies and site permissions in the left-hand sidebar, then scroll down through the site permissions and click Protected content IDs.
Enable both options on the following Settings screen, including "Allow sites to play protected content (recommended)".
Firefox
On your Firefox browser, go to Settings > About > Preferences.
Scroll down and find the "Digital Rights Management (DRM) Content" section.
Check the box next to "Play DRM-controlled content".

Final Words
That's how you watch ITVX on Windows PC or laptop. Apart from showing you how to access the official ITVX site from your web browser, we've offered steps to register for an ITVX account and sign in, along with separate instructions for troubleshooting DRM playback errors.
The British TV broadcaster has already uploaded exclusive new shows to ITVX, including the cold war-era double-agent thriller 'A Spy Among Friends', teen drama 'Tell Me Everything', an adaptation of Sara Collins' murder mystery 'The Confessions of Frannie Langton', and the 90-minute finale special to the highly-acclaimed comedy series 'Plebs: Soldiers of Rome' – with more to release in the coming weeks. By following our guide, enjoy streaming all these originals and box sets from ITVX's back-catalogue on your Windows computer.