ITVX succeeds ITV Hub in nearly every aspect. It offers a massive library of hit TV shows, an impressive collection of English box sets, a rotating selection of hundreds of acclaimed films, and an alternating host of themed linear channels. Plus, it features an intuitive interface and significantly improves stream quality.
One thing that hasn't changed is ITV's requirement to sign in with an account, which unlocks ad-supported access to the complete on-demand catalogue and live channels and additional features like profiles and watchlist.
Registering for an ITV account is free and takes only a few steps. However, it also requires viewers to enter their United Kingdom-specific postcode, based on which ITVX serves relevant advertisements and provides them with the right TV coverage. One can't set up an ITV profile without a UK postcode.
Whether you're unable to go past entering your postcode or trying to watch ITVX overseas via VPN, this guide to UK postcodes for ITVX should come in handy.
Fix Your Postcode is not in the Correct format ITVX Error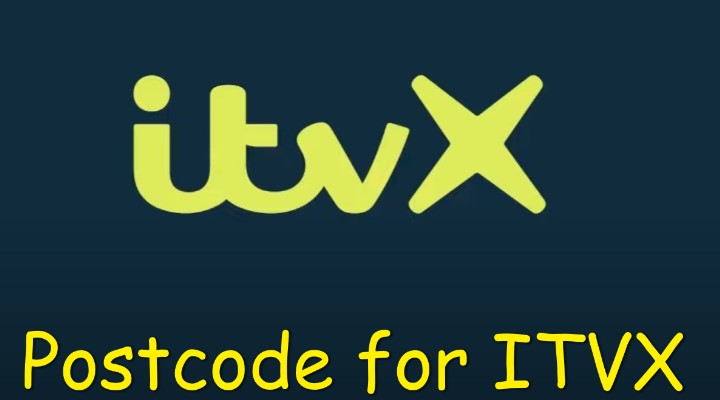 ITVX Postcode Not Working? Continue reading to fix this issue.
A postcode consists of letters and numbers; used in addressing and courier systems. In the UK, postcodes are also known as "zip codes", something many people end up believing two different things. Some other countries call it "PIN codes", but the three following terms are essentially interchangeable and serve the same meaning and purpose.
In Layman's terms, a UK postcode contains two alphanumeric values identifying a post town and address(es) within it. The Inward Code consists of three characters, while the Outward Code consists of two to four. The latter identifies the postcode area, beginning with one or two letters and ending with up to three digits.
After that is a space and the Inward Code or Incode, starting with a number that denotes a district sector and ending with two letters that indicate delivery points reserved for streets and individual properties.
Postcodes, in general, are named after major cities (e.g., L for Liverpool, M for Manchester). However, some also use geographical regions (e.g., FY for Fylde in Blackpool, HS for Outer Hebrides). Chances are you already know all this, but what matters is the format.
ITVX uses the standard UK postcode formatting. In every postcode, a single space separates the Outward and Inward alphanumeric strings. Thus, you must enter your postcode in the following format: AB12 3CD. Examples include:
CB10 1AA (Saffron Walden, Essex)
BR6 7PT (Well Hill, Kent)
EC1A 9PQ (London)
EH1 1AD (Edinburgh)
CF81 BL (Newport, Gwent)
To find your postcode, we suggest using Royal Mail's handy Postcode Finder tool.
Assuming you enter your UK postcode correctly when setting up your ITV profile, the Next button shouldn't be greyed-out anymore, and you'll be able to continue with the account creation process.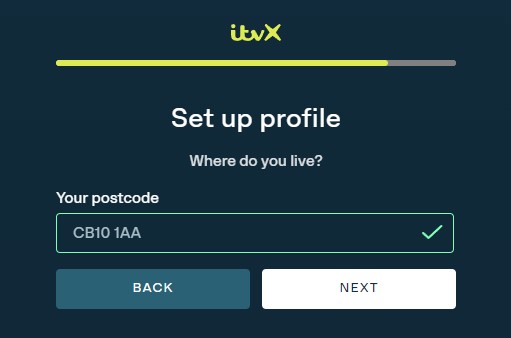 UK Postcode For ITVX: Tips for Non-UK Viewers
ITVX is available only for residents of the United Kingdom. If you're trying to access ITV's new streamer app/website outside the UK, you're likely using a VPN. When creating your ITV profile, we advise you not to type in a random UK postcode.
The reason why we recommend so is that ITVX determines the viewer's approximate location based on their IP address. Let's say, for example, you connect to a London VPN server to bypass the geo-blockers, but you've set your postcode to somewhere in Ireland or Scotland during the ITV account registration.
In that case, ITVX will spit a location-related error every time you try to stream a show, movie, or live TV channel from the app or website. Hence, make sure to input the correct postcode in accordance with the location of the VPN server you'll connect to for accessing ITVX outside its serviceable regions.
Another important thing is that programmes aired on the main ITV broadcast channel (ITV 1) are unavailable to ITVX viewers in Scotland. Instead, they have to use STV Player separately to watch all that missing content.
Thus, we recommend using an England-based postcode. The good thing is you can update the location anytime from the Settings > Location menu of the ITVX app or the Profile > Manage Account > Your Account section of the website.
Recommended Reading: Fix ITVX Not Working
Final Words
In this guide, we've discussed all the essential bits you need to know regarding UK postcode for ITVX. We've shown you how to get past the "Your postcode is not in the correct format" error message during ITVX registration and offered tips for our fellow non-British viewers about entering UK ITVX postcodes for uninterrupted access to the service over VPN. If you have any more queries regarding this topic, let us know below.