Is The Fitbit Versa 2 Waterproof? Depending on how much time you daily spend around water, the "water resistance rating" of a Fitbit is a crucial feature to consider. Knowing whether your fitness tracker or smartwatch can withstand splashes and submersion in water bodies determines what activities you can participate in while wearing it.
It also indicates if you need to take it off before going to the shower or if you can wear it during specific workouts.
Chances are you've recently been looking to buy a Fitbit and considering the Versa 2. But is the Fitbit Versa 2 waterproof?  And is it the same for other Versa models? Continue reading to find out.
Is the Fitbit Versa 2 Waterproof?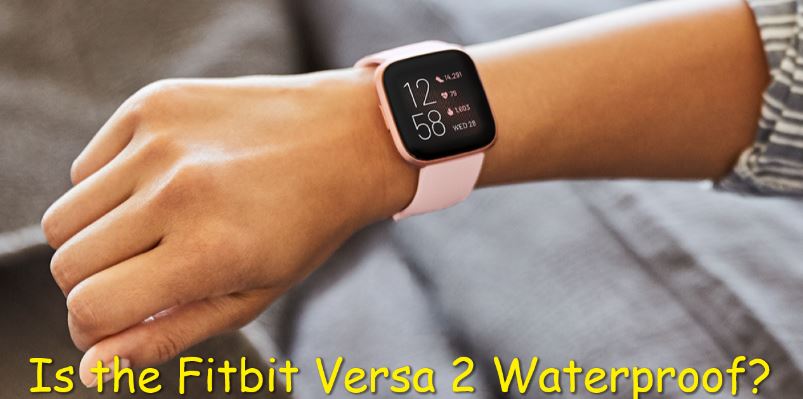 Fitbit's Versa series of smartwatches enables health and fitness monitoring in real-time and tracks daily activities and workouts. The fit and finish, intuitive UI, and long-lasting battery life make the Versa stand out among other fitness trackers or watches.
Sadly, none of the currently-sold Fitbits are waterproof, including the Fitbit Versa 2. If you're into diving or water sports, you'd know how hard and costly it can be to engineer a waterproof gadget that's truly impervious to not just water but the high atmospheric pressure that comes with it.
With that said, the Versa 2, alongside the Versa 3, Versa Lite, and the original Versa, feature water resistance up to a depth of 50 meters.
It's important to note the difference between "water-resistant" and "waterproof." The Fitbit Versa series is NOT waterproof, meaning even a slight amount of water getting inside is all it takes to cause irreparable damage to the hardware.
The water-resistant seal doesn't make the Versa 2 immune to water damage but repels high-pressure water from seeping inside.
Related: Is Whoop 4.0 Waterproof?
What are the Limitations to Versa 2's Water Resistance?
You can wear the Fitbit Versa 2 in many scenarios, including showering, bathing, hand-washing, dishwashing, and even a few dives in the pool, thanks to its 5 ATM depth rating. The Versa 2 can track your duration, distance, laps, and pace when you're taking a swim. Moreover, it should do just fine after a dunk in the ocean salt water or chlorinated pool water.
The water resistance also makes the watch ideal for those sweaty high-intensity workouts. The only place where Fitbit advises against wearing the Versa 2 (or any other model) is in a sauna or hot tub.
Another scenario where you'll need to be somewhat careful is when diving. The speed at which you hit the water while diving creates high pressure, resulting in water making its way into the watch.
But with 50 meters being the depth limit (which is deeper than one will unlikely go without scuba gear), the Versa 2 is more than enough for recreational divers who wish to keep track of their calorie burns underwater.
All that said, Fitbit's water-resistance ratings don't account for extreme weather conditions, harsh environments, and abnormal temperature changes. Any of these variables can cause the devices to malfunction. Regular exposure to the chemicals in soaps, shampoos, conditioners, and lotions can also degrade the watch's water-resistance capabilities.
You might also want to know:
In Summary
Unlike the early days of its smart wearables, Fitbit's current lineup of fitness trackers and smartwatches offer some degree of water resistance, including the Versa 2. As per Fitbit's claims, it's water-resistant to 50 meters or roughly 164 feet. However, it isn't waterproof and not immune to corrosion and water damage.
Although the Versa series of Fitbits can survive immersion in deep water, it's also necessary to understand the slow degradation of water resistance levels, as rubberized seals and gaskets tend to break down over time, negatively impacting their effectiveness. Hence, you may want to avoid submerging your Fitbit Versa 2 in water for too long.
Furthermore, we advise against wearing the Versa 2 when participating in high-impact water sports, deep-sea scuba diving, or similar activities. We also recommend using a silicone sports band for the Versa 2 over the ones made of fabric or leather should you plan to wear it around water.