ESPN's Monday Night Football bears more significance than any other primetime sports programming. It's a long-running tradition that has been going on since 1970 with the first game on ABC. Since then, Monday Night Football has featured some of the most epic and unforgettable games in NFL history, featuring legendary players, coaches, and play-by-play commentators.
Whether you're a hardcore fan or a casual watcher, you can't afford to miss Monday Night Football any given week of the NFL season. Fortunately, if you have an Android or Google TV-powered Sony BRAVIA television, catching these primetime football match-ups on the big screen, regardless of whether you have cable, is a straightforward affair.
There are plenty of ways to watch Monday Night Football on Sony Smart TV, all of which this guide discusses in detail.
Monday Night Football: What is it and Where to Watch?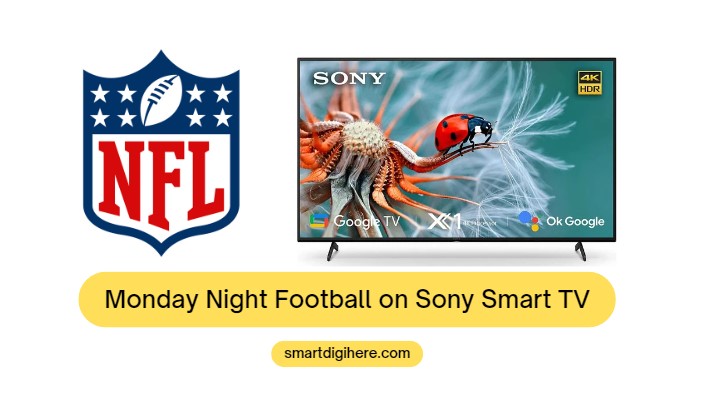 Monday Night Football, abbreviated as MNF, is a time-honored tradition and a spectacle for ardent fans of professional football featuring NFL games on Monday nights. It's been on television since the '70s when the NFL and the AFL merged and formed the league we know today.
That's a long time, and people still love it. It's not just one show, though. Over the years, the primary broadcasting segment has been complemented by the likes of the Monday Night Countdown pre-game show and, most recently, special simulcasts of select MNF games featuring the Manning brothers. It's pretty cool.
All this makes Monday Night Football an exciting NFL game every week and a must-watch for dedicated football fans. It keeps people engaged and talking during the regular season, filled with amazing plays, thrilling finishes, and heated debates.
ESPN mainly shows Monday Night Football, as it continues to retain the coverage rights in the States since 2006. Some MNF match-ups are now also simulcasting on the free-to-air ABC channel, home to a few exclusive games on its own. Moreover, ESPN2 telecasts the alternate Monday Night Football with Peyton and Eli alternative show for select fixtures.
As for viable streaming alternatives, you can enjoy Monday Night Football on Sony Smart TV with a subscription to ESPN+, highlighted in its dedicated section below.
ESPN Plus: Watch Monday Night Football on Sony Smart TV
ESPN+, the sports-oriented streamer that delivers live sports from the world's best leagues and events, is the official streaming platform for select Monday Night Football matches during the NFL regular season, with some available with the alternate Manningcast coverage. Check which ones are streaming here on ESPN's official MNF schedule.
Besides MNF, it's also home to a streaming-exclusive International Series game in Week 4 and a Saturday doubleheader in Week 18, specific to the 2023 NFL season. The on-demand ESPN+ library is also replete with Originals, with documentaries and features revolving not only the National Football League but also college football, NBA, NHL, MLB, UFC, etc.
If you don't have cable, this is easily the best option to enjoy the Monday night NFL games on the cheap. Simply perform these steps on your Sony Smart TV:
From your Android TV Home screen, navigate to the Apps menu and select Google Play Store. You may also long-press the HOME remote button or the dedicated Play Store key on the remote.
Head to the Search menu by selecting the magnifying glass icon from the upper-right navigation options.
Use the on-screen keyboard to enter "ESPN" in the search field, then choose the matching result on the following screen.

On Google TV, select "Search for apps" in the Apps menu, enter "ESPN," and choose from the results.

Select Install on the descriptions and screenshots preview page for the ESPN app.
Once it finishes installing, return to your TV's Apps menu, and find and launch ESPN within the "Installed apps" or "Your apps" shelf. Select See all to expand your list of apps if necessary.
As a new user, you can sign up for ESPN+ directly within the ESPN app on your Sony Android or Google TV set. Simply follow these instructions:
Select the Settings (gear) icon at the top-right corner of the ESPN TV app.
Head to Subscriptions, followed by selecting the ESPN+
Click the "Sign Up Now" button, then follow the on-screen prompts to set your billing cycle, create your account, and pay for the ESPN+ subscription.

Upon confirmation, ESPN will bill you for the plan through the payment method linked to the Google account you're signed in with on your Sony Smart TV.
Note you can also register via espnplus.com on your phone or computer browser. If you've already done so, select "Log In" on the ESPN+ in-app login page. A six-character-long Activation Code will appear on the screen, which you must enter at espn.com/activate to log in or sign up.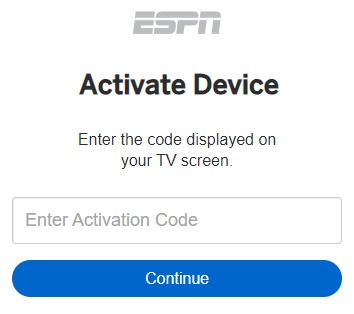 And that's it! Once your ESPN+ subscription is activated and linked to your Sony Smart TV, you're good to go for some Monday primetime football action. Whenever Monday Night Football is live on ESPN+, you'll see it prominently displayed on the app's FEATURED page. Alternatively, navigate to the ESPN+ menu to access the live game streams, plus replays, highlights, clips, and more.
More Ways to Watch Monday Night Football on Sony Smart TV
As discussed earlier, not all Monday Night Football games are streaming on ESPN+, even if they appear for live playback. Some of these streams require signing in with a TV provider account, separate from the ESPN+ subscription. It's similar to how the CBS Sports, FOX Sports, and NBC Sports apps allow only cable, satellite, and streaming TV subscribers (with access to the respective channels) to explore their offerings.
If you happen to be still paying for a traditional pay-TV contract and are interested in enjoying the rest of ESPN's Monday Night Football coverage via streaming on your Sony Smart TV, you're in luck.
Launch the ESPN app from your Android or Google TV Home screen or Apps menu.
Navigate to Settings (gear icon) from the top, select Account Information, then TV Provider.
Visit the website via your mobile or computer browser per the in-app instructions.
Choose your respective TV provider from the list. Once it directs you to your provider's login site, confirm your credentials and select Log In.
No cable? No problem! You can sign up for a streaming television package from FuboTV, Hulu + Live TV, Sling TV, YouTube TV, or DIRECTV Stream, which are on ESPN's list of supported providers.
The Hulu + Live TV bundle is the ultimate choice for season-wide Monday Night Football coverage, as it comes with all the ESPN cable channels and offers complimentary access to ESPN+. Furthermore, with ABC, CBS, FOX, NBC, and the NFL Network among the 90+ channel lineup, you can tune in to your local Sunday afternoon and other primetime NFL games during the regular season. You also get to record your most anticipated match-ups with unlimited DVR.
A more affordable streaming TV pick for Monday Night Football would be Sling TV. Its Orange plan features 30+ channels, including ESPN and ESPN2, plus ABC in select markets, giving you access to the majority of the Monday primetime football telecasts.
Another option you may find interesting is NFL+, particularly the NFL+ Premium tier, which lets you catch up with full replays of every in-market, out-of-market, and national NFL game, including Monday Night Football, on your big screen. All that content, and more, e.g., live access to the NFL Network and RedZone, is accessible via the official NFL app, compatible with Android/Google TV-powered Sony BRAVIA sets.
Can You Watch Monday Night Football on Sony Smart TV For Free?
Yes – if you count the free trials and promotional offers streaming providers like FuboTV and YouTube TV occasionally offer. There really aren't any other legitimate alternatives to enjoy the Monday primetime NFL match-ups live for free, except if you're willing to down the antenna route.
Outside of ESPN and ESPN2, ABC is also simulcasting a handful of Monday Night Football games this season, with its own pre- and post-game coverage. ABC, a free-to-air broadcast station, is easily accessible via affiliates across the States. If you live within the range of one of these affiliate broadcast towers, all you need is a digital HDTV antenna set up with your Sony Smart TV to catch Monday Night Football on ABC.
However, before you rush to purchase an indoor/outdoor TV antenna, use FCC's DTV Reception Maps or ReceptionMaps.com's signal coverage tool to confirm whether you receive the ABC channel in your particular location. If lucky, you'll also gain access to your local CBS, FOX, and NBC affiliates, where you can enjoy more football for free.
Reviewing the Action
Above, we've discussed numerous ways to watch Monday Night Football on Sony Smart TV, whether via ESPN+, authenticating with a TV provider in the ESPN app, or streaming TV services. If you're searching for further viewing options for the National Football League, you might also want to check out our guide to watching NFL 2023 on Sony TV [LINK].