Monday Night Football on Roku
In this article, we will show you how to watch Monday Night Football on Roku. For decades, Monday Night Football has captivated millions of football enthusiasts as an enduring American tradition in sports broadcasting. With its unforgettable moments, including last-minute comebacks and record-breaking performances, ESPN's primetime football games have left a resounding impact on NFL history.
In every NFL season, top teams engage in thrilling matchups, featuring fierce rivalries among legendary quarterbacks and awe-inspiring athleticism displays. As a result, Monday nights have become the epitome of gridiron excitement, distinguished by prime-time drama, electrifying plays, and an ardent fan base.
As the highly anticipated 2023 NFL season kicks off, Monday Night Football takes center stage with an exciting lineup of games. If you're eager to watch these matches on your Roku device, we got you covered.
We've compiled this handy guide outlining every feasible way to stream Monday Night Football on Roku throughout the season. Read on to ensure you don't miss a moment of the action.
Watch Monday Night Football on Roku with ESPN+
As it has been for over five decades, ESPN is the official presenter of Monday Night Football games during the NFL season. The new media agreement has allowed the network to retain its rights to the games through 2033.
Aside from airing on the primary ESPN channel with alternate "Manningcast" coverage on ESPN 2, select Monday Night Football games are streaming on the ESPN+ platform.
While only 9 out of 19 MNF games are slated to stream live on ESPN Plus, you can watch the full replays and highlights for the rest of them on demand soon after they complete airing on television.
Even better, ESPN+ is the exclusive home to the NFL International Series game in London between the Atlanta Falcons at Jacksonville Jaguars in Week 4 of the 2023 regular season and a Wild Card game, with simulcasts of the Saturday doubleheaders in the final week.
You get streaming access to all these live football streams with the $10-a-month ESPN+ subscription and more exclusive live content from NHL, MLB, MLS, UFC, college sports, international events, etc.
It's also available as part of the $13/mo Disney Bundle Trio Basic, which gives you additional access to Disney+ and Hulu (With Ads) for more on-demand entertainment.
Steps to Watch Monday Night Football on Roku via ESPN+
To tune into ESPN Plus' Monday Night Football streams on your Roku device, get yourself the monthly or annual plan from plus.espn.com (or the Disney Bundle), add ESPN from the Channel Store, and sign in with your account. Here's how you do it:
Press the Home button on your Roku remote.
Scroll down the Home screen options and select Streaming Channels.
Move to the Search Channels menu on the Channel Store.
Search for "ESPN" and pick the matching channel in the results.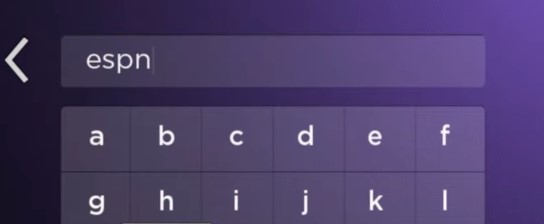 Click Add channel on the overview screen and wait for some time.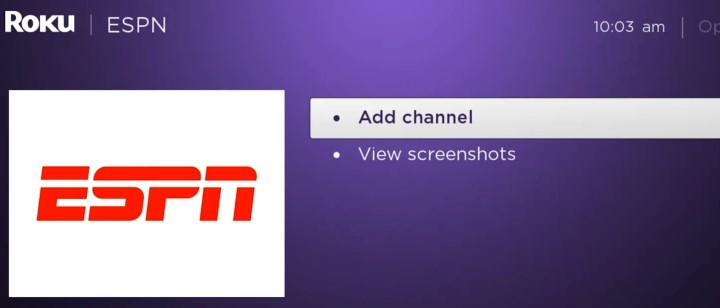 Return to your Home screen and launch ESPN from your channels list.
Navigate to the app's Settings There, select Video Subscriptions.
Choose ESPN+ and click the "Log In" option. The next screen should present you with an activation code with some steps to follow.
Browse to espn.com/activate on another device and confirm the code.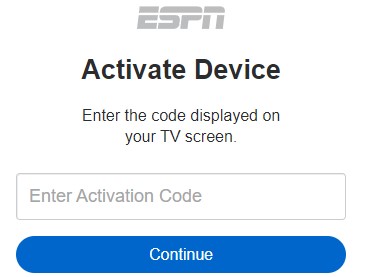 Finally, enter your ESPN account details to link to your Roku.

Those who haven't signed up must create a new account and subscribe to ESPN+.
If you have a valid payment method linked to your Roku account, you may also subscribe to ESPN+ directly through your Roku device. Simply navigate to the ESPN app's Settings > Video Subscriptions tab, choose ESPN+, and follow the on-screen steps to pay for your preferred plan through your Roku account.
Note: If you ever wish to cancel your ESPN+ plan billed to your Roku account, go to roku.com from your phone or computer, sign in with your credentials, navigate to Manage your subscriptions > My subscriptions page, and click Unsubscribe next to your ESPN+ subscription.
And just like that, you can start watching the live Monday Night Football streams, on-demand match replays, highlights, clips, news, and other sports content from the dedicated ESPN+ section of the ESPN Roku channel.
Watch Monday Night Football on Roku with Live TV Services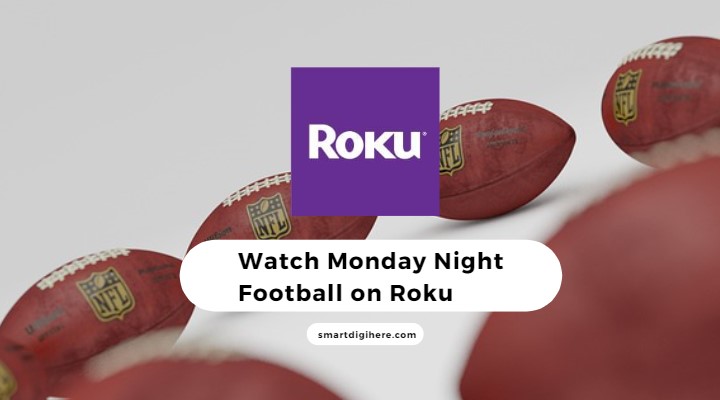 Not all Monday Night Football games stream on ESPN+. If the rest matters, the ESPN and ESPN 2 cable channels are accessible with a subscription plan to streaming TV platforms via DirecTV Stream, FuboTV, Hulu + Live TV, Sling TV, Vidgo, and YouTube TV.
Hulu + Live TV is undoubtedly your best option for streaming every Monday night National Football League game on Roku, as it not only carries the ESPN channels in its 85+ channel lineup but also offers access to ESPN+ and the original on-demand shows and blockbuster movies on Hulu and Disney+.
What this means is aside from 22 regular-season games airing on the ESPN family of channels, you can tune in to the streaming-exclusive International Series matchup via ESPN+, plus the two NFL playoff games and Pro Bowl to which the network has coverage rights.
Considering Hulu's Live TV channel list also includes ABC, CBS, FOX, NBC, and the NFL Network, you'll have access to local and primetime NFL matches beyond Monday Night Football on ESPN. And with Hulu's Cloud DVR feature, you can record your favorite games for watching later on demand.
The $40 monthly Orange plan Sling TV offers is also a solid option for watching ESPN's MNF matchups and the Manningcast on Roku without breaking the bank. The plan also includes ESPN 3 simulcasting ABC's dedicated Monday Night Football coverage during select weeks of the regular season.
All the above live TV streaming apps are available on the Channel Store, meaning you can add them to your Roku device the same way as the ESPN app we highlighted earlier.
Those who already have access to the MNF-broadcasting channels through a participating cable, satellite, or streaming provider can use their account details to sign in to the ESPN and ABC apps to catch the Monday Night Football live streams on Roku.
Can You Watch Monday Night Football on Roku For Free?
Live TV services such as DirecTV Stream, FuboTV, and YouTube TV allow new interested subscribers to try out their offerings for a limited time. You can take advantage of the free trial promotions to enjoy Monday Night Football on Roku without any cost.
However, if you have a Roku TV, you can configure a digital OTA antenna to tune in to your local ABC station, which has simulcasting rights to a handful of Monday primetime football games under the "ESPN Monday Night Football on ABC" program.
And assuming you're lucky to have a clean enough broadcast reception in your area, you can catch more NFL games on your local CBS, FOX, and NBC affiliates throughout the regular season (and beyond). Use FCC's DTV Reception Map tool to verify channel availability.
Final Words
With the NFL back on television, you now have all the knowledge to fully immerse yourself in ESPN's Monday Night Football action on your Roku streaming player or smart TV.
So, with an ESPN+ or Hulu + Live TV plan ready to go, grab your Roku remote, get your game day snacks ready, and prepare to stream your favorite weekly games this season!
We suggest checking out our Watch NFL on Roku and NFL Sunday Ticket on Roku guides if you're looking forward to catching more of the National League Football games this year.