If you love football, you'll also love NFL Network – the National Football League's premier sports TV channel that launched in 2003. From the Scouting Combine to the NFL Honors to the NFL Draft in the off-season, then on to extensive pre-season game coverage and airing the International Series match-ups during the regular season, the channel has it all.
Between live football broadcasts, NFL Network's studio coverage includes analysis programs like NFL GameDay, NFL Now, NFL 360, and Good Morning Football, plus re-runs of archived games, highlights from recent match-ups, and tons of original content from the NFL Network and NFL Films.
If you're planning to enjoy the entirety of the current NFL season over streaming on your Samsung television, NFL Network is probably the last piece in the puzzle. The following guide will tell you where and how to watch the NFL Network on Samsung Smart TV.
Watch NFL Network on Samsung Smart TV Without Cable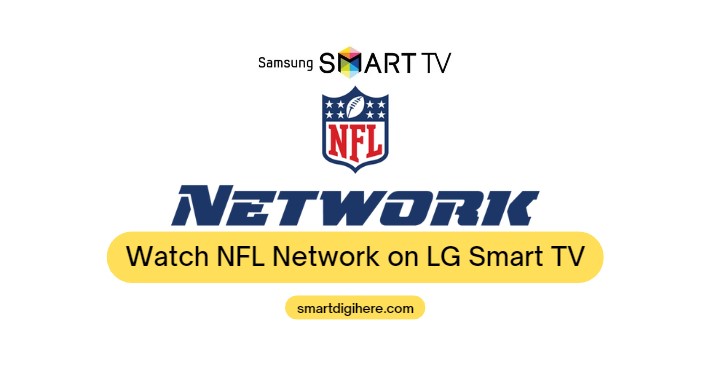 If you're a cord-cutter, watching the NFL Network on your Samsung Smart TV will require you to subscribe to the following live TV streaming providers: DirecTV Stream, FuboTV, Hulu + Live TV, Sling TV, or YouTube TV. It may seem daunting to you, but this brings unparalleled flexibility in terms of tuning into not just NFL Network but also other channels airing football this season.
Known for its affordability, Sling TV's Sling Blue package carries NFL Network for an asking monthly fee of $40. That's nearly half the cost of most other streaming TV offerings!
In a handful of markets, Sling Blue also gets one access to their local ABC, FOX, and NBC affiliates. It's where you can watch select Monday Night Football games, Sunday afternoon contests involving an NFC team, and Sunday Night Football, respectively. CBS is missing from the lineup, and ESPN is available with the Sling Orange and combined Orange + Blue package.
The next best options for watching the NFL Network on your Samsung TV are Hulu + Live TV and YouTube TV. Both offer the channel with their base subscription packages alongside 90+ channels, which include every national NFL broadcaster: CBS, FOX, NBC, ABC, and ESPN. Both also provide unlimited cloud DVR, so you can schedule recording for upcoming games and view them later on-demand at your own time.
Similarly, FuboTV carries NFL Network with their entry-level Pro plan, whereas DirecTV Stream includes it with the DirecTV Sports Pack for CHOICE and higher-tier subscribers.
How to Watch
As for how to access the NFL Network on Samsung Smart TV via one of the following streaming TV providers, it's actually quite straightforward. The first thing to do is download their streaming app using these steps:
Go to your TV's Home screen and navigate to the APPS
On the TV Appstore, select the Search (magnifying glass) icon in the upper-right corner, and enter the app's name (g., Sling TV, YouTube TV) to find it.
Select the matching streaming app from the results page. It'll redirect you to the app's overview screen, where you can view the description, screenshots, ratings, etc.
Click Install to add the respective app to your Samsung Smart TV, followed by the "Add to Home" option to add the app shortcut to your Home screen.
With the app downloaded, launch it from your Samsung TV Home and follow the on-screen prompts to sign in. Of course, you must also register for an account via the provider's site on another device and purchase the correct monthly streaming plan, just as we've discussed in the above section.
Once you're logged in, however, NFL Network should be easily accessible within the app's channel guide menu, alongside all the other channels your chosen plan carries. Across all the services we've mentioned, NFL Network is streaming in high-definition, so for an optimal experience, ensure your internet connection is up to the task (15 Mbps or faster).
Can You Watch NFL Network on Samsung Smart TV via NFL Plus?
As you may have heard, NFL+, the league's own streaming service that offers live local and primetime football games on mobile, now also allows subscribers to watch the 24/7 NFL Network channel – not just on phones and tablets but all compatible connected TV devices.
Sadly, the NFL app doesn't support Samsung Smart TVs yet, and even if you follow the workaround outlined in our guide to watching NFL Plus on Samsung TV, the mobile app doesn't allow for casting the live football streams on external screens over AirPlay. That also applies to the NFL Network and NFL RedZone channel streams.
On a related note, you can still enjoy the ad-free highlights and on-demand programming included with the NFL+ subscription on your compatible Samsung Smart TV over AirPlay, assuming you're also an iPhone or iPad user. Subscribe to NFL+ Premium, and you'll also be able to catch the full replays of every NFL game throughout the regular season and on to the post-season.
Also Check:
Endgame Remarks
Above, we've shown you how to watch the NFL Network on Samsung Smart TV via live TV streaming services. For those in doubt, we've also briefly touched upon the topic of whether NFL Network is accessible on their big screen via NFL Plus. As we wrap things up, now it's time for you to immerse yourself in NFL Network's day-to-day football programming.