The National Football League ushers a new season of professional football madness every year, with thirty-two teams eyeing to lift the Lombardi Trophy at the Super Bowl LVIII in the City of Lights, Las Vegas. Of course, there can only be one doing so, meaning the road to Paradise's Allegiant Stadium is a long one.
With so many exciting match-ups on the slate, it can be a real chore for any die-hard gridiron enthusiast to keep in check with their favorite team's games in any given week of the regular season. What's even more convoluting is the broadcasting landscape, where the coverage rights for these games are unevenly shared across several TV networks and streaming services.
The league-owned subscription offering, NFL+, aims to alleviate some of this mess by providing live and on-demand access to all local and national primetime NFL matches during and beyond the NFL season with a single subscription, which costs not more than your usual monthly Netflix fee.
However, with the live streams limited to viewing on phones and tablets, you may question the subscription's viability for watching football on the big screen. For those rocking one of the BRAVIA models from recent years, this guide to NFL Plus on Sony Smart TV will clear your doubts regarding what streaming subscription has to offer.
What's NFL Plus?
NFL Plus or NFL+ is the league's official over-the-top subscription service that allows for live-streaming of out-of-market preseason and telecasts/radio broadcasts of in-market regular season and post-season games. It even offers ad-free game highlights, live access to the NFL Network channel, and a substantial on-demand NFL Films library.
NFL+ amalgamates the league's former streaming offerings, including the NFL Game Pass, NFL Audio Pass, and NFL Game Rewind. It's worth noting that NFL Game Pass still exists outside the States as a means for international viewers to join the American football action via DAZN, but in the US, it's now known as NFL Plus.
What Does NFL Plus on Sony Smart TV Offer?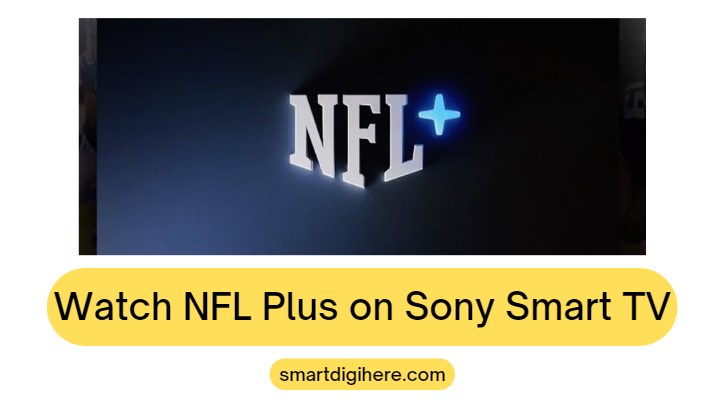 The idea behind NFL+ is for a small monthly or yearly fee, football fans who constantly find themselves on the go are able to watch every NFL game live on their phones and tablets all season long. It essentially makes use of the league's in-market mobile streaming rights, previously led by Verizon.
If you wish to enjoy the National Football League live on television, you'd still have to opt for the costlier approach: a live TV subscription that includes all the NFL-broadcasting channels, i.e., ABC, CBS, ESPN, FOX, NBC, and the NFL Network. Even that's not enough, as you'll need a Prime Video membership for the Thursday Night Football primetime coverage. More on that in our guide to NFL on Sony TV if you're interested.
That doesn't mean there's no use for NFL+ on Sony TV. Live games may not be available, but you'll still have access to live audio (home, away, national) audio for every game from the season and NFL Network on the big screen. And with an upgrade to the higher-tier NFL+ Premium plan, you can get:
Streaming access to NFL RedZone, where you can watch every crucial play from the early and late Sunday afternoon games in real-time, joining the host Scott Hanson in a non-stop, seven-hour-long football action.
Catch up with the NFL season with the full and 30-minute condensed replays of every NFL game, be it your local or out-of-market Sunday afternoon, Sunday Night Football, Monday Night Football, or Thursday Night Football match-up, on-demand. The All-22 coaches film replays are also available for select games.
That's on top of what the standard NFL+ tier already offers, including live access to the NFL Network channel, live game audio, ad-free on-demand NFL programming, Fantasy+, etc.
How to Get NFL Plus on Sony TV?
Now that you have a clear picture of what NFL+ or NFL+ Premium offers on devices outside of phones and tablets, you might be eager to take it for a drive on your Sony TV.
Fortunately, the official NFL app, through which NFL+ subscribers access all the streaming content in the first place, is compatible with Android TV and Google TV. Any Sony BRAVIA model released in the last few years has shipped with the following two smart TV operating systems, so you're probably in luck.
To get NFL+ on your Sony TV, first, you need to download the NFL app using these steps:
Scroll over to the Apps menu from the top of your Android/Google TV Home screen.
If you have a Sony Android TV, go to the Play Store and select the Search (hand lens) icon above. On Google TV, scroll down to the "App categories" row and select "Search for apps."
Use the on-screen keyboard to search the "NFL" app, then select it in the results.
Once you've landed on the app's overview page, select Install. It should immediately begin downloading.
After you've downloaded the NFL app, return to your Sony TV's Apps menu, find it within the "Installed apps" or "Your apps" shelf, and launch.
The rest is also straightforward. On the app's welcome screen, select "Sign Up," choose between the NFL+ or NFL+ Premium plan, set your billing cycle, and register for your NFL.com account directly from your Sony TV. It'll bill you for the recurring subscription via the payment method linked to your Google account.
You can also sign up via nfl.com/plus from a web browser on another device. You're required to provide your email address to create an account and enter your billing details for the NFL+ subscription. Alternatively, you may use the NFL mobile app (available for Android on the Play Store and iOS on the App Store) for seamless registration.
When you have your NFL+ or NFL+ Premium membership, select "Sign In" in the NFL app on Sony TV. Here, you can visit nfl.com/activate on a computer or mobile device and enter the given Activation Code or scan the displayed QR code with your phone camera and continue with the log-in process.
Once signed in, you're good to explore the live NFL Network / RedZone streams, game replays and highlights, and on-demand programs your subscription has to offer. Most of it should already be visible on the NFL app's Home page, but you may also visit the dedicated NFL+ menu from the left-hand sidebar to discover the entire catalog.
FAQ: Why can't I watch the live games?
In the NFL app on your Sony TV, you may see cards of ongoing football games with the red "LIVE" badge at the upper-left corner, but clicking them will prompt you to sign in with a TV or streaming provider.
As we've brought this up multiple times, while NFL+ offers live streaming access to every NFL game from the season, it limits viewing to mobile devices only.
The only handful of games you can watch live with NFL+ on Sony TV are the ones airing on the NFL Network channel. On RedZone with NFL+ Premium, you can enjoy the whip-around coverage of the Sunday afternoon football telecasts the channel is renowned for.
To stream the rest of the local and national matches live via the NFL Android/Google TV app, you must authenticate with your existing cable, satellite, or streaming TV provider account credentials. The participating list includes AT&T, Cox, Dish, DIRECTV, Optimum, Spectrum, Verizon, Xfinity, FuboTV, Hulu + Live TV, Sling TV, YouTube TV, etc.
Gridiron Wrap-Up
The NFL+ and NFL+ Premium subscriptions are worth the price if you want to stream NFL Network and RedZone live during the game week, plus every local and primetime regular and post-seasonal football match replays and highlights on-demand on the big screen.
For devoted fans, this guide to NFL Plus on Sony Smart TV will surely come in handy. If you have any queries or feedback regarding the subscription service or your experience streaming football on your Sony Android or Google TV, reach out to us via the comments below!