It's that exciting time of the year when football players wear their helmets, put on their cleats, and fans get their big foam fingers and team jerseys out of storage. Yet another season of the National Football League has commenced, and 32 teams are all eager to carve their path to Super Bowl LVIII in Las Vegas. It's a thrilling season ahead!
This NFL season brings an array of exciting matchups, providing countless viewing options for devoted football enthusiasts: Thursday Night Football on Prime Video, Sunday Night Football through NBC and Peacock, and Monday Night Football on ESPN+. FOX, CBS, and Paramount+ are for Sunday afternoon games, while Sunday Ticket on YouTube is back to provide access to the out-of-market matches. It's a lot to digest.
Streaming football this season is admittedly an expensive endeavor, which adds up fairly quickly with the multitude of subscriptions you'll have to continue over the next few months for comprehensive live coverage. NFL+, the league's official subscription streaming service, aims to offer fans some relief.
So what separates NFL+ from the rest, and is it any good? Can you even get NFL Plus on Firestick? Yes, but there are a whole lot more things you must know before subscribing, which is why we've prepared this guide to answer your burning questions. Read on as we go through the tidbits in more detail.
What is NFL Plus?
NFL Plus, stylized as NFL+, represents the league's official premium subscription offering for professional football lovers – the latest evolution in NFL's efforts to provide its audience with extensive season-wide coverage of gridiron action on the go.
Formerly NFL Game Pass, this service allows for live streaming of in-market televised match-ups (both local and national) and out-of-market preseason games, plus live game radio broadcasts and a diverse range of on-demand NFL programming.
Moreover, NFL+ is accessible in specific international markets through DAZN, the premier global sports streaming service, where it retains its original NFL Game Pass branding. It's purchasable as a standalone subscription or as part of DAZN's streaming bundle. But let's come back to the US version for today.
Check out: Watch NFL Plus on LG Smart TV
Is NFL Plus Available For Firestick?
The NFL app is officially Fire TV-compatible, meaning anyone with an Amazon Firestick can get it from the Appstore and sign in to access its streaming content. Unfortunately, that doesn't include access to any of the live NFL game streams. Here's why.
CBS, FOX, NBC, ESPN/ABC, and NFL Network – these are the official National Football League broadcasters in the United States, the majority of which are also streaming their portion of the coverage on their respective streaming platforms. The key selling point of the NFL+ subscription is to consolidate this coverage for viewers on the go, which limits its use to phones and tablets only.
There's still a way to enjoy these games on the big screen. Now, you better lower your expectations since it isn't screen mirroring as some anticipate, which is disabled due to rights restrictions. Instead, by opting for the higher-tier NFL+ Premium plan, you get on-demand access to the full game replays for streaming on all compatible devices, including the Firestick.
Yes, we hear you – still no live access. But for those who find themselves still busy at work or somewhere else during the live game telecasts, paying a cheaper monthly/yearly fee for watching the match replays and highlights in their own free time isn't a bad deal, literally saving one hundreds of dollars in streaming subscriptions in the process.
The best part is you can catch up with every NFL regular-season game and beyond with NFL+ Premium on Firestick, whether it's the Sunday afternoon games (from both in and out of the market), Monday Night Football, Sunday Night Football, Playoffs, the Super Bowl, Pro Bowl – you name it.
You won't entirely miss out on live games when using NFL Plus on Firestick. The Premium plan now also includes the NFL Network, where you can enjoy four International Series games and a few more from the regular season, and RedZone, renowned for Scott Hanson's non-stop whip-around coverage of all Sunday afternoon match-ups, seven hours straight.
Between all that, NFL+ Premium offers a solid selection of on-demand content, not just full/condensed game replays from as far back as 2009 but also ad-free original programs from the NFL Network and NFL Films. You can even tune in to the Coaches Film for select games for the All-22 view.
How to Access NFL Plus on Firestick?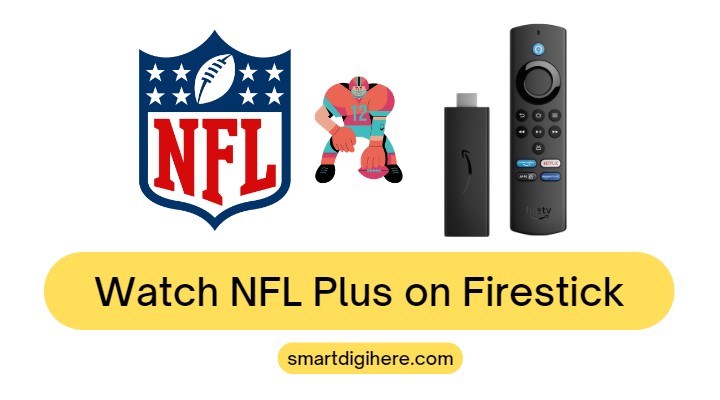 The first thing to do is boot up your Firestick and ensure it's on your home Wi-Fi network, after which you pick up the Fire TV Remote and use these steps to get the NFL app:
Scroll to the Find (magnifying glass) section of your Fire TV Home screen.
Choose Appstore, select the Search tile, and enter "NFL" using the keyboard.
Select the NFL app in the following "Apps & Games" shelf, followed by the Get option on the overview screen.
With the NFL app installed, navigate back to your Fire TV Home screen and click the More Apps (three boxes with a plus sign) icon at the right-hand corner of the pinned apps row. The NFL app should be at the bottom of the "Your Apps & Channels" menu.
There are plenty of ways to sign up for an NFL+ Premium subscription. You can follow the in-app prompts in the NFL Fire TV app to register your NFL.com account and subscribe directly via Amazon. Alternatively, you can visit nfl.com/plus from your phone or computer browser. Android and iOS users can also register through the NFL mobile app, available on the Play Store and App Store.
If you're already an NFL+ Premium subscriber on another device, choose the "Sign In" option on the welcome screen of the NFL Fire TV app. You'll be presented with a unique Activation Code displayed on your screen. You must verify this code at nfl.com/activate and proceed to sign in using your NFL.com credentials.

Once you receive the "successfully signed in" message within the NFL app, you're all set to start exploring and streaming content included in your subscription. Just go to the NFL+ menu from the app's left-leaning navigation panel. There, you can explore the different curated categories to discover exciting football content.
You should also find it convenient to access the NFL Network or NFL RedZone channel streams right from the top cards on the app's Home page. This convenience extends to the game replays and condensed highlights, which are easily available through the Games menu.
Closing Drive
Given its compelling offerings, an NFL+ Premium subscription is certainly worth every penny – at least for any die-hard fan looking for an affordable way to fulfill all their game-watching needs throughout the regular season and on to the playoffs.
However, if having NFL Plus on Firestick isn't enough, you might also want to check out streaming TV providers like FuboTV, Hulu + Live TV, Sling, or YouTube TV to stream live channels like ABC, CBS, FOX, NBC, ESPN, and NFL Network, where the majority of the NFL broadcasts occur during the game week.