The National Football League is among the most celebrated sports leagues in the United States, thanks to America's deep cultural roots in football. With the regular season already underway, millions of fans tune in together to experience the thrilling gridiron action the league is known for.
One advantage the NFL has over other sporting events is accessibility. Viewers can enjoy watching their favorite teams play beyond traditional cable and satellite means, with most games now streaming online. The drawback is the fragmentation, meaning you must pay for numerous streaming subscriptions for comprehensive regular-season coverage.
So what's the solution to this? Is there any one service to rule them all? Glad you asked. Introducing NFL+ – the all-in-one subscription that includes streaming access to every local and primetime match-up, plus other goodies that make the service even more enticing for ardent Bowl fans.
Sounds too good to be true, right? Well, it's a bit more complicated. We'll unfold everything you must know regarding the subscription and whether NFL Plus on Apple TV is available.
What's NFL Plus?
NFL Plus (or NFL+) is the league's own streaming offering primarily for viewers on the go. Subscribers get live access to every local and primetime game during the NFL regular season and the post-season match-ups – as long as they stream them on their phone or tablet.
Now, here's the real kicker: There's a Premium tier of the NFL+ subscription which, while still not offering live football streams for compatible TV devices, allows for watching full and condensed replays of every game, including out-of-market Sunday afternoon ones, on the big screen.
If you don't mind watching the games on demand shortly after the live telecast ends, the NFL+ Premium plan at $15 monthly (or $80 yearly) will end up saving you lots of money. We're talking about hundreds of dollars – which you'd have spent on live TV streaming subscriptions throughout the span of the regular season and beyond.
And it's not like you can't watch select games live. For this season, NFL+ Premium bundles streaming access to the NFL Network and NFL RedZone channels. The former is home to four live matches from the International Series. On RedZone, you can enjoy Scott Hanson's play-by-play "whip-around" coverage of all Sunday afternoon games.
Between live games, full replays, and highlights, NFL+ Premium offers ad-free access to a sizeable library of on-demand content, including studio programs, NFL Network Originals, NFL Films, an archive of classic matches, All-22 Coaches Films, and more.
Is NFL Plus on Apple TV Available?
Yes! With the official NFL app compatible with Apple TV boxes running tvOS 15 and above, you can take advantage of the NFL+ Premium subscription on the big screen. You must opt for the Premium plan for the on-demand match replays and RedZone, though the standard tier does include access to the rest of the on-demand programming and NFL Network.
As for how to get NFL Plus on Apple TV, we've provided step-by-step instructions in the below section.
Related Posts:
How to Get NFL Plus on Apple TV?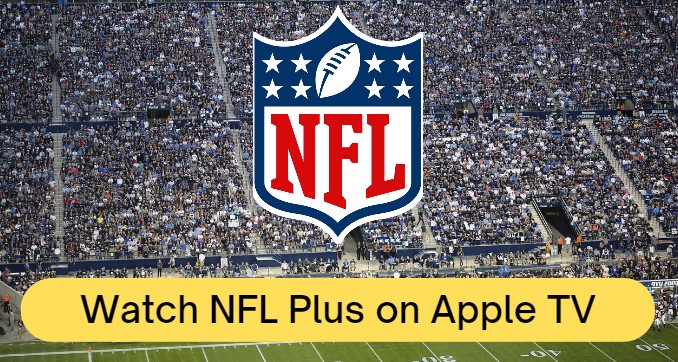 Provided your Apple TV HD (4th Gen) or 4K device is up to date and connected to the internet, the first thing to do is download the NFL app. It's relatively straightforward, as you can see here:
Use your Siri Remote to navigate to the App Store from your Apple TV Home Screen.
Scroll up to the top navigation bar and select the Search (magnifying glass) icon on the right.
Enter "NFL" by selecting the individual letters on the following screen, then choose the NFL app in the results.
On the screen where you can see the NFL app description, screenshots, and ratings, click the Get The app should start downloading.
With the NFL app downloaded on your Apple TV, go back to the Home Screen and open it from the bottom of your apps grid.
You can either follow the on-screen prompts to create an NFL account and sign up for the NFL+ Premium subscription directly from your Apple TV using your Apple ID or do all that by visiting nfl.com/plus from your phone or computer browser. Alternatively, iPhone and iPad users can register via the NFL mobile app, also obtainable via App Store.
If you've already signed up for NFL+ from a different device, select SIGN IN on the NFL Apple TV app's welcome screen. A randomly generated Activation Code should appear on the screen, which you'll need to enter at nfl.com/activate and continue logging in with your NFL account details.

When you get the "You signed in successfully" notification in the NFL app, you're ready to explore and stream from your subscription's offerings. Simply head to the dedicated NFL+ menu from the left-hand sidebar, where you can browse through the various content shelves to find what to watch.
You should also be able to access the NFL Network or NFL RedZone channel streams from the featured banner of the Home page, assuming you're an NFL+ Premium subscriber. The same applies to the game replays and condensed highlights, accessible from the Games menu.
F.A.Q.: What's up with LIVE games asking me to log in with a "TV or Streaming Provider" in the NFL Apple TV app?
As mentioned, neither NFL+ nor the NFL+ Premium subscription offers live access to the regular-season and post-season football games on connected TV devices. They're exclusive only to viewing on phones and tablets.
However, like many "TV Everywhere" streaming apps, the NFL app allows traditional TV (e.g., AT&T, Cox, DirecTV, Optimum, Verizon, Xfinity) or streaming television (e.g., FuboTV, Hulu + Live TV, Sling, YouTube TV)  subscribers to authenticate their credentials.
Therefore, one can stream all the games airing on their local CBS, FOX, NBC stations, and the NFL Network via the NFL app, provided they're included in the TV package. The app even allows third-party authentication for Peacock and Paramount+ subscribers, home to Sunday Night Football and NFL on CBS broadcasts, respectively.
Related: Watch NFL Plus on Roku
Final Tally
Watching the NFL over streaming can be an expensive endeavor, especially with the coverage split across so many platforms and packages.
But with NFL+, all you'll be paying is a meager monthly fee to enjoy every in- and out-of-market game during the regular- and post-football season on-demand, plus live access to the NFL Network and RedZone channels for occasional live broadcasts.
We've delved deep into NFL Plus' offerings and shown you that it's indeed possible to access NFL+ on Apple TV. However, we recommend you further check out our ultimate guide to watching the NFL on Apple TV if you're looking for more viable streaming choices.