If you're a sports fan, you probably know how frustrating it can be to miss your favorite games or sporting events just because you've cut the cord. You may not have access to the channels broadcasting them or aren't willing to pay extra fees to watch the games. That's why DAZN is such a game-changer for sports lovers.
You probably know about DAZN (pronounced Da Zone), the streaming service that lets you watch live and on-demand sports from around the globe. Whether you're into boxing, MMA, soccer, basketball, snooker, golf, tennis, or any other sport, DAZN got something for you. And with its flexible subscription plans, you can opt in and out as you like.
And the best part is you can watch DAZN on a wide range of devices, including your phone, tablet, computer, game console, or that large-format Smart TV in your living room. We've compiled this guide to set up and use DAZN on LG Smart TV. It's so you can be immersed in the best sports action on the big screen. Let's get started!
What's DAZN & What to Watch on LG Smart TV?
DAZN is the streaming home to dozens of world-class sports programming. Whether at home or on the move, You can watch some of your favorite sporting events live and on-demand across different devices, including your LG Smart TV. Here are some of the sports you can enjoy via DAZN on LG TV:
Boxing: DAZN is the home of Anthony Joshua and other world champions like Canelo Alvarez, Ryan Garcia, and Katie Taylor. You can also watch exclusive Matchroom Boxing events and original boxing-centric documentaries.
Soccer: It's where you can watch live UEFA Nations League, UEFA Women's Champions League, and English Football League matches featuring the best teams and players in Europe. You can also catch highlights and analyses of various other soccer competitions.
Darts: The service brings you action from the European Darts Championship and other professional tournaments, where you can see the skill and precision of the top darts players in the world.
MMA: It showcases MMA events from Naciones MMA, Ansgar Fighting League, and more. You can watch exciting fights and learn more about the fighters and their stories through DAZN's original documentaries.
Snooker: DAZN lets you watch snooker matches from various tournaments, where you can witness the strategy and finesse of the players.
And More: DAZN also offers other sports content, such as cricket, rugby, tennis, golf, and motorsport.
DAZN serves more than 200 nations worldwide, including the United States, Canada, the United Kingdom, Austria, Germany, Italy, Spain, Japan, Brazil, etc. Therefore, it's worth noting that the service's sports streaming rights vary from one country to another. The availability of select live (and on-demand) sports programming depends on your location.
For instance, in some European and Asian countries, DAZN has exclusive rights to the MLB, NBA, NHL, NFL, Formula One, and the Premier League, while in the North American territories, they may not. Hence, before you subscribe, we strongly recommend visiting dazn.com to verify which sports content is accessible.
How to Install DAZN on LG TV?
If you're in a region where DAZN offers its services, and you own a 2016 or newer LG Smart TV model running webOS 3.0 and above, you're eligible to download the streaming app and watch its sports programming. All you have to do is go through the following steps:
Turn on your LG Smart TV and ensure it's connected to the internet.
Press the Home button on your remote to access the Home screen. On older webOS TVs, it brings up the launcher bar at the bottom.
Highlight and click the Apps (four tiles) icon under your App List. Or, select LG Content Store from the options.

Click the Search (magnifying glass) icon at the upper-right section of the Content Store page.
Enter "DAZN" in the search bar with the on-screen keyboard and hit the Search button.
Pick DAZN from under the "Apps" section, leading you to the app's description page. There, click Install.
You may launch DAZN like how you access other streaming apps installed on your LG Smart TV. Go to the Home screen or access the launcher bar, scroll to the right of your App List, and click the DAZN app icon. You can use the Edit App List (pencil icon) function to move DAZN to the front of the list for faster access.
How to Activate & Watch DAZN on LG Smart TV?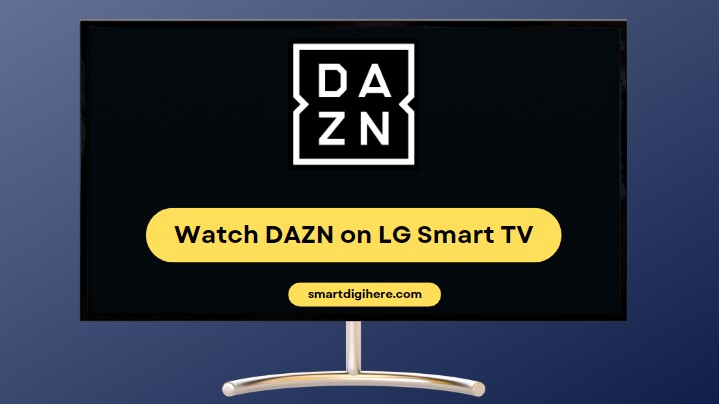 Once you have the DAZN app on your LG webOS TV, use these steps to activate your subscription:
First, launch the DAZN app on your LG Smart TV. It'll greet you with a welcome screen.
Click where it says "Sign Up Now" or "Start Subscription," then fill up the following form with the necessary details.

Confirm your payment details and follow the remaining on-screen prompts to start your subscription.
Upon going through the registration, you'll be auto-logged into the DAZN app on your LG TV, after which you're ready to explore and stream DAZN's best-in-class live and on-demand sports offerings, including boxing, MMA, wrestling, football, basketball, autosport, eSports, and much more as we've discussed above.
While you can register for DAZN straight from your LG Smart TV, you may also find it easier to sign up from dazn.com on your mobile or computer and then Log In to the app with your account credentials afterward.
F.A.Q.: DAZN on LG TV
Q1. How to restart DAZN on LG Smart TV?
Sometimes you may encounter playback errors in the DAZN app, but fixing most of those issues is as easy as relaunching it.
To restart DAZN on LG TV, press the Up button on your remote D-pad until you see the on-screen navigation tabs. Then, choose Exit App to close it. It's advisable to wait a few minutes before you launch DAZN from your App List again.
Q2. My household has two or more LG Smart TVs / streaming players. Can I use my DAZN subscription for all of them?
A single DAZN subscription allows you to sign in across six compatible devices. However, you can only stream on up to two of them simultaneously at a given time.
As for compatibility with other streaming players, you can access DAZN on Android TV, Apple TV, Chromecast, Fire TV, Roku, and even your PlayStation or Xbox game consoles. Smart TVs from Samsung and Vizio are also supported.
Q3. I'm encountering poor stream quality on DAZN. How to fix it?
Connecting your LG TV to the internet via LAN or Ethernet is the best option for streaming live sports at optimal quality. You can still watch DAZN on Wi-Fi if you prefer, but the signal strength and available link speed will impact the stream resolution.
DAZN adapts the playback quality based on available bandwidth. It typically starts with a low-quality video that uses less data and then dynamically improves the bitrate as your connection gets better.
If you think the video quality is still poor after a few minutes of playback and you pay for a fast enough internet connection, visit dazn.com/help to contact DAZN Support for further assistance.
Final Words
This guide has shown you how to install DAZN on LG Smart TV, with additional steps to registering for the subscription and activating the app.
If you're looking for an all-in-one streaming service for your contact sports fix, DAZN is worth considering. The best part is that you don't have to pay for every big-ticket boxing and MMA fight, as DAZN includes them under its monthly/annual plan. Additionally, it covers other top sporting leagues you may be interested in.