The NFL (National Football League) is undoubtedly the US's most popular sports league and also the most accessible in the bunch.
It airs across six different TV networks, and now with the advent of online video platforms, a bunch of streaming services. In fact, you can tune in to the NFL-broadcasting channels on your favorite screens with a streaming TV subscription instead of a traditional cable or satellite pay-TV contract.
However, with accessibility comes the shortcomings of fragmentation, with viewers having to pay for multiple subscriptions for a complete regular season football coverage. Switching back and forth between platforms is frustrating, and it's also very costly. That's what NFL's own streaming service, NFL Plus, or NFL+, aims to rectify.
What exactly does the National Football League's streamer offer? Can you get NFL Plus on LG Smart TV? This guide dives into everything we know, so join us as we cover all you need to know.
What Does NFL Plus Offer?
NFL+ is a revamped version of NFL Game Pass but with the addition of live football streams. Subscribers can watch all out-of-market pre-season NFL matchups, local and primetime games from the regular season, and postseason fixtures at the same time they're airing on cable/satellite television.
It includes whichever AFC or NFC teams are playing on your local CBS and FOX affiliates on Sunday afternoons, plus the Sunday Night Football and Monday Night Football games that NBC and ESPN televise nationally. And with the live game audio streams, football fans can switch between the home and away team's broadcasts.
NFL+ also provides live and on-demand access to the NFL Network's diverse programming catalog, the NFL Film archives, and a solid selection of original features and documentaries from the NFL library – everything free of adverts.
For $5 a month, all this sounds too good to be true, and well, you're not wrong to assume so. There's a catch.
Is NFL Plus Available on LG TV?
The answer to this is no, but also yes. For starters: NFL+ subscribers can watch the live football streams on phones and tablets only.
Watching the NFL live on the big screen will still require you to pay for a cable or satellite sports package, a streaming TV bundle from the likes of FuboTV, Hulu, Sling, or YouTube TV, or the over-the-top ESPN+, Peacock, Prime Video, and Paramount+ plans.
Our guide to watching NFL on LG Smart TV should tell you more. With that said, all the on-demand content the NFL Plus subscription offers access to is streamable on supported TV devices.
Even better, the $10-a-month NFL+ Premium gives you on-demand access to full replays and condensed highlights from every NFL game airing in and outside the regular season, including the out-of-market Sunday afternoon games not airing on your local stations due to blackout restrictions.
Also included in the Premium subscription is access to All-22 Coaches Film for games, which lets you view plays from a birds-eye perspective. It's so you can observe every player on both offense and defense throughout the game. And once again, all of this is free of ads.
As for whether you can take advantage of NFL+ on LG TV, it depends. LG webOS TVs don't have a native NFL app, but the newer models have Apple AirPlay support. It means you can use the mobile app on your iPhone or iPad to cast the on-demand football content (and select live streams) onto your big screen. Check out the below section for more details.
Watch NFL Plus on LG Smart TV with AirPlay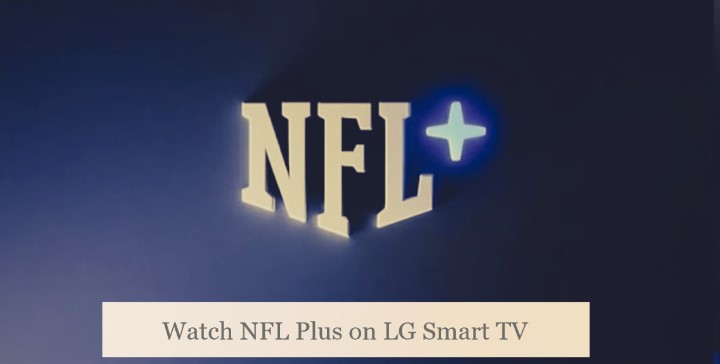 The NFL app for iPhone and iPad allows NFL+ and NFL+ Premium subscribers to cast every other streaming-on-demand content on AirPlay-enabled screens except for the mobile-only live feeds of in-season matchups.
Assuming you have an Apple device and an AirPlay 2-supported LG UHD, QNED, or OLED TV model (2018 or later, check out the compatibility list here), use the following instructions to watch NFL+ content on your big screen:
First, ensure your LG TV is powered on and connected to the same home network as your iPhone or iPad.
Download the NFL mobile app on your Apple device. It's officially available on the App Store.
Launch the app from your device's Home Screen, then head to the NFL+ menu from the bottom navigation bar. You should see the Sign Up or Subscribe to NFL+
Pick your preferred plan (we recommend the monthly NFL+ Premium package) and go through the rest of the on-screen steps to create your NFL.com account and pay for the subscription.

Existing NFL+ subscribers who've signed up via nfl.com/plus, tap the Profile icon at the top-right corner and continue logging in with your NFL.com account details.

Once logged in, choose the content you want to watch from the Games or Shows tab on the app's NFL+ screen.
With the content playing back, tap the AirPlay (rectangle with an upward-pointing triangle) icon above the in-app player.

If you don't see the AirPlay icon, the selected content is prohibited from casting.

Tap your LG TV model in the AirPlay menu, then confirm the four-digit Passcode on your TV screen.

Note the AIrPlay Passcode confirmation screen appears only for the first time.
Enjoy your chosen NFL+ content, whether it's a game replay, condensed recap, or one of the many captivating titles from the NFL Films catalog, on your LG Smart TV without any ad breaks. You can continue using your iPhone or iPad for playback controls alongside things you usually do.
Troubleshoot NFL+ Not Working on LG TV
If you don't see your LG TV in the AirPlay menu when casting content via the NFL mobile app, even if it's a compatible model sharing the same network connection as your Apple device, use these troubleshooting steps:
Press Home on your LG TV's Magic Remote to bring up the Home screen.
Scroll to the Home Dashboard row, then highlight and select AirPlay.
Head to the AirPlay and HomeKit Settings, and ensure AirPlay is "On."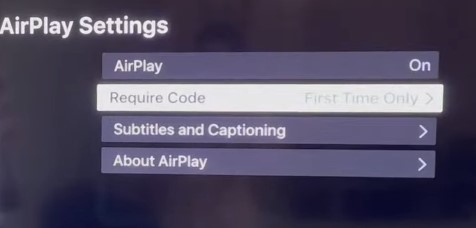 Reboot your LG TV by long-pressing the remote's Power button or unplugging it from the wall and plugging it back in after a few seconds.
If these steps don't work, relaunch the NFL mobile app or restart your Apple device. That should resolve the issue.
NFL Plus on LG Smart TV: FAQ
Q1. Can I use Screen Mirroring to watch the live NFL+ streams on my LG TV?
No. The NFL mobile app has put DRM restrictions in place to prevent subscribers from using AirPlay Mirroring or other similar mirroring protocols to output the live football streams to external displays. It won't work even if you try to use Apple's Lighting/USB-C Digital AV HDMI Adapter.
Q2. Can I cast NFL+ content on LG TV from my Android device?
Android phones and tablets allow casting via Chromecast – not AirPlay. LG Smart TVs only support the latter. However, cheap Chromecast dongles and Android TV boxes are available in abundance, and with one of those devices set up, you can cast eligible NFL+ content from the NFL mobile app for Android onto your LG TV.
Q3. Can I access the NFL+ library from the LG TV Web Browser?
Newer LG webOS TVs have a built-in Web Browser. Visit nfl.com/plus from there, however, and you'll likely end up with a blank page with no content loading. NFL+ on the web supports only a handful of modern desktop browsers, so it's a no-go.
Goal Line
The NFL app might not be available for LG's webOS platform. However, that doesn't stop you from accessing NFL plus on LG Smart TV, at least the on-demand content the service allows casting over AirPlay, if not the live feeds of local and primetime NFL games.
Of course, it's not an ideal solution since you require a compatible TV and an iPhone/iPad. But if you're a football fan who doesn't have time to catch the NFL games live anyway, the monthly NFL+ Premium is the most affordable subscription that makes sense.