NBC Sports is home to diverse sporting events, from football, baseball, soccer, motorsport, golf, tennis – and everything in between. Besides its regional networks, the division handles sports coverage across NBCUniversal-operated stations, including NBC, CNBC, Telemundo, and USA Network.
The good news is you can now tune into NBC Sports programming digitally on your mobile, laptop, streaming media device, or smart TV, regardless of whether you still pay for cable or have cut the cord.
If you're looking forward to watching your local sports team play or enjoy NBC's national Sunday Night Football, MLB Sunday Leadoff, NASCAR, or Premier League broadcasts on your Tizen-powered screen, we've got you covered. Below you'll find everything related to NBC Sports on Samsung Smart TV.
Get the NBC Sports on Samsung Smart TV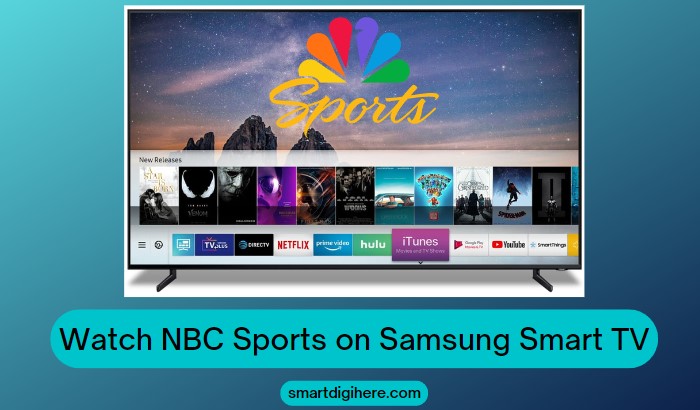 The NBC Sports app lets you stream all sporting events airing live across NBCUniversal's networks, including big-ticket football and soccer match-ups, plus motorsports, golf, and tennis tournaments. You can also tune into NFL, NBA, MLB, and MLS games broadcasting on your local NBC Sports RSN (regional sports network). Other features include on-demand access to full event replays and highlights from past events.
Note NBC Sports on Samsung Smart TV requires signing with a TV provider. You must have a cable or satellite pay-TV connection with a package that includes your local NBC station and sister channels to stream NBC Sports content via the app. However, bonafide cord-cutters won't be missing out either. More on that later.
Steps to Install & Activate NBC Sports on Samsung Smart TV
If you have a 2017 or newer Samsung Smart TV model, you should be able to access the NBC Sports app. Provided your TV is powered on and connected to your home internet, here's how you install it (steps apply to the latest models):
Press the Home button on your Samsung TV remote to open the Smart Hub dashboard.
Next, navigate to and click the Apps icon among the top apps row.
Select the Search (hand lens) icon in the upper-right corner, type "NBC Sports" using the on-screen keyboard, and click Done.
Pick NBC Sports in the app results, then hit Install on the following overview page.
After the installation finishes, select Add to Home and exit the app store.
Launch the NBC Sports app from your TV's apps row, then navigate to its Settings menu. You'll find the option to log in with your provider, after which you simply follow the on-screen activation steps.
Basically, you'll need to visit nbcsports.com/activate from another device and enter the activation code displayed on your TV, then choose your respective TV provider and confirm your credentials. It's a matter of a few minutes, assuming you know your provider account details.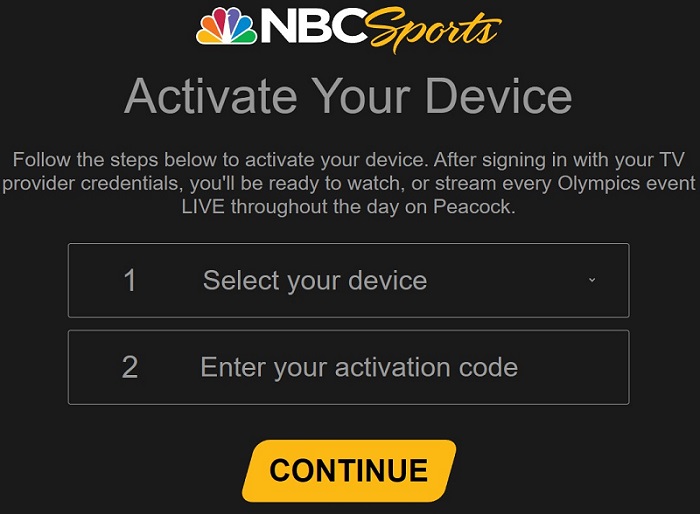 Once logged in, you can access live events, replays, highlights, news clips, and more from the app's Home page – in high definition!
If you have an iPhone or iPad and an AirPlay 2-enabled Samsung Smart TV, download the NBC Sports mobile app from the App Store and link your provider. You may then use the AirPlay functionality to cast your favorite sports streams onto your big screen. No need to use the TV app!
Watch NBC Sports on Samsung Smart TV Without Cable
Even if you've cut the cord, you can catch all the sports action NBC Sports has to offer via streaming television apps, such as DirecTV Stream, FuboTV, Hulu Live TV, Sling TV, and YouTube TV.
Like your usual streaming subscriptions like Netflix or Prime Video, these services offer contract-free skinny bundles featuring your local NBC station and other NBCUniversal channels, including CNBC, Golf Channel, USA Network, Telemundo, Universe, etc.
Hulu Live TV and YouTube TV are your best options since they include all the NBC-operated channels and the NBC Sports RSNs, including:
| | | | |
| --- | --- | --- | --- |
| NBC Sports Bay Area | NBC Sports Boston | NBC Sports California | NBC Sports Chicago |
| NBC Sports Northwest | NBC Sports Philadelphia | NBC Sports Washington | SportsNet NY |
Sling TV's Blue plan is also worth considering if you're on a budget and only care about national sports coverage from the network. We strongly suggest visiting all the provider's websites to verify the channels available in your zip code before subscribing.
Note all the above services offer cloud DVR storage and concurrent streams, with services like Hulu also providing on-demand content with its Live TV bundle. Besides offering native apps for Samsung Smart TVs, they also support logging into the NBC Sports app highlighted earlier.
NBC Sports on Peacock
Most of NBC Sports' programming now streams on NBCUniversal's Peacock app, including simulcasts with NBC, USA Network, and Telemundo and exclusive live events. A Peacock Premium subscription will give you access to the following:
All Sunday Night Football and NFL playoff simulcasts, with one exclusive regular season football game
Big Ten Conference simulcasts, with eight exclusive games per season
Exclusive MLB Sunday afternoon games
175 Premier League match-ups not airing on TV per season, with full replays of all matches
PGA Tour in simulcast with NBC and Golf Channel
Coverage of IndyCar practice and qualifying sessions, plus all IMSA SportsCar Championship races
WWE
And more
The Peacock app is available for all 2017 and newer Samsung Smart TV models.
Check out: What Channel is ABC on Samsung TV Plus?
Final Words
NBC is one of the oldest American television networks, and NBC Sports is where you can watch the year's biggest and most spectacular sports events unfold. Our guide highlights all the ways you can watch NBC Sports on Samsung Smart TV, whether it's signing in to the network's official streaming app with a TV provider, getting a streaming TV subscription, or the Peacock app. Now it's up to you to decide which one to go for.