Samsung is an industry leader in the smartphone and TV business. In fact, they currently sell more televisions than any other brand globally. With millions of users glued to their screens, it makes perfect sense for Samsung to capture some of that streaming market share with their own content offerings, and that's where Samsung TV Plus comes in.
In 2015, the company announced its free, ad-supported streaming television (FAST) app, Samsung TV Plus, for its Smart TVs, which later expanded across Galaxy smartphones and tablets and now beyond its product portfolio. With 200+ channels offering a diverse range of programming and 1000s of on-demand titles, it's more in line with Pluto TV, Tubi, and The Roku Channel.
TV Plus is free to use, makes account creation optional, and has no premium subscription model, at least for now. The best part is you can access select local stations on the service over the internet, including ABC's news channels. Can't find it? Well, you're at the right place, as this guide will tell you what channel is ABC on Samsung TV Plus.
What Channel is ABC on Samsung TV Plus?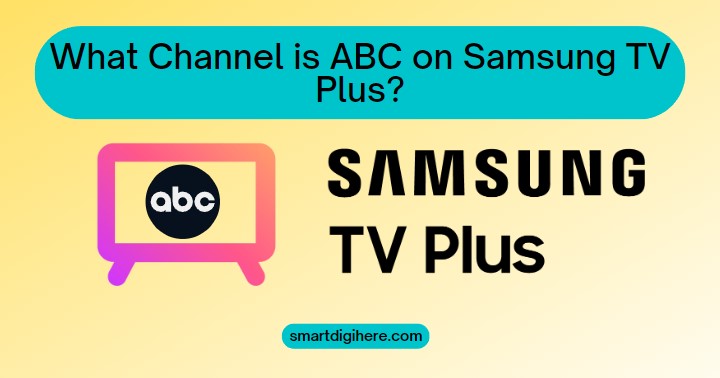 Samsung TV Plus offers over 1,200 channels across 24 countries in Asia, Europe, and the Americas, with the availability of channels varying between regions. The United States gets 200+ channels of different categories, such as Entertainment, News, Sports, Gaming, Music, International, etc.
Assuming you're in the US, only then you'll be able to access the ABC local news stations via TV Plus. Here are the channel numbers on the streaming service:
ABC News Live: 1007
ABC7 WWSB: 1035
ABC15 Arizona: 1035
WXYZ Detroit 7 News: 1035
ABC13 Houston: 1035
ABC7 Bay Area: 1036
News 5 Cleveland: 1036
WFTS Tampa Bay: 1036
Note:
The availability of the following channels will vary based on your location. If you don't have access to any of them, you're likely in a different DMA (designated market area) where Samsung TV Plus is yet to offer ABC stations.
How to Access the ABC News Stations on Samsung TV Plus?
Samsung TV Plus is available on almost every Samsung Smart TV manufactured in 2016 and later, including the newest 2023 models. The same applies if you own a Samsung Smart Monitor (M7, M8, or equivalent model).
Accessing TV Plus is as easy as it gets. All you have to do is turn on your TV, ensure it's connected to your home internet, press the Home button on the remote, and navigate to Samsung TV Plus in your apps list on the dashboard. Then head to the Channel List or Guide menu and choose the ABC station you wish to watch.
If you have a Samsung Galaxy device (Android 8.0 or above), download the Samsung TV Plus app from the Galaxy Store or Play Store and access its free offerings without creating an account or signing in for a subscription.
There's a Live TV tab at the bottom navigation bar in the mobile app from where you can stream the ABC news channels. You can also cast content to any Chromecast-compatible streaming device via the app.
Note:
Anyone with a non-Samsung Android device can sideload the Samsung TV Plus APK from a verified third-party source like APKMirror and log in with a Samsung account to access its live and on-demand offerings.
Those who don't have a Samsung device can access the web version of the streamer, samsungtvplus.com, without downloading the app. Though it's worth noting that it's available only in the United States and the Republic of Korea.
FAQ: Do I need to log into Samsung TV Plus?
As mentioned, you don't need to log in to stream TV Plus on your supported devices. However, note some features like Continue Watching, Favorite/Edit Channels, and Watch List are available only when you sign in with a Samsung account.
Recommended Reading: Fix ABC App or Live Stream Not Working
Bottom Line
Now that you know what channel is ABC on Samsung TV Plus, simply tune in and stay updated with your local news (and sports) on your big screen or mobile device. Of course, Samsung's FAST service offers a sizeable, diverse channel lineup that you definitely should check out.
Other ways to access your local ABC affiliate station on your Samsung Smart TV include the official ABC app, but it requires logging in with a TV provider. If you get the channel through your cable, satellite, or streaming (e.g., FuboTV, Hulu, YouTube TV) provider, download the ABC app from your TV's built-in Apps Store. Then open it and follow the on-screen activation prompts. The process is straightforward and will take you only a few minutes.