Comcast and Paramount Global, through a joint venture between Sky Group and Showtime Networks, respectively, introduced their new streaming service SkyShowtime, as if there weren't enough of them already.
The subscription-based on-demand platform is rolling out across millions of homes in several Central and Eastern European countries, including Andorra, Bulgaria, the Czech Republic, Denmark, Hungary, Netherlands, Norway, Poland, Portugal, Sweden, Spain, Slovakia, and more.
SkyShowtime encapsulates the best of entertainment from the acclaimed productions of NBCUniversal and Paramount Media Networks, providing thousands of hours of films, TV series, and more for the whole family.
Odds are you're curious to try out this brand-new streamer but wondering whether it's possible to get SkyShowtime on PS4 and PS5. We've compiled this article to tell you more about the service and its availability for Sony's highly-popular game consoles.
Can You Get SkyShowtime on PS4 and PS5?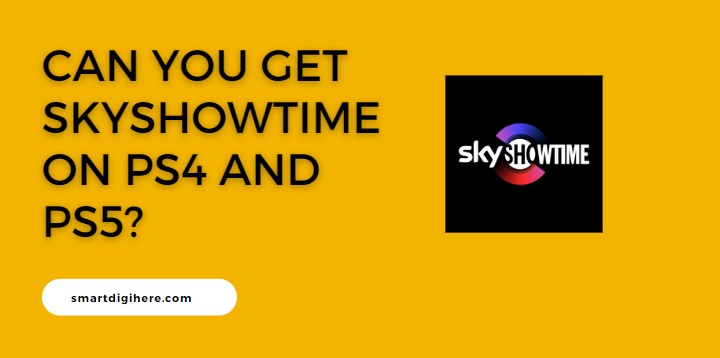 SkyShowtime features a vast library brimming with exciting and engaging programmes, such as a unique selection of some of the most critically-acclaimed movies and shows, family and kids entertainment, documentaries, and reality.
Unfortunately, SkyShowtime is unavailable for Sony's PlayStation consoles as we speak. There's no news on whether the streaming service will make its way to the PS4 and PS5 anytime soon. It may come as a disappointment to those using a PlayStation as their central media hub for living room entertainment.
While the PS4 and PS5 aren't SkyShowtime's target devices at launch doesn't mean it'll never happen. At least for now, when exactly the streamer app will hit the PlayStation Store remains a mystery.
After all, plenty of streaming services are available natively for the consoles, such as Netflix, Disney+, and Prime Video, so it isn't unlikely for SkyShowtime to launch for PlayStation in the future and compete against its rivals.
Can I Use PS4 Web Browser to Watch SkyShowtime?
Unlike the PlayStation 5, the PS4 and PS4 Pro offer an Internet Browser for casual web surfing directly on the console. Hence, some of you may wonder if it's possible to use the PS4 web browser to access and stream content from the SkyShowtime website.
Unfortunately, the answer is no. The SkyShowtime website remains inaccessible for the most part, with no video playback. It's likely due to the advanced content copyright protection the streaming service utilises, which probably isn't designed to work with the PlayStation web browser.
Where Else Can I Watch SkyShowtime?
SkyShowtime currently supports a number of mobile devices, web browsers, and Smart TV platforms. It includes the following:
Mobile Devices & Tablets
Android Phones and Tablets running Android 7.0 or later
iPhones and iPads running iOS 13 or newer
Web Browsers (Computer)
Google Chrome 75+
Microsoft Edge 80+ (Chromium-based)
Mozilla Firefox 88+
Apple Safari 12+ (macOS only)
For an optimal streaming experience, we recommend using the latest, up-to-date version of the following web browsers on the newest revisions of Windows, macOS, and ChromeOS operating systems.
Similar: Watch SkyShowtime on Firestick
Smart TVs / Streaming Players
Android TV 6.0 or later (g., Sony BRAVIA Android TVs, NVIDIA SHIELD, and other Android-powered Smart TVs, set-top boxes, and streaming dongles)
Apple TV (4th Gen or newer) running tvOS 15.0 or later
Google Chromecast (1st Gen+) and Chromecast with Google TV
LG Smart TVs (2017 or later models) running webOS 3.5 or later
Samsung Smart TVs (2017 or later models) running Tizen 3.0 or newer
You should have access to at least one of the compatible devices mentioned above. All you need to do is download the SkyShowtime app or visit the website, sign up for an account, set your billing cycle for the recurring subscription, and log in.
After that, you'll be streaming the best on-demand content from some iconic studios, including DreamWorks, Nickelodeon, Peacock, Paramount+, Showtime, Sky Studios, Universal Pictures, and others – right on your preferred screen.
It's worth noting that the video quality is capped at 1080p on SkyShowtime, though it does offer Dolby Digital 5.1 audio. The service recommends a minimum internet speed of 5.5 Mbps (or faster) for an uninterrupted streaming experience.
Related:
Final Words
SkyShowtime isn't currently supported on PS4 and PS5 consoles. However, we've answered some of your questions regarding the availability plus highlighted other options to enjoy its diverse streaming library on your big screens.
Should the streamer app make its way to Sony's gaming platform in the foreseeable future, we'll update this article with further in-depth details. In the meantime, use a compatible streaming media player (e.g., Chromecast) or connect your laptop to your TV over HDMI to discover SkyShowtime's offerings.