Comcast, the multinational entity that owns Sky, has partnered with Paramount Global (formerly ViacomCBS) to introduce an all-new streaming service in Europe, aptly dubbed SkyShowtime.
The SVOD service has begun serving a sizeable catalogue of movies, shows, originals, and more family-friendly entertainment across a growing list of European countries since September 2022. In Nordic countries like Denmark, Finland, and Norway, SkyShowtime also replaces the Paramount+ streaming service.
For its €7 monthly contract-free plan, SkyShowtime carries a diverse range of premium content, especially in contrast to streaming giants like Disney+, Netflix, and Prime Video. You're here to learn more about the service and explore all its stunning offerings on your LG television, and we got you covered.
Here's everything we know about the new streamer, plus step-by-step instructions on how to get SkyShowtime on LG Smart TV.
What's SkyShowtime and What Can You Watch?
SkyShowtime features over 10,000 hours of content, with a wide variety of movies and shows from some of the biggest franchises and studios, plus local programming that includes comedies, dramas, documentaries, family films, and more.
SkyShowtime carries on-demand content from several providers under NBCUniversal and Paramount Media Networks. It includes a solid selection of iconic titles and box sets from Dreamworks, Nickelodeon, Paramount+, Paramount Pictures, Peacock, Sky, Showtime, and Universal – all streaming in one place.
Comcast, the parent company of Sky, runs a vast array of American TV channels, including NBC, CNBC, MSNBC, Bravo, E!, Syfy, and USA Network. Paramount Global has an equally large group of channels that allow SkyShowtime to offer a substantial amount of American programming to the subscribers.
Apart from Comcast and Paramount's original productions, many third-party providers are also on board, including 21 European originals from HBO Max, following a deal with Warner Bros. Discovery.
Many critically-acclaimed dramas, such as American Gigolo, Dexter: New Blood, and The First Lady from Showtime, The Rising and The Fear Index from Sky Originals, and The Midwich Cuckoos, are available to stream on the platform. Additionally, you can watch the 21st season of Law & Order from Peacock, Yellowstone S5, Pitch Perfect: Bumper in Berlin, Vampire Academy, Yellowjackets S2, and Let The Right One.
The streaming service promises exclusive premieres of theatrical releases from Paramount and Universal, the two studios that account for almost 50% of the Hollywood box office. Some blockbuster films you can watch right now are Top Gun: Maverick, Sonic the Hedgehog 2, Jurassic World Dominion, Minions: The Rise of Gru, Sing 2, The Northman, Downton Abbey: A New Era, Ambulance, The Bad Guys, etc.
In Which Countries Are SkyShowtime Available?
SkyShowtime has rolled out in a number of Central and Eastern European countries since its soft launch. It replaced Paramount+ in Denmark, Norway, Finland, and Sweden and launched as a standalone service in the Netherlands, Portugal, Bosnia, Bulgaria, Croatia, Kosovo, Montenegro, Serbia, and Slovenia.
SkyShowtime is now also streaming in Albania, the Czech Republic, Hungary, North Macedonia, Poland, Romania, and Slovakia, with Andorra and Spain being recent additions to the list of markets.
Can You Get SkyShowtime on LG Smart TV?
Yes! SkyShowtime has a native streaming app for LG Smart TVs (2017 and newer models) running webOS 3.5 or above. It's available in nearly every country the service has rolled out in so far. With SkyShowtime on your LG webOS TV, you get to:
Pick from curated catalogues of diverse blockbusters films, new exclusive series, family-friendly programming, documentaries, and more.
Enjoy the entire on-demand library in 1080p Full HD (4K coming soon) with Dolby Digital 5.1 surround audio.
Binge your favourites with zero ad interruptions.
Create up to five individual profiles (including a child-friendly option) with tailored suggestions.
Stream on two additional devices aside from your LG TV.
How to Install SkyShowtime on LG Smart TV?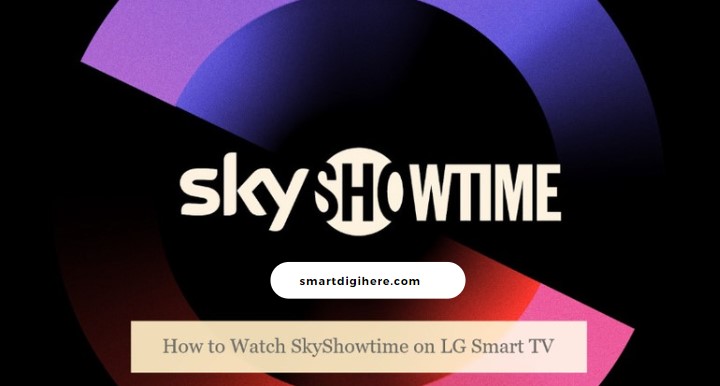 You can download SkyShowtime on your compatible LG webOS TV from the LG Content Store in just a few simple steps:
Press the Home remote button to open the Home menu.
From your App List, select the Apps.
Go to the Search menu (click the magnifying glass icon at the top-right) to find the "SkyShowtime" app.
Once you choose SkyShowtime in the results, you should find yourself on the app's preview page. Hit Install.
To launch SkyShowtime on your LG Smart TV after installing it, bring up the Home screen and scroll to the end of your App List, where you should see the app icon.
To move the streaming to the front, click Edit App List, select SkyShowtime, and use your remote's navigation buttons to place where desired.
Subscribing to SkyShowtime on LG TV
SkyShowtime is a subscription-based streaming service, so you must sign up and log into the app on your LG Smart TV to discover and stream its content. Here's what you need to do:
Visit skyshowtime.com from your web browser and click Join SkyShowtime at the top.
It'll present you with two options: Either sign up for the Monthly free trial (which you can cancel anytime) or get the Annual subscription at a cost-effective price. Continue with your choice.
Enter your Email and Password as login credentials and click Start subscription.
Choose your payment method (bank, credit card, or PayPal) and follow the on-screen prompts to complete the payment for the subscription or verify your details to activate the 7-day free trial.
Check your mail inbox for an email from SkyShowtime, open it, and click Confirm email address.
Using SkyShowtime on LG Smart TV
Once you have your login details and an active subscription, launch SkyShowtime on your LG Smart TV and click the "Log in" button on the welcome screen. Use the on-screen keyboard to enter your email and password, then hit Continue.
And that's it! You can now select your Profile (or create a new one by clicking the + icon), and you're ready to explore SkyShowtime's massive content library.
The Home page is where you'll find handpicked titles under different categories, with featured content at the top banner. From the left-hand sidebar, you can access the Search, Movies, and Shows menus alongside your Profile selection menu and Watchlist.
To change your profile language, go to the Profile menu, click the pencil icon under your desired profile, and pick your preferred option from under the "System Language" section. Besides English, you can choose from 20+ languages, though it's worth noting that subtitles may not always be available in your language. You may adjust age ratings and access other parental controls from the same menu.
To add your favourite content to your watchlist for later binges, select the title you wish to add, then click the + My List button.
More LG TV Guides
Wrapping Up
With the help of this guide, you can download SkyShowtime on LG Smart TV and log in with your account to stream from a variety of content, including but not limited to new and classic movies, original series, box sets, and documentaries, among others – to suit every mood and occasion.
If you can't see the SkyShowtime app on the LG Content Store, it's likely the service hasn't completely rolled out in your region, or your LG Smart TV is running on an unsupported firmware below webOS 3.5, in which case you're out of luck.