Sky Glass, Sky's first in-house, all-in-one Smart TV, packs a 4K QLED display, a 3.1.2 speaker system with Dolby Atmos support, and hands-free voice controls with far-field mics built into the TV. It represents a significant shift from Sky's Q satellite-based services to a more modern online streaming television hybrid.
Despite not being the best in class in its price range, its user-friendliness, compared to other smart TVs, is commendable. However, if you're planning to replace your old telly set with a brand-new Sky Glass, you might wonder whether you'd still be able to connect your external Blu-ray player, computer, game console, or your favourite streaming box to the TV.
Does Sky Glass have HDMI Port? We're happy to tell you that it indeed features HDMI inputs, three of them, in fact. We recommend you continue reading this article to learn more.
Does Sky Glass Have HDMI Port?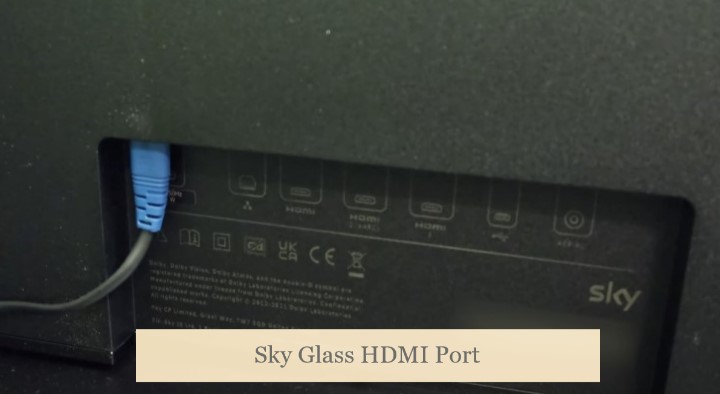 The Sky Glass runs on Sky's proprietary Entertainment OS, which intelligently aggregates streaming content and traditional broadcast channels into one unified, easy-to-access interface. Aside from Sky's own on-demand content catalogue, you also get access to streamer apps like Netflix, Prime Video, Disney+, BBC iPlayer, ITVX, etc.
Therefore, one doesn't really need to hook up any external devices to the TV. It's somewhat similar to the Android TVs, Fire TV Edition Smart TVs, and Roku TVs, and the only things required are a Sky TV subscription and a moderate internet connection.
However, Sky doesn't stop you from plugging your own devices into the TV. Connectivity-wise, you get three HDMI 2.1 ports on the left side of the back of the Sky Glass. One of them even supports eARC, so you can run an HDMI cable and use your external soundbar or home theatre setup.
The Sky Glass can also recognise newer HDMI devices such as Blu-ray players, video game consoles, and streaming boxes. Hence, you can cycle between the connected input sources using only voice commands.
How to Connect HDMI Devices to Sky Glass?
Connecting your DVD/Blu-ray player, game console, PC/laptop, and other HDMI-enabled devices to a Sky Glass is the same as every other TV. You can follow these steps to do so:
First, take the HDMI cable and plug one of its ends into the HDMI port of your external device.
Connect the other end of the cable to one of the HDMI 2.1 ports at the back of your Sky Glass TV.
HDMI 2 supports eARC (Audio Return Channel), so it's better to leave it vacant for an external soundbar/home theatre receiver if you feel the need to in the future.
Now plug the device's power cords into your outlet to power on your devices if they aren't already.
Upon detecting the connected device, your Sky Glass TV will auto-switch to the respective HDMI input. But if it doesn't, use these steps:
On your Sky Glass remote, press the Home.
Scroll down the Sky Home screen and choose Apps, followed by where it says HDMI.
Next, choose between HDMI 1, 2, or 3, depending on the port to which you've connected your external device.
You should also see the device's name and logo, e.g., Chromecast, Nintendo, PlayStation,
It's that simple to use your Blu-ray player, game console, and streaming devices with your Sky Glass.
How to Connect a Sound System to Sky Glass over HDMI?
The Sky Glass is devoid of a 3.5mm auxiliary jack, Optical (TOSLINK) input, or Bluetooth audio connectivity. Thus, you can connect your external sound system to Sky Glass only if it supports eARC passthrough over HDMI.
All you need to do is run the HDMI cable from your soundbar or home theatre receiver to the Sky Glass' HDMI 2 port, which supports eARC.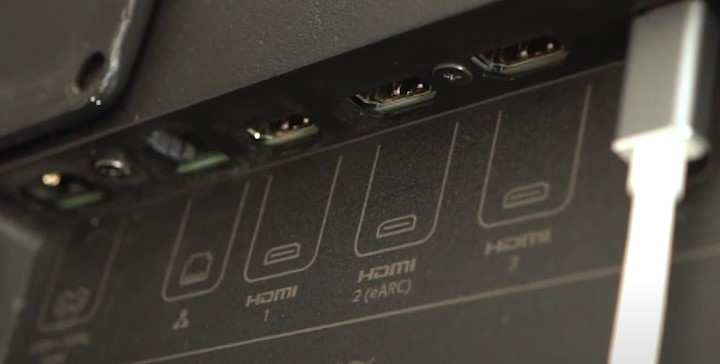 The TV should auto-detect the audio device and switch to the respective sound output. You can check it by following these steps:
Press the Home button on your Sky remote, navigate to the bottom of the Sky Home screen, and click Settings.
Choose "Picture and sound" in the sidebar, followed by Sound in the submenu.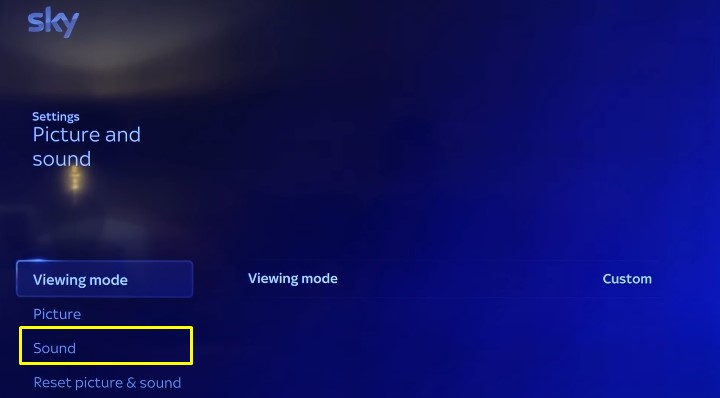 Ensure the Audio output option is set to "HDMI audio return channel" instead of TV speakers.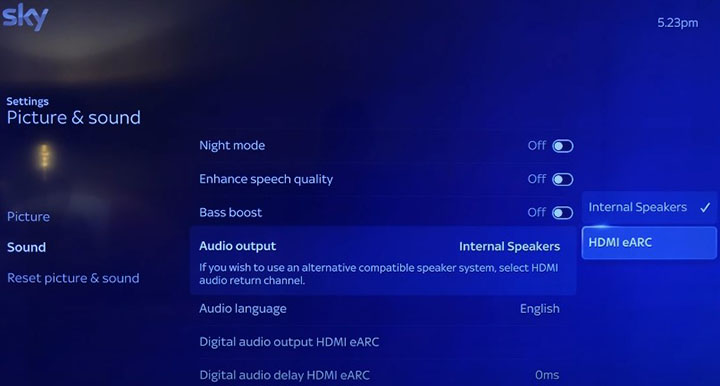 It's worth noting that putting your sound system on standby mode will result in your Sky Glass outputting sound through the built-in speakers again.
How to Configure HDMI-CEC on Sky Glass?
The Consumer Electronics Control (CEC) protocol, a feature introduced with the HDMI 1.2a standard in 2005, enables communication between devices connected via HDMI. It allows for little creature comforts such as system volume control and remote control passthrough, but the most notable feature is one-touch play.
With one-touch play, your PlayStation, Xbox, Blu-ray player, or streaming media player can turn on the TV and automatically switch to the corresponding video source upon registering inputs. It eliminates the need to switch to the correct input manually using the Sky Glass remote. To set it up, you must enable HDMI-CEC using these steps:
Press the Home button on the Sky Glass remote.
Scroll down to the bottom and select Settings.
Select Connected Devices, then HDMI inputs.
Select HDMI one-touch-play and switch it On.
You also need to turn on CEC on your respective HDMI-enabled device for the feature to work. For instance, on PlayStation 4 and 5, head to Settings > System and turn ON "Enable HDMI Device Link".
For Xbox consoles, navigate to Profile & system > Settings > General > Sleep mode & start-up and turn the feature ON from the TV & A/V power options menu.
For DVD and Blu-ray players that use HDMI 1.4 or older protocol, you may see the "No device detected" error message above the "Apps & inputs" section on your Sky Glass Home screen. To resolve that, perform the following:
Plug your device into the HDMI 3 port of your Sky Glass.
On your Sky Glass, go to the Home > Settings menu and scroll down to the Connected devices.
Select the HDMI inputs option and ensure the Older device compatibility is "On".
If that still doesn't work, try switching the HDMI input or swapping the cable to see whether that fixes the problem. Else, you may need to turn off CEC on your Sky Glass, as your external device probably doesn't work well with it.
Recommended Reading:
Conclusion
As mentioned multiple times, Sky Glass has HDMI connectivity, allowing users to connect and use their own HDMI-enabled devices, just like with any other TV on the market. Additionally, we've provided instructions on configuring the one-touch play (HDMI-CEC) feature and troubleshooting if your Sky Glass fails to recognise your HDMI device.