The innovations of Meta's Quest 2 and Quest Pro headsets have already paved the path to a bright future for virtual reality. Not only can they be used standalone, but you can also connect them to a capable PC and play PCVR games.
Unlike the valve index, or the new PlayStation VR2, which require external hardware, Meta's Quest headsets provide an integrated, seamless experience like a smartphone. You can bring your Quest 2 or Pro on trips and escape reality anytime.
However, one question lots of people seem to have in mind is, "Can you play Meta Quest 2 and Pro offline without WiFi?" They're tether-free VR headsets, after all. This article will answer this question and a lot more.
Do You Require WiFi to Play Games on Meta Quest 2 & Pro?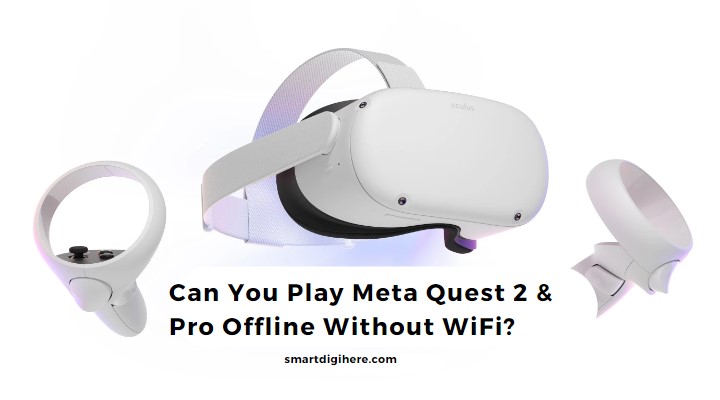 In short, no. An active internet connection isn't necessary to play games on Meta Quest 2 or Pro. You only need to connect it to Wi-Fi during the initial setup process, which requires you to log in (or create) to your Meta or Facebook account for device activation.
There are many standalone titles you can purchase and enjoy offline on your Meta Quest 2 or Pro headset. However, an active internet connection is required to download and set them up for the first time. Quest Store has a great selection of games that work well without continuous access to Wi-Fi.
Besides an active internet connection over Wi-Fi and a Meta account, setting up the Quest requires installing the Meta Quest mobile app. The good thing is you can use the companion app to set up your headset easily and quickly. It includes pairing the Touch Controllers and managing various in-VR settings.
When not in VR, you can explore the Quest Store catalog from the Meta Quest app and even make purchases. However, your headset must be on Wi-Fi with active internet access for remote app installations. The same applies to firmware updates – essential if you want an improved in-VR experience and access to new features.
Identifying Games Playable Without WiFi on Meta Quest 2 & Pro
Most games available on the Quest Store don't require Wi-Fi to play. You can identify them by the boldly written "Internet connection not required" tag on the games' preview page on the storefront.
Of course, you'd still need to connect your headset to the Wi-Fi for the initial download, first-time launch, and installing updates. But it's good to know that you can disconnect your Quest 2 or Quest Pro from the internet after going through all that and enjoy VR gaming offline whenever and wherever you are.
With that said, you're strictly limited to downloading games that don't have multiplayer elements since you can't play them without an internet connection.
Can You Watch Movies & Shows on Meta Quest 2 & Pro Without WiFi?
The Quest Store offers various streaming apps that make your Quest 2 or Pro headset a mobile theater. However, unlike the mobile apps for phones and tablets, the Quest version of most video-on-demand apps doesn't support downloading content for offline viewing.
While there are other ways to get the Android version of Netflix and similar streamer apps on the headset using SideQuest, it isn't worth the time and hassle for most people. Fortunately, you can transfer your local media files to your Quest headset and enjoy them offline using your preferred in-VR video player app.
Connect your Quest 2 or Pro to your PC using a USB cable, accept the storage access prompt on your headset, and copy the video files to the device's internal storage. Once you do that, you can download a video player app from the Quest Store and watch your local TV show episodes and movies without WiFi.
How to Go Offline on Meta Quest 2 & Pro?
If you don't want to connect your Quest 2 and Pro to the WiFi just because you don't want your friends to know you're in VR (trust us, we've been there sometimes), you're in luck. Meta makes it simple for Quest users to appear offline or invisible, meaning no one on your friends list can view your activity. Here's what you need to do:
Wear your Quest 2 or Pro headset and click the Quest button on your right-hand Touch Controller.
Next, select your Profile icon at the top-left corner of the toolbar menu.
Click the three-dot kebab (⋮) icon in the Profile window, then choose Privacy Settings.
In the settings menu that appears, set the Activity option to "Only Me." Click Close to confirm your changes.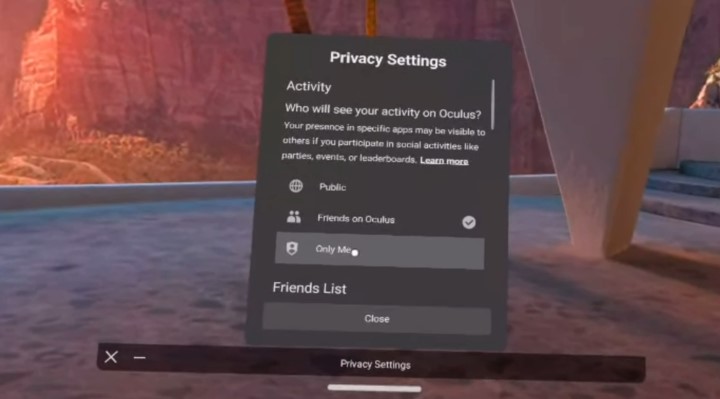 You may notice that your profile still appears online, but that won't be the case for your friends.
If you use the Oculus PC app, go to the app's Friends tab, select your Profile avatar, click the three-dot (⋯) icon at the upper-right section, and select "Appear offline." You'll see the green dot over your profile avatar disappear. It'll be the same in your Quest 2 or Pro profile menu.
Video Guide
Check out:
Bottom Line
You can play Meta Quest 2 and Pro offline without WiFi, kinda like the PlayStation and Xbox game consoles. However, when purchasing games from the Quest Store, make sure you verify whether you can enjoy them without the internet.
That said, Meta's VR headsets still very much require an active internet connection for online-only features and software updates. And some games do periodic checks if the player has a legitimate license. Therefore, you'll need to connect it to a Wi-Fi network every now and then.