The virtual reality market is ramping up again, with 2023 set to be one of the most crucial years. With the PlayStation VR2 finally out in the wild, Meta has significantly slashed the prices of the Quest 2 and Pro headsets to "get more people into VR".
As Meta prepares to launch a Quest 2 successor sometime later this year (if the recent rumours are anything to go by), the price cut is likely an attempt to move some of its existing current-gen product stock ahead of the next-gen release.
Regardless, for anyone looking to get into VR on a budget, now is a great time to grab a Quest 2. Or, if you have the itch, spend a bit more to experience cutting-edge virtual reality with the Quest Pro. The discounted sticker prices sure make the VR headsets compelling, but do Meta Quest 2 and Pro come with games? Read along to learn more.
Do Meta Quest 2 & Pro Come With Games?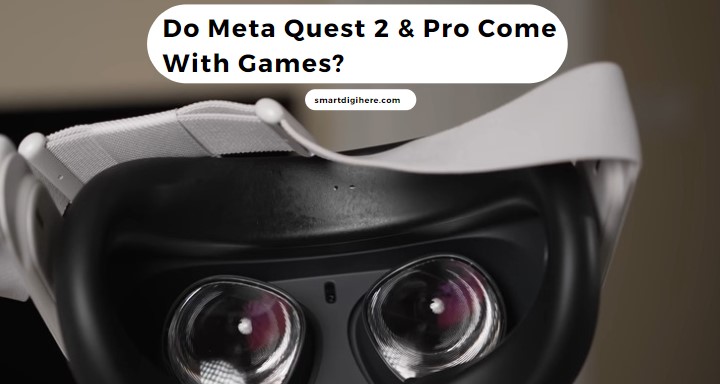 For all we know, the Meta Quest 2 comes with a handful of pre-loaded games. However, most of them are simple tech demos just to give new users a glimpse of the untapped potential of virtual reality and to let them familiarise themselves with the experience. The same applies to the Quest Pro, even though it's a more serious, business-oriented VR headset.
For both headsets, the selection of preinstalled demos varies between regions. And in some cases, there may not be any at all. Upon first boot, you'll find the Web Browser, Explore and Event apps, and First Steps, an experience designed to help users get the hang of VR controls and acclimate to the sensation of being in virtual reality.
The demos don't offer the complete experience, mind you. But consider them your starting blocks to stepping into the world of VR. In addition, the demos feature sufficient content to determine whether a particular game is worth buying.
Regardless of whether you get the Quest 2 or Pro, the Quest Store is your destination for full-fledged titles, both free and paid. You can also use the Meta Quest mobile app to browse and purchase hundreds of games and other VR experiences and install them remotely to your headset.
Recommended Reading: Cast Meta Quest Pro to Samsung Smart TV 
How to Get Games on Meta Quest 2 & Pro?
If you're immersed in virtual reality and looking to jump into a new experience immediately, the Quest Store is your best and most efficient approach.
Provided you've linked your payment method for purchases through the mobile or desktop app during the initial setup process, you should be able to buy games/apps from the Quest Store without having to exit VR. Here's how:
Press the Oculus button on your right-hand Touch Controller, then select the Store icon from the bottom toolbar.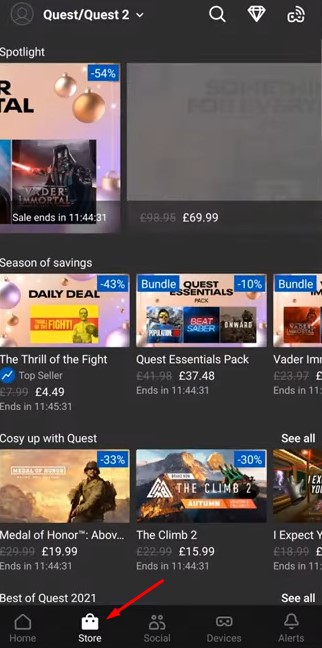 Explore the curated selection of titles from the Store's Games tab, filter them by Genres or other categories, or find your desired game by typing the name at the top Search.
Once you find the title to play, select it, then click the blue button with the price tag. If the game is free, you'll see the Get button instead.
Confirm your purchase. The game should now appear in your Quest library, where you can download and play it.
While the Oculus PC app also has a storefront, it primarily focuses on Rift and Rift S titles. Still, you may purchase and play games via the desktop app; only when using the Quest 2 or Pro as a PCVR headset. Note you can't play them untethered unless the store page specifically mentions Cross Buy compatibility. Read more about it in the below section.
Video Guide
Learn more: Cast Meta Quest Pro to Vizio Smart TV
What's Oculus Cross Buy?
Cross-Buy lets users purchase certain games once and play them across Quest and Rift headsets – in tethered and untethered modes.
Typically, when you buy a VR app from the Quest Store, you only get access to the Quest 2 or Pro version. Similarly, if you get a game from the Oculus PC app, you only have access to the desktop version, which you can play on a Quest 2 or Pro via Quest Link or a tethered Rift or Rift S headset.
If a game is labelled "Cross-Buy", you can purchase it through the Quest Store and unlock access to the desktop version or buy it through the Oculus PC app and get a free copy of the Quest version. Check out Meta's actively-updated list of cross-buy titles here.
Check out: Fix Oculus Quest 2 not Casting Issue
Getting Games Through the Mobile App
The Quest 2 and Pro's built-in storefront makes it straightforward to discover games and apps if you're already wearing the headset. However, the Meta Quest mobile app (Android | iOS) enables browsing new games and making purchases at your leisure without entering VR.
Open the Meta Quest app on your phone or tablet and head to the Store menu from the navigation bar.
Look for the game you want to play. You can either scroll through the different categories or use the Search function (magnifying glass icon at the top-right corner) to search for it manually.
On the preview screen, tap the blue button with the price listed, then confirm buying the game by tapping the Purchase Meta will charge you from your default payment method.
If the game is free to download, tap the Get button, and it'll appear in your Quest library.
That's it! You may now browse your Quest library and initiate remote installation to your Quest 2 or Pro headset.
If you're having trouble buying games from the Meta Quest mobile app, go to the Menu tab > Settings > Payment Methods and update your payment method with a valid option. Note you can use any debit/credit card or PayPal as your primary mode of purchase.
You may also wonder: Can you Connect Oculus Quest to PS4? 
What About PCVR Games?
Usually, the only games Quest 2 or Quest Pro can play untethered are the ones available in the Quest Store, which, as we've highlighted above, are purchasable and downloadable from the Quest's VR environment or the Meta Quest mobile app.
Quest Link allows using the Quest 2 or Pro headset to a VR-ready PC via a USB cable, similar to how other PCVR headsets connect. There's also the Quest Air Link feature, which lets you go fully wireless without noticeable degradation in quality or latency.
In either mode, you can run any SteamVR title, including AAA experiences like Half-Life: Alyx and Boneworks, or even Minecraft Bedrock Edition on your Quest 2 or Pro.
Once you set up the Oculus PC app and SteamVR, connect your Quest 2 or Pro headset to your PC with a compatible USB (C-to-A or C-to-C) cable. A pop-up will appear on your PC, asking your permission to enable Quest Link. Click Continue, and then select Enable Oculus Link on your headset.
Finally, run SteamVR from your desktop or Steam Library and launch any of your installed VR games to play.
Bottom Line
The Meta Quest 2 and Pro typically come with a few preloaded games. But to enjoy some of the most immersive virtual reality experiences, you'll have to purchase titles from the Quest Store, either directly from the VR environment, the Oculus desktop app, or the Meta Quest mobile app. Some premium games offer free trials, so you can test them before buying.