What are the best whoop alternatives? Fitness trackers have gained massive popularity in the last few years. Most people today demand these options to keep track of their daily activities and health. The rising demand for fitness trackers has raised their availability as well. If you search the marketplace, you can easily find a wide range of options that suit everyone's needs and budget well.
Whoop is currently serving as the leading fitness tracker option in the market. Whether it is about design or due to specific other reasons, if you are looking forward to some of the best alternatives of Whoop at this moment, we have landed up here with the top picks for you.
It is one of the leading fitness trackers available in the marketplace that help people in tracking their workout intensity, sleep, and body recovery after a workout. It is the best tool to stay fit by providing complete information about different activities. The tracker keeps tracking your heart rate, HRV, and other metrics for successfully accessing various factors.
Best Whoop Alternatives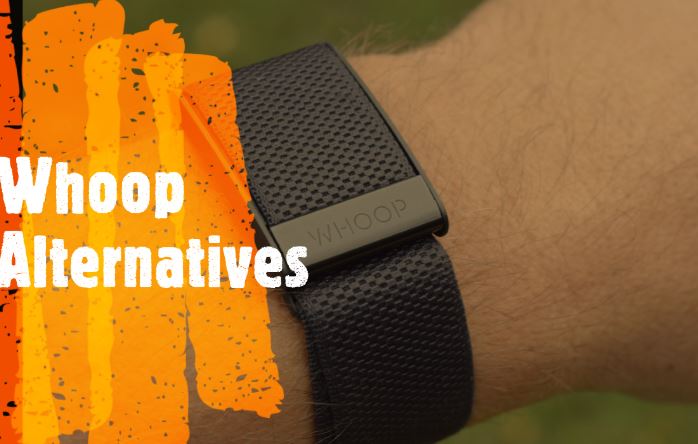 1. Huawei Band 6
Huawei Band 6 is the best alternative for Whoop that comes up with a large and spacious display. Checking out readings here is convenient, and the interface included here is also relatively easy to navigate. The fitness band features different workout modes that help you constantly check your health.
The tool provides all-day SpO2 monitoring without any issues. This fitness band can measure your everyday activities like stress, calories, heart rate, blood oxygen, and much more. Users here can easily track their sleep in four different stages.
Huawei Ban 6 features inbuilt GPS that makes it easier for the users to track outdoor exercises and offers easy viewing with the companion app.
Pros:
Great value for money option
Longer battery life
Consistent SpO2 monitoring
More prominent display for easy access
Comfortable and spacious form factor
Featured with numerous workout modes
Cons:
Limited functionality
The straps involved are not detachable
2. Fitbit Inspire 2 Health & Fitness Tracker
It is an absolute fitness band for those looking forward to tracking their sleep and other activities without spending much time. The fitness tracker can effectively track your heart rate and check your breathing rate viability and sleep. It is a great budget option with 20 exercise shortcuts, personalized insights, advanced analytics, guided programs, and more.
You can now conveniently optimize your workouts with a daily readiness core and track your outdoor activities using your device's GPS.
Pros:
Features premium membership
Easy optimization of workout
Active Zone minutes
Tracks all-day activity
Use 24 x 7 heart rate tracking
Long battery life
Slim design
Cons:
Doesn't features built-in GPS
Cause skin discomfort sometimes
3. Amazfit Band 5 Fitness Tracker
It is another best alternative for Whoop in the list designed to provide absolute monitoring of the quality of your sleep and your daily naps. The tool offers real help in adjusting your sleep habits accordingly. It features sensors that keep track of heart rate and gives you a heart rate warning in case of emergency.
The fitness band comes up with built-in Amazon Alexa for convenient usage. You can easily ask different questions from Alexa, including translations, alarms and timers, weather control, and much more. The battery runs for about 15 days. The band provides an absolute blood oxygen saturation monitor for measuring blood oxygen saturation levels.
It will be your complete intelligent sports companion with 11 different built-in sports modes for convenient usage.
Pros:
Features built-in Amazon Alexa
Longer battery life
Blood oxygen saturation monitoring
Absolute sleep and heart rate tracker
Easy-to-use interface
Provides female period tracking
Cons:
The touch screen is unresponsive
4. Polar A370 Fitness Tracker
Polar A370 Fitness Tracker is an excellent sport watch that serves to be a more significant help in training and workout tracking. It is an excellent optical heart rate monitor that keeps you telling how different activities influence your body.
Whether doing a simple recovery run or an intense cardio exercise session, the tracker assists with all activities. It is a perfect fitness band for tracking all-day activities that keep you in connection using phone notifications. The fitness band features assisted GPS for tracking speed, distance, and route.
Pros:
Consistent and perfect heart rate monitoring
Extensive sleep analysis
Great value for money option
Easily customized training programs
Waterproof option
Cons:
It doesn't feature GPS
The screen seems to be grainy
5. Xiaomi Mi Band 5
Featuring an AMOLED accurate color display with more content, Xiaomi Mi Band 5 is an absolute fitness band that helps you stay fit using different metrics. The fitness band features 11 other professional sports modes that offer users training different workouts daily.
The fitness band features 24-hour intelligent sleep monitoring for sleeping. It is a simple and easy-to-go tool that provides you with other suggestions for improving your sleep. The device offers blood pressure monitoring and breathing training for relaxing effectively. The display area is vast and offers clear visibility over the dynamic dial.
The fitness band features a magnetic charging feature that starts charging with the touch and charges up your phone within 2 hours. The battery included is quite long.
Pros:
AMOLED true color display
Magnetic charging for quick charging
11 professional sports modes for better tracking
24 x 7 Smart sleep monitoring
Affordable pricing
Easy navigating interface
Cons:
Heart rate monitoring is not accurate
6. Garmin venus two plus
Garmin Venus 2 plus is an absolute fitness band for all those who are eager to track their daily activities consistently. It is a premium fitness tracker with different buttons and robust tracking software for absolute performance.
The fitness band features other things like on-screen HIIT workouts. Garmin comes up with a super bright AMOLED display that offers users convenient access over time. The fitness band features voice assistance connectivity and receives calls on your wrist.
It provides freedom of activating emergency assistance and safety alarms using voice. Moreover, it also features preloaded workouts and sports features for smooth accessibility. The battery included here is quite long and runs efficiently for about nine days.
Pros:
It comes up with preloaded workouts and sports features
Easy monitoring and tracking of activities
Absolute heart rate monitoring
Provides music and voice assistance
Longer battery life
Stylish, compact, and lightweight design
Includes Pulse OX sensor
Features fast charging option
Make and receive calls through Bluetooth
Precise fitness and health tracking
Cons:
Pricing is a bit higher
Heart rate sensors show issues sometimes
Related – Garmin Vivoactive 4 vs Apple Watch Series 7
FAQs
How much should I spend on my Fitness wearable?
The selection of fitness wearables is personal. One can easily find a wide range of fitness trackers options in the marketplace, coming up with different price tags. You can easily pick the one spending upon your preferences and requirements.
Do I need to have a water-resistant fitness band?
The fitness bands are meant to be worn constantly. So, picking up a water-resistant fitness can help you always acquire longer results.
Can I install apps on my fitness band?
The fitness trackers do a great job monitoring daily activities but don't support third-party apps. If you are looking forward to opting for some third-party apps, you can proceed with the smartwatch options.
How accurate are the metrics of a fitness band?
The fitness band has become quite sophisticated every year, but the accuracy of the metrics is still a problem.
Conclusion
So, Guys! These are the leading Whoop alternatives you can trust. Having a fitness band helps you in keeping track of different daily activities. It is the best thing one could charge for staying healthy and fit.
All of the fitness bands mentioned above are perfect with their functioning and offer different premium features at their end. We also have tried to resolve various FAQs in the segment so that you can enjoy absolute assistance.