If you're a cyclist, you know that tracking your progress and monitoring your biometrics is essential for improving your performance. While cycling computers have been a popular choice for tracking your rides, they have limitations.
That's where Garmin smartwatches come in. Not only do they offer similar functionality to cycling computers, but they also provide a versatile range of benefits that cycling computers can't match.
This buying guide explores the best Garmin watches for cycling and why they're the ideal companion on the roads and trails. So, whether you're a beginner or a seasoned cyclist, let's dive in and find the perfect Garmin watch to take your first marathon to the next level.
Why Should Cyclists Consider a Garmin?
When comparing Garmin watches to cycling computers, cyclists need to consider the unique benefits smartwatches offer, even though both devices share similar functionality.
One of the main differences is portability. With a Garmin smartwatch, cyclists can avoid the hassle of removing their cycling computer from their bike each time they make a stop or park it in the garage.
Garmin watches are also renowned for their versatility. Besides tracking cycling data, they provide comprehensive insights into various fitness and health data, assist with daily training, play music, offer GPS tracking and more. They're essentially mobile phones strapped onto your wrist.
Garmin is a top-tier brand that stands out from the rest in seamless integration with a wide range of devices. Apart from smartphones, you can pair them with Bluetooth and ANT+ heart rate monitors, cadence, speed pedal sensors, etc.
It's no wonder the brand has established a reputation for some of the most cutting-edge on-wrist wearables. These small but meaningful features make Garmins the superior choice for cyclists looking to improve their overall performance on and off the trail.
Also Read: Is Oura Ring Better than a Garmin?
The Best Garmin Watches For Cycling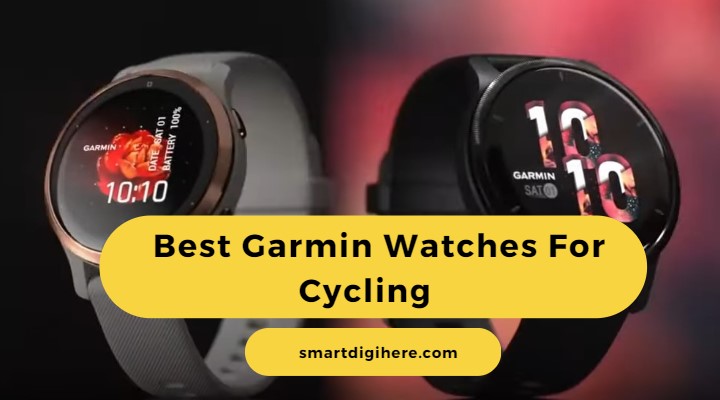 Over the years, we've gained valuable knowledge and experience with smartwatches and GPS devices from top brands, such as Apple, Fitbit, Garmin, and Samsung, through using them for outdoor activities like cycling, hiking, and running. It has helped us identify the average user's preferences and requirements and taught us to effectively handpick various models based on their unique features and traits.
Aside from personal experience, we've tailored our recommendations for the best Garmin watches for cycling as per other expert and customer reviews.
1. Garmin Fēnix 7
Screen:3" Memory-in-Pixel 260 x 260 Touchscreen
Materials: Stainless Steel, Gorilla Glass 3, Reinforced Polymer w/ Metal Rear Cover
Weight: 79 grams (w/ Silicone Strap)
Battery Life: Up to 18 Days, Up to 57 Hours w/ GPS
Water Resistance Rating: 10 ATM
The Fēnix 7 is a sports watch designed for endurance cyclists who strive to achieve new goals. It offers advanced training tools, including innovative features like a real-time stamina graphic to help you pace yourself during cycling and a graph that shows your VO2 max progression over time.
The Fēnix line's latest addition is the first to have a touchscreen. Like Fitbit's Water Lock, the screen is locked during workouts to prevent accidental taps. It's handy for navigation, allowing easy panning for maps.
Speaking of navigation, the Fēnix 7 also offers free downloadable maps, and Garmin has included a built-in map manager for effortless access. The satellite positioning is faster and more accurate compared to its predecessors.
The Fēnix 7 boasts impressive biometric tracking capabilities. Its heart rate monitoring is highly responsive, an excellent choice for those interested in cardio training through outdoor cycling.
Although the MIP (memory-in-pixel) display has dull contrast, and the blue backlight affects its colours, it's plenty visible under sunlight. Whether you're into cycling, running, swimming, or any other activity, the Fēnix 7 includes all the necessary features to help you trailblaze effectively.
| | |
| --- | --- |
| Pros | Cons |
| 10+ cycling modes, including commuting | Screen lacks contrast |
| Solid GPS-based navigation | Expensive |
| Week-long battery life | |
Honourable Mention: Fēnix 7 Sapphire Solar
The Sapphire Solar version of the Fēnix 7 watch has a reinforced sapphire crystal face and can last up to 14 days on a single charge under regular use and over a year on standby! However, using GPS and sports modes will shorten the battery life. It's also available in three distinct size variants to accommodate wearers with larger or smaller wrists.
You May Read: Best Smartwatches For Samsung S8
2. Garmin Forerunner 745
Screen:2" MIP 240 x 240 Display
Materials: Gorilla Glass DX, Fiber-Reinforced Polymer
Weight: 47 grams
Battery Life: Up to 7 Days, Up to 16 Hours w/ GPS
Water Resistance Rating: 5 ATM
The Garmin Forerunner 745 is a more affordable version of the Garmin Forerunner 945 and offers similar features, though with some minor quirks.
For instance, the battery life is shorter than Forerunner 945, and the buttons are difficult to press while wearing thick riding gloves. Still, the Forerunner 745 can last up to 7 days in smartwatch mode and up to 16 hours with GPS enabled. You can load music onto the watch, but using it shortens the battery life.
The Garmin Forerunner 745 motivates you to ride your bicycle longer, storing and analysing your data, providing on-device coaching guidance and cycling workout suggestions. The cycling routes can link directly to apps like Komoot and Strava.
The most significant improvement it offers over its predecessor is its training features. It includes detailed daily workout suggestions and a seven-day training load that can indicate recovery time and alert you if you're overtraining.
Besides tracking your heart rate, the Forerunner 745's Pulse Ox sensor keeps your blood O2 saturation levels in check. The watch can connect to ANT+ devices like power meters and pedal sensors.
The Forerunner 745 is mainly a smartwatch for runners but has some mountain trail biking-centric features like ClimbPro as the costlier Fēnix models. It has many of the same sensors, including an altimeter, barometer, and compass, but it lacks offline maps. However, it still offers accurate GPS and provides extensive data for sports and outdoor activities.
| | |
| --- | --- |
| Pros | Cons |
| Robust features for triathlon training | Average battery life |
| Comparable to its expensive counterpart | No onboard maps support |
| Garmin Pay and music storage | |
3. Garmin Forerunner 955 Solar
Screen:3" Memory-in-Pixel 260 x 260 Touchscreen
Materials: Gorilla Glass DX, Fiber-Reinforced Polymer
Weight: 53 grams
Battery Life: Up to 20 Days, Up to 49 Hours w/ GPS, Up to 110 Hours w/ Ultratrac
Water Resistance Rating: 5 ATM
The Garmin Forerunner 955 Solar is an upgraded version of the Forerunner 945 and one of the best Forerunners to this date.
It comes in two versions, Solar and Non-Solar. The Solar version has a Power Glass screen that increases the watch's battery life using the power of the Sun. Its battery life can last up to 20 hours in smartwatch mode, 45+ hours in GPS mode without music, and 100+ hours in Ultratrac mode.
The watch is user-friendly, with a responsive, Gorilla Glass-protected MIP touchscreen that makes it feel like a smartwatch. It has impressive training features, including Garmin's Training Readiness metric, which indicates how prepared you're for a challenging endurance biking session based on heart rate variability, sleep, recovery time, acute load, stress, etc.
The watch's cycling features are also good, similar to what you find on handlebar-mounted cycling computers. Navigation is easy with directional arrows and vibrations before turns. The ClimbPro feature is useful, especially for monitoring climbs.
The Forerunner 955 Solar has many new features that add to its already feature-packed design. And with the upgraded sensors and GPS chip, it's a great cycling watch that's a must-have for any serious user.
| | |
| --- | --- |
| Pros | Cons |
| Impressive range of cycling features | MIP display fails to impress |
| Solar power = amazing battery | Doesn't sync with power meters |
| Multi-band GNSS system | |
4. Garmin Venu 2
Screen:1" AMOLED 360 x 360 Touchscreen
Materials: Gorilla Glass 3, Stainless Steel Bezel, Reinforced Polymer
Weight: 2 grams
Battery Life: Up to 10 Days, Up to 7 hours with GPS
Water Resistance Rating: 5 ATM
The Venu 2 is a smart wearable and sports watch hybrid, offering a minimal, stylish design that rivals the Apples and Fitbits on the market. It's also rugged enough for cyclists, boasting an impressive array of features. It's available in three variants, suitable for diverse wrist types.
While not built for intense outdoor activities, the Venu 2 has all the sensors and features of other Garmin watches. It includes precise Galileo and GLONASS GPS, heart monitoring, and cadence tracking – with access to Garmin Coach training plans, numerous indoor training modes, and the ability to sync with gym equipment and third-party fitness apps other than Garmin Connect IQ.
The Venu 2 combines fitness and health tracking with smartwatch features. It has onboard storage for 600+ songs, supports mobile payments, and allows third-party music apps from Amazon Music and Deezer. You can also track your heart rate, stress level, water intake, and period cycles, view your daily schedule, receive and reply to smartphone notifications, and more.
The Venu 2 features a bright, high-res AMOLED display that can show in-depth metrics at a glance, plus an always-on mode. The watch has over 25 built-in sports modes, including cycling. The battery life varies depending on GPS and app usage. It's a versatile Garmin watch, and we can't recommend it enough.
| | |
| --- | --- |
| Pros | Cons |
| Beautiful AMOLED display | Pricey |
| Great battery endurance | HR readings can be off sometimes |
| Hydration and perspiration tracking | |
Honourable Mention: Venu 2 Plus
Last year, Garmin reiterated the Venu 2 with a Plus variant. It retains the best features of the Venu 2 and has an onboard mic that allows you to make on-wrist voice calls and access your smartphone's voice assistant. A solid addition nonetheless, and if you can afford the higher price, it's definitely worth considering.
5. Garmin Instinct 2
Screen: 9" Monochrome MIP 176 x 176 Display
Materials: Power Glass, Fiber-Reinforced Polymer
Weight: 53 grams
Battery Life: Up to 28 Days, Up to 30 hours w/ GPS, Unlimited w/ Solar
Water Resistance Rating: 10 ATM
The first Garmin Instinct was well-received but had a bulky and rugged design. The new Instinct 2 maintains the great features of its predecessor, such as its durable shockproof case and long battery life. This time, the watch comes in a sleeker design available in two sizes, 40mm (Instinct 2S) or 45mm, suitable for smaller and bigger wrists.
Instinct 2 features multiple sports and specific tracking modes for various activities, catering to cyclists and runners alike. It includes advanced training tools, such as workout suggestions, load monitoring, and recovery time guidance, enabling you to find the optimal balance between exertion and recovery.
The Instinct 2 offers an extensive range of cycling modes, more than any other Garmin watch. It includes dedicated modes for various cycling activities, such as road biking, mountain biking, indoor biking, e-biking, and more.
The watch is tough and durable, with a MIL-STD-810 rating that protects it against extreme temperatures and environments, and it can survive underwater up to 100m. The display is bright and visible, even under direct sunlight.
It doesn't have a touchscreen like the Fēnix 7 range, but the five-button navigation is intuitive enough to use on the go. You still have the option to download new apps, watch faces, and data fields from Connect IQ.
The standard Instinct 2 has impressive battery life, but the company claims that the Instinct 2 Solar can now run indefinitely on a single charge if you spend enough time outdoors.
Sure, the Instinct 2's monochrome display has less detail than other watches for map navigation, like the Fēnix 7, but it's still a good choice for the price. Anyone on a bit tighter budget should check out the Instinct Solar, available at a lower cost than the updated model.
| | |
| --- | --- |
| Pros | Cons |
| Multitude of cycling modes | Monochrome, non-touch display |
| Fantastic battery life | No offline maps or music storage |
| Rugged military-grade design | |
What to Consider When Buying the Best Garmin Watch For Cycling?
The ideal Garmin watch will vary depending on your training preferences and individual requirements. As a recreational cyclist, you may not need the advanced features that mountain bikers or competitive marathon racers require.
Similarly, someone who enjoys multi-day bikepacking or touring trips may have different needs than those who commute or cycle casually. It's crucial to consider the following aspect before making your purchase.
Cycling Modes (Plus Other Activities)
Most Garmin watches offer cycling modes. But their more advanced models, such as the Fēnix series, offer several more specifically designed for indoor and outdoor biking and triathlon. These modes provide more detailed data, including altitude, energy output, and speed changes.
If you participate in other activities like running, kayaking, swimming, mountaineering, or skiing, you'll need a sport wearable with dedicated modes for those activities as well.
Navigation / Tracking
Nearly every Garmin watch has navigation capabilities, even if they don't have GPS onboard, as they can track your routes using your phone's global positioning system.
Moreover, high-end Garmins can connect to several GPS navigation systems (Galileo, GLONASS), letting you track your progress on a route. They also offer satellite navigation features to help you find your way back in case you get lost.
For larger expeditions, sensors like the Accelerometer, Altimeter, Barometer, and Compass are crucial for navigation.
Durability
For daily wear in urban settings, a heavy-duty model like the Fēnix may not be necessary. But for more rugged outdoor activities like cycling, a durable watch is a must-have. It's also important to consider water resistance ratings, with most Garmin watches rated up to 5 ATM, suitable for swimming and resistant to sweat and light rain.
Health Tracking
Most smartwatches offer biometric tracking features. For cycling, we recommended picking a watch with a heart rate monitor, as it can provide a good indication of your heart rate during intense biking sessions, even if it may not be as accurate as a chest strap.
Higher-end models offer additional perks like blood oxygen sensors and respiratory and stress monitors. Garmin watches also come equipped with women's health tracking features.
Battery Life
If you only intend to use your smartwatch for shorter daily cycling sessions and don't mind charging it daily, a watch with extended battery life isn't necessary.
That said, if you plan to go on a long adventure spanning multiple days or won't be able to charge it every day, you'll need a watch with a better battery capacity or one of Garmin's solar watches, which can charge partially via the sun.
Connectivity
If you wish to use external devices like heart rate monitors or pedal sensors, choose a Garmin smartwatch with ANT+ and/or Bluetooth capabilities.
It'll allow your watch to connect to these devices and capture additional information along with your workout data. Plus, all Garmins can connect to your Android or iOS device via Bluetooth and interact with popular apps like Strava through the Garmin Connect mobile app.
Conclusion
Garmin watches are excellent for cycling as they offer a range of features like GPS navigation, biometric tracking, and cycling-specific modes that provide nuanced data for riders. Most Garmins are durable and water-resistant, suitable for various outdoor activities, including cycling and dirt biking.
Choosing the right Garmin smartwatch for cycling largely boils down to your specific needs and preferences. Whether you're a casual cyclist, triathlete, mountain biker, or bikepacker, there's a Garmin watch that will suit your needs.
Although we've tried our best to include a variety of the best Garmin watches for cycling, feel free to consider similar other models beyond what we've covered in this buying guide. Let us know if you find any better alternatives!