The best waterproof Fitbits fit on your wrist like a regular band or watch to track your daily activities, capture your biometrics, and give you an in-depth look at your fitness and health status. Whether you're trying to get in shape, keep your cardiac health in check, or analyze sleeping patterns, you'll want one of these wearables.
Electronics and water usually aren't the best couple, but Fitbit is no stranger to bending the dynamics. The latest Fitbit trackers are dust-proof and water-resistant, or what we always mix up with the term "waterproof."
While Fitbits aren't totally impervious to water, they can withstand extreme weather conditions and accidental spills. Users can wear them to the pool, beach, or shower. Even an extra sweaty workout at the gym is no match for the waterproof Fitbits.
If you're eyeing a Fitbit that you can bring to swimming or snorkeling, this guide can help. Below we've showcased the best waterproof Fitbits that fit everyone's needs. All the following fitness bands and smartwatches offer some level of water resistance.
Best Waterproof Fitbits for Swimming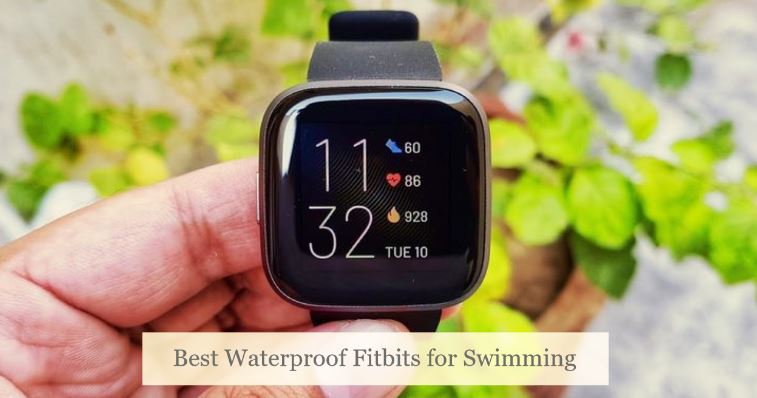 1. Best Overall: Fitbit Charge 5
Price
Check on Amazon
Pros
✅  Onboard GPS accurately tracks distance and pace

✅  Sleek band design

✅  50m water resistance

✅  ECG and EDA health sensors

Cons
❎  Some features remain exclusive to Fitbit Premium

❎  Slightly expensive for wearables of such form factor

❎  Removal of the altimeter
The Fitbit Charge 5 is mostly a refresh of the Charge 4 tracker, with improvements to the Active Zone Minutes feature, built-in GPS, onboard Spotify controls, etc.
It comes with advanced health monitoring features like a wrist-based ECG scanner to detect irregular heart rhythms or signs of atrial fibrillation. Furthermore, the Charge 5 supports 24/7 heart rate tracking and has an EDA sensor that estimates your stress levels.
The tracker can detect skin temperature and measure blood oxygen saturation (SpO2) levels. Users can also track their sleep patterns to understand their nocturnal habits.
Perhaps the Charge 5's significant upgrade over its predecessor is the bright AMOLED color display, which is twice as bright and supports the always-on-display feature.
Besides having built-in GPS, the tracker has 20+ exercise modes to help you reach your fitness goals. And just like Charge 4, it can automatically detect and track your daily activities.
The Charge 5 is also water-resistant down to 50 meters in depth, meaning it can survive pool exercises, heavy rain, and other places where the tracker might get wet. You can expect up to 7 days of average use on a full charge, but it drops to a few hours with GPS enabled.
The six months of complimentary Fitbit Premium membership taps the Charge 5's full potential. From the Fitbit mobile app, you can get a personalized Daily Readiness Score based on your various health metrics. The membership also unlocks hundreds of video workout guides tailored to your fitness goals.
2. Best Waterproof Smartwatch: Fitbit Sense
Price
Check on Amazon
Pros
✅  Onboard GPS

✅  Cutting-edge motion and health sensors

✅  Hands-free calls/voice assistant

✅  Loads of smartwatch features

Cons
❎  Some features require the Premium subscription

❎  Bulkier than most Fitbits
The Fitbit Sense is a full-fledged smartwatch with the fitness and health tracking functionalities of the regular Fitbit bands. It's swim-proof and features a 5 ATM water-resistance rating, so you can safely wear it while swimming and partaking in other water-based activities. The Sense also has a built-in GPS that tracks your running, biking, and hiking sessions.
This premium Fitbit smartwatch doesn't skimp on activity and wellness features. For instance, it offers wrist-based ECG scanning that measures your heart rate zones and alerts you about irregular heart rate rhythms. Further, the watch can monitor SpO2 levels and skin temperature to predict the onset of common illnesses.
Fitbit Sense comes with Amazon Alexa and Google Assistant voice assistants. Whether you need to ask a question, get weather forecasts, or manage your smart home devices, you can simply activate your preferred hands-free assistant for help. The onboard speaker and mic also allow for on-wrist phone calls.
You can track your day-to-day progress and get a detailed breakdown of your wellness trends from the Fitbit companion app. The Premium membership unlocks even more handy features like Daily Readiness Score, in-depth sleep analysis, and unlimited access to audiovisual-guided workouts. Like the Charge 5, Fitbit Sense bundles a six-month Premium trial.
The Sense is a smartwatch, yet Fitbit promises at least six days of standard usage on a single charge. Of course, using Bluetooth, GPS, or enabling Always-On-Display will impact the battery life.
3. Budget Choice: Fitbit Inspire 2
Price
Check on Amazon
Pros
✅  Fairly affordable

✅  Non-intrusive design

✅  Comes with a full year of Fitbit Premium

Cons
❎  No SpO2 monitoring

❎  Monochrome display
With a slender profile and solid 10-day battery life, the Fitbit Inspire 2 doesn't fail to inspire. It's the perfect budget option for those who don't like the bulkier smartwatch casing but don't want to miss out on Fitbit's activity tracking. Plus, the 5 ATM swim-proof rating means the tracker can withstand water pressure up to 50 meters in depth, a good fit for swimmers.
The Inspire 2 supports automatic exercise recognition and covers the basic activity tracking features, including steps, pace, and distance, along with daily estimates of your calorie burn and active minutes to help you reach your weekly fitness goals.
Health-wise, it offers 24/7 heart rate data collection, female health tracking, stress-relieving tools, and more. Sleep tracking is also available, though you'll need the Fitbit Premium plan for a detailed view. Luckily, Fitbit bundles a free 1-year membership with the Inspire 2, so you can access all your wellness info and get personalized insights.
The main downside is that the Inspire 2, unlike the Charge 5 and Sense, doesn't have built-in GPS and uses the phone's tracker instead. It also lacks smart features like contactless payment over Fitbit Pay, music controls, hands-free calling, and voice assistant. You can, however, view incoming smartphone notifications when it's connected.
The Fitbit Inspire 3 has recently launched with a color OLED screen, ambient light sensor, a SpO2 sensor, and six months of Fitbit Premium. It's also swim-proof but more expensive than the Inspire 2, which is disappointing given the incremental changes. Hence, we recommend getting the older model, especially since it's available at deeply discounted prices.
4. Best Waterproof Fitbit For Kids: Fitbit Ace 3
Price
Check on Amazon
Pros
✅  Suitable for kids aged 6+

✅  Tracks basic activities

✅  Fun game-style goals/virtual rewards

✅  Tough water-resistant silicone band

Cons
❎  Limited color options

❎  Monochrome screen

❎  Built-in HR sensor is disabled
If you have children heading for their first swimming classes or going to the pool parties or the beach, the Fitbit Ace 3 can keep up with all the dips, dunks, and spills.
Like most Fitbit models, the Ace 3 is water-resistant up to 50 meters, so your kids won't have to take the tracker off before joining in fun water activities. It comes with a comfortable silicone band with an adjustable clasp out of the box.
The Ace 3 tracks steps, active minutes, and sleep by default, and you can add additional activities like swimming and biking through the Fitbit app. Kids can also challenge their friends and family members to complete goals for digital rewards.
With an eight-day runtime, a selection of animated clock faces, and fun goal celebrations, the Ace 3 is the best waterproof Fitbit that ensures your kids stay active and grow up developing healthy habits.
5. Stylish Yet Water-Resistant: Fitbit Luxe
Price
Check on Amazon
Pros
✅  Luxurious build

✅  Fashionable and comfortable

✅  Bright and vivid AMOLED screen

✅  Excellent health tracking suite

Cons
❎  Average battery life

❎  No Fitbit Pay/built-in GPS

❎  Screen can be hard to read sometimes
With its sleek design, classy stainless steel casing, and attractive jewelry bands, Fitbit Luxe is one of the most attractive-looking smart wearables for women. Yet you can dive and swim the Luxe as it tracks your laps, duration, strokes, and other swim data. The tracker is water-resistant down to 50 meters and can survive in the pool and shower.
When you're on land, the Fitbit Luxe uses your phone's GPS to track your runs, bike rides, and other activities with accurate pace and distance metrics. And while it's connected to your phone, you also get on-wrist text and call notifications. At the same time, Luxe's onboard sensors keep track of your activities throughout the day, as well as your heart rate, blood oxygen levels, sleep stages, menstrual health, and variations in skin temperatures.
Fitbit advertises an average 5-day battery life for its Luxe tracker. The ambient light sensor on-board automatically adjusts the screen brightness based on indoor/outdoor lighting conditions, hence preserving the battery life.
Also Read: Can I answer my phone on my Fitbit versa 2?
What to Look For in a Waterproof Fitbit Tracker?
If you're looking for a Fitbit that you plan to use in the water regularly, you should look out for a few things. Firstly, you'll want a water-resistance rating of at least 50 meters, which most Fitbit models but the older ones usually have.
Secondly, look for Fitbits that support swim-tracking and can provide you with detailed data. Some Fitbit trackers are only splash-proof and will unlikely survive full submersion in water, while others can auto-detect your water activities and start tracking.
Finally, you must confirm whether the Fitbit model offers the "Water Lock" feature. Once activated, the feature prevents accidental screen touches while taking a shower, swimming, or engaging in other water-based recreational activities such as snorkeling, surfing, or water skiing.
Final Words
Above, we've shown you the best waterproof Fitbits to buy. Although we've used the terms "waterproof" and "water-resistant" interchangeably throughout the guide as per what Fitbit and the rest of the fitness tracker market uses, the following Fitbit devices are not fully watertight and are still prone to water damage.
However, that doesn't mean you can't wear them to the shower, pool, or beach. The only time we would recommend taking the Fitbit off is when partaking in extreme water sports or scuba diving, where high-velocity water jetstreams or highly-pressurized water can overwhelm the device's water-resistance rating and make its way to the internals.
It's also worth noting that every Fitbit's water-resistance capabilities diminish over time when frequently exposed to soap, shampoo, conditioner, moisturizer, sunscreen, and equivalent products. So maybe after a few years of usage, you'd want to avoid bringing your Fitbit close to water.