Fitness trackers are ever-increasingly popular, thanks to tech giants like Xiaomi putting out wallet-friendly smart wearables for the mass market. The Xiaomi Smart Band 7, also known as the Mi Band 7 in some regions, brings more features than ever to a fitness buff's wrist on a reasonable budget.
The Mi Band 7 packs a punch above its weight and comes surprisingly close to some premium fitness trackers (e.g., Garmin Vivosmart 5 and Fitbit Inspire 3) in a few aspects. Highlights include a 1.62-inch always-on AMOLED display, 24/7 heart rate / SpO2 monitoring, up to 14 days of battery, and a 5 ATM water resistance rating.
The features speak for themselves, and the Mi Band 7 continues Xiaomi's legacy of delivering elite fitness bands at entry-level prices. But the question you're all here to know the answer to is, "Can the Xiaomi Mi Band 7 measure body temperature?" Read on to learn more.
Can The Xiaomi Mi Band 7 Measure Body Temperature?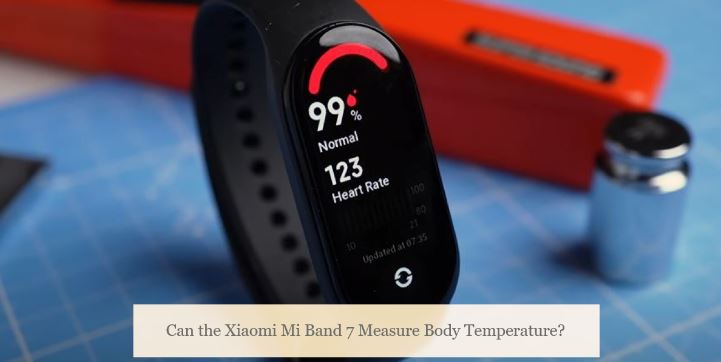 Two years ago, there were heavy speculations that the next generation of Xiaomi Mi Band wearables would be capable of measuring body temperature after a data miner spotted lines of codes in the Mi Fit app concerning the feature. Unfortunately, that never came to fruition, and even Xiaomi's latest fitness tracker doesn't change it.
The Mi Band 7, while offering all-day heart rate monitoring, blood oxygenation tracking, and sleep quality analysis, can't measure body or skin temperature. The same applies to the Xiaomi Mi Band 7 Pro, the more expensive variant of the two.
Considering how difficult it has proven for even the top players in the fitness tracker business to collect core temperature data through the skin reliably, it likely stays a distant goal for Xiaomi.
Will The Mi Band Series Ever Get A Temperature Sensing Feature?
At the time of writing, very few smart wearables on the market feature body/skin temperature tracking and use the data in a meaningful way.
Apple, the maker of industry-leading smartwatches, skipped temperature sensing on the Apple Watch Series 7 as the algorithm issues proved hard to rectify before launch. It took them another year to implement wrist temperature tracking on the brand-new Apple Watch Series 8 and Ultra. Accuracy-wise, however, the feature is still very much in its infancy.
Interestingly, Samsung's new Galaxy Watch 5 and Watch 5 Pro feature a skin temperature sensor, but it remains locked from the software side. It's assumed to be either unfinished work or regulatory approval, but users have no way to get skin temperature readings from the smartwatches just yet.
Xiaomi, albeit recently seen an uprise in wearables market share, has a lot to figure out in the fitness tracker and smartwatch department. Furthermore, core temperature analysis remains a feature shelved exclusively for premium, high-end trackers.
Thus, until the tech giant figures out the technology and finds a cost-effective way to implement body/skin temperature tracking on their wearables, it'll unlikely make its debut on the next few generations of Mi Band trackers. However, with the pace at which Xiaomi is making progress, we won't be surprised if they add some sort of temperature monitoring on the Pro versions of their Smart Band.
Also, the fact that Huami, the company manufacturing the Xiaomi Mi Band devices, offers body temperature measurement with their new Amazfit GTS and GTR series smartwatches means Xiaomi will introduce the feature with their wearables soon.
Mi Band 7 Scientific Review (Video Guide)
Is There Any Mi Band 7 Alternative Measuring Body Temperature?
If looking strictly within the Mi Band 7's price range, the answer is no— there aren't any notable alternatives that can measure body or skin temperature. But if you're willing to cash out more for one that does, check out the Fitbit Charge 5.
It can not only log changes in your skin temperature but also use the data to notify you about signs of common illnesses like fever. Other health features of the Charge 5 include ECG tracking for heart rhythm assessment, EDA scanning for stress management, abnormal resting heart rate notifications, heart rate variability monitoring, etc.
Like the Charge 4, Inspire 2/3, Luxe, and Versa series models, the Charge uses existing sensors to estimate your nightly skin temperature variation. Hence, the data can be imprecise sometimes. If you're looking for reliability, the Fitbit Sense and Sense 2 would be your best options, assuming you can pay 2x more the price of the Charge 5.
All that said, note that the Fitbit wearables only calculate your skin temperature variation on a nightly basis and don't allow users to check their skin temperature on the go. We can say the same for Garmin wearables too, which estimate core body temperature based on heart rate during physical activities.
As it currently stands, the body temperature-sensing feature on most smart wearables is not comparable to medical-grade external devices, and the data isn't intended for use in diagnosis or any other medical purposes.