Nowadays, you have quite a number of options out there for streaming sports. But none of them matches the versatility of Kayo. Since its debut in November 2018, Kayo Sports have been serving Australian sports fanatics live and on-demand streaming access to over 50 different sports across many devices on a convenient monthly subscription.
Are you a sports enthusiast who has been hesitant to subscribe to Foxtel because of its high cost? Kayo Sports could be a viable option to explore. For a price lower than Foxtel's sports package, you can access almost all the domestic and international sports content offered on Foxtel via Kayo's streamer app, with an impressive range of features.
We've put together this handy guide to help you discover Kayo Sports on LG TV, with detailed steps to download the app, log in, and jump into your favourite sports content.
What to Watch with Kayo Sports on LG TV?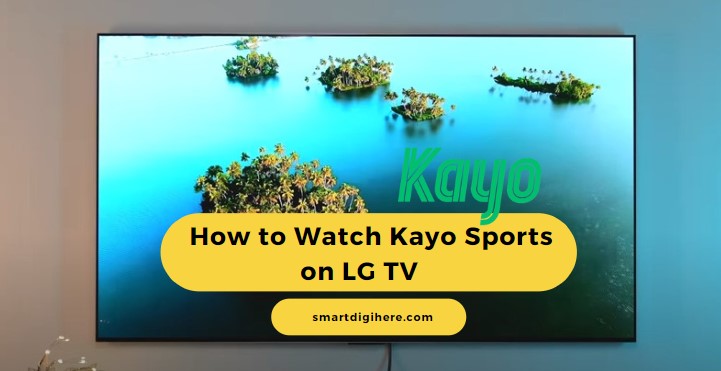 Kayo Sports is the premier Australian sports streaming service, delivering top sports content from the home ground and overseas – with over 50 sports available for live and on-demand viewing, all in one convenient hub.
It's essentially the Netflix equivalent of sports, sharing the same streaming rights as its older pay-TV counterpart, Foxtel, which is unsurprising given Streamotion, the parent company of Kayo, is a wholly-owned subsidiary of Foxtel.
Kayo offers access to all seven Fox Sports (incl. Fox Sports News coverage), three BeIN Sports, and two ESPN channel streams. It means you get to watch the hottest boxing and UFC pay-per-views (available as a separate purchase), the best of domestic and overseas cricket, AFL, NRL, Formula 1 – the list goes on and on.
It even provides live coverage of American sports, including MLB, NBA, NFL, and NHL, plus the PGA and LPGA golfing events and ATP and WTA tennis tournaments. European football enthusiasts can enjoy popular leagues like the Bundesliga, La Liga, Ligue 1, and Serie A, among many others.
Note Kayo Sports doesn't offer any sports events aired on free-to-air channels.
What About On-Demand Content?
Generally, Kayo Sports provides a diverse range of live sports events. But you can access replays of previous games, usually from the past year or so, at your convenience. You can also enjoy streaming the ESPN and Fox Sports shows and documentaries on Kayo.
Then there are the 'Kayo Minis', essentially brief match replays that focus on the highlights, providing a bite-sized viewing experience ideal for those with insufficient time to go through the entire event.
Is Kayo Sports Free?
Kayo Sports is a predominantly subscription-based sports streaming platform with three monthly tiers: One, Basic, and Premium. All three packages are still a lot cheaper than your typical Foxtel sports package, and you can try any of them for free for seven days. The best part is there's no long-term commitment, so you can opt-out anytime.
All Kayo Sports plans include the same benefits, except for the number of simultaneous device streams. Live and on-demand streams go up to 1080p and adjust dynamically based on your home broadband / cellular speeds.
In January 2021, Kayo Sports launched a free tier called 'Kayo Freebies,' available to new customers after creating an account. The limited selection is a mix of live and on-demand videos, including select domestic A-League and W-League football matches and V8 Supercars races, plus a few sports shows and documentaries.
Although Kayo promises to expand the Freebies tier to include more sports in the future, it'll always remain restricted in terms of content offerings. That said, it's a great way to peek at Kayo's offerings before you decide to buy in.
Kayo Sports App Features on LG TV
Kayo Sports is compatible with all 2018 to 2022 LG Smart TVs (webOS 4.0 minimum) and beyond. Here are some of the app's key features:
Displays a green bar timeline of key moments during a game, allowing you to click and quickly jump to any highlights you may have missed.
Allows you to toggle off scores and revealing moments from replays, providing a live-like viewing experience.
Kayo Minis provide brief recaps of sports events in less than 30 minutes, including AFL, NRL, F1, Supercars, MotoGP, and selected NBA and NFL games on ESPN for 72 hours.
Activate RaceView for select F1 and MotoGP events to watch up to four feeds on the same screen, including co-pilot view, onboard cameras, heli-view, etc.
Immersive viewing experience that captures every detail of the game (up to Full HD for top sporting events), bringing you as close as possible to the live event.
How to Get Kayo Sports on LG TV?
You'll find the Kayo app on the Content Store if you own a compatible LG Smart TV model. Here's how to download it:
On the remote, press the Home You should see the Home menu or the Launcher Bar on older webOS versions.
Scroll to the Apps (window pane) icon and select it. Or, click Content Store in the apps row.

Go to the Search menu by clicking the magnifying glass icon on the upper-right corner of the Content Store screen.
Use the on-screen keyboard to enter "Kayo Sports" in the search field and click the Search.
Choose Kayo from under the "Apps" row. Then on the following preview screen, click the Install.
You can launch the Kayo app directly from the Content Store page or via your apps list on the Home menu or launcher bar.
To move the Kayo app to the front of your apps list, go to the right of the apps row and select the Edit (pencil) icon. Then, choose the Kayo app logo and move it to your preferred location using your remote.
How to Watch Kayo Sports on LG Smart TV?
Kayo Sports requires paying for a subscription, but you can't sign up for the service via your LG TV. It means you must subscribe to Kayo via the web on another device. Here's what you need to do:
Go to kayosports.com.au from your preferred browser on your phone or computer.
Select the subscription package (One, Basic, or Premium) that suits you and click Continue.
Fill in your personal details, including your mobile number, for one-time password verification.
Choose your payment method, enter your billing details, and complete the payment process.

Note if you opt for the 7-day free trial, the service will charge you once the trial ends.
Once you have your active Kayo Sports subscription, open the Kayo app on your LG TV and use these steps to activate it:
Click the Sign In button on the welcome screen.
Next, use your phone or tablet to scan the QR code displayed on your TV. If on PC, head to auth.streamotion.com.au/activate.
Enter the 8-digit activation code in the corresponding field (if not pre-filled already) and tap Confirm.
Finally, log in with your Kayo account credentials.
After logging in to Kayo Sports on LG TV, you can pick the live or on-demand programme you wish to watch from the Home page (or Shows or Sports), sit back, relax, and enjoy your favourite sports and shows.
You can use your Kayo account to log in on unlimited devices. However, depending on your subscription plan, you can only stream sports on up to three screens concurrently (with the Premium plan) at any time.
Note you can't use the Kayo app on your LG TV to manage your account. Instead, go to kayosports.com.au/my-account through a web browser on another device to view or make any changes to your account.
Read also: Fix Horizontal Lines On LG TV Screen
Concluding Words
With streaming access to big-ticket sports events and a plethora of features currently unmatched by its competitors, Kayo Sports is a highly compelling option for sports fans. It delivers a superior experience to Australian digital viewers at a more affordable price than Foxtel.
We hope you can explore Kayo's sports offerings on your LG TV using the comprehensive information in this guide. Anyone seeking further assistance on this topic can comment down in the following section.