This guide will show you how to install and watch Kayo Sports on Google TV. The good thing is that it's relatively easy to set up, and you don't have to be a tech wiz. Simply follow the steps, and you'll be up and running in minutes.
Kayo Sports is an over-the-top streaming service for Australians interested in watching Fox Sports without Foxtel. It offers a variety of live and on-demand sports content from not only Fox Sports but also beIN Sports, ESPN, and Racing.com. Since its launch in 2018, the platform has disrupted the traditional viewing habits of sports enthusiasts around the country.
On the whole, Kayo is the top choice for fans of just about every popular sport in Australia. It's cheap and offers more flexibility and a significantly improved viewing experience thanks to its sports-centric features. It's also available for many devices, including the ones running on the new Google TV OS.
What Does Kayo Sports on Google TV Offer?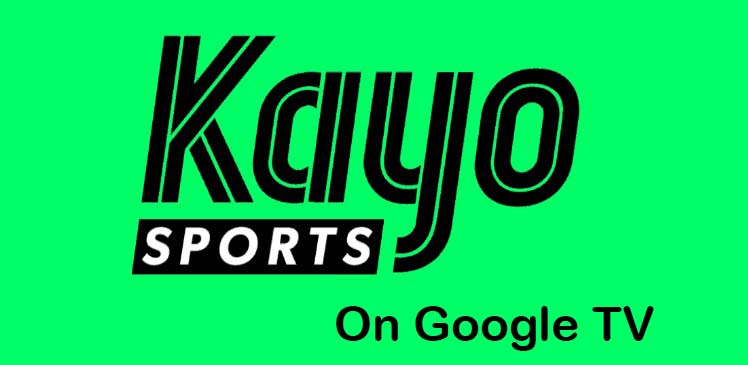 Before we continue, let's talk about Kayo Sports and its offerings. The OTT sports streaming service belongs to Streamotion, the same parent company as Foxtel. So Kayo Sports retains streaming rights to all the same sports events as Fox Sports. It works similarly to Foxtel Now and other streaming services, except the sports content is usually streamed live.
Kayo Sports gives you access to all the Fox Sports, three beIN Sports, and two ESPN channels. It also gets a Racing.com channel, but the three Sky Sports Racing stations remain exclusive to Foxtel.
You can watch 50+ Australian plus international sports live and on-demand, including ad-free streams for every AFL and NRL match, every practice, qualifying session, and race of the Formula 1, V8 Supercars, and MotoGP Championships, and select domestic and international cricket series.
In addition, Kayo Sports offers live ESPN coverage of American sports such as MLB, NBA, NFL, and NHL, alongside PGA and LPGA golf and WTA and ATP tennis tournaments. European football fans can tune into beIN Sports' coverage of Bundesliga, La Liga, Serie A, Ligue 1, and more.
Besides just live sports, Kayo allows on-demand streaming of previous events and provides access to an archive of legacy games. Fox Sports' original programs, e.g., NRL 360 and Fight Night, are accessible too. Moreover, you can stream your favourite Fox Footy and Fox League analysis, entertainment, and news programs.
Features of Kayo Sports App on Google TV
With SplitView, you can watch two streams simultaneously, with the main content in full screen and secondary content in a smaller picture-in-picture view.
Get in-game interactive statistics in real-time; available for AFL, NRL, and all Australian cricket matches.
"No Spoiler Mode" lets you hide the scores and results from view when watching on-demand replays of completed events.
RaceView allows you to choose up to two different camera feeds (four on other devices) running in SplitView, including the in-car cameras, co-pilot view, and heli-view from select F1, Supercars, and MotoGP fixtures.
With "Key Moments", you can jump between highlights quickly when watching a live game or replay.
How to Install Kayo Sports on Google TV?
Both Android TV and Google TV get a native Kayo app. Perform these steps to download and install Kayo Sports on your Google TV device:
Use the remote to navigate to the Apps tab at the top of your Google TV Home screen.
Select where it says "Search for apps" and then enter "Kayo Sports" using the virtual keyboard.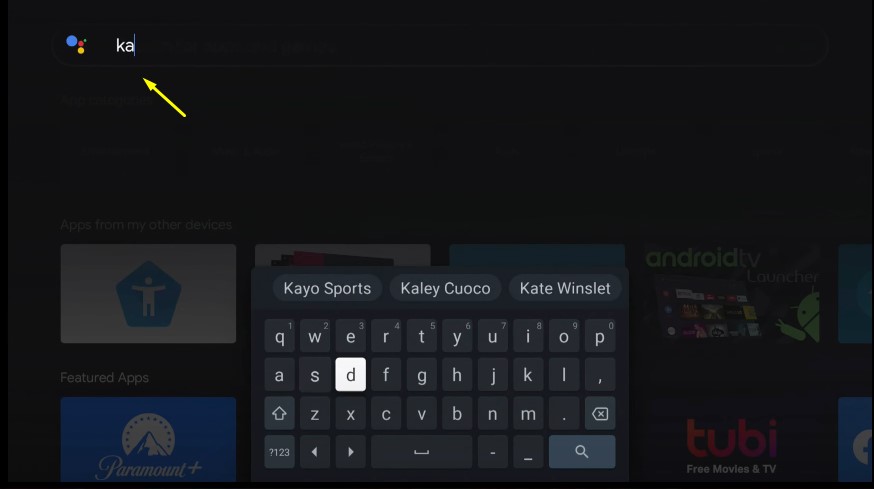 Choose the Kayo app tile from the results. On the following description screen, click the Install button.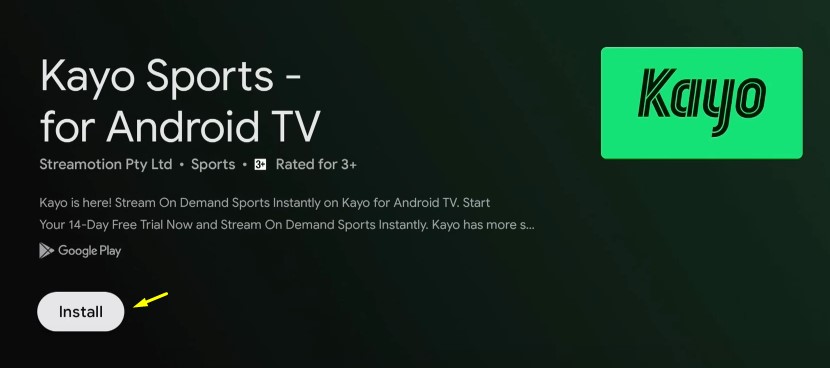 After successful installation, return to your Google TV Home screen, visit the Apps tab, and click See all to view all your installed apps. There, scroll to the Kayo app under the "Your Apps" section and click to launch it.
To move the sports streaming app to the front of the row, hold down the Select or OK button on your remote for a brief moment with Kayo highlighted, and click Move in the pop-up menu. You can then use the remote's D-Pad to move the app shortcut to the front.
How to Watch Kayo Sports on Google TV?
You'll require an account and a subscription to watch your favourite sports live and on-demand replays on Kayo Sports. Since the Kayo app on Google TV doesn't support seamless sign-ups, you must register for an account via the official Kayo website. Here's how:
Open a new browser tab on your phone or computer, and visit the following site: kayosports.com.au.
Next, choose your preferred subscription package and click Continue.
Enter your personal details, including an active mobile number, which Kayo will use for account verification.
Now enter your billing details and proceed to pay for the subscription.
If you apply for the 7-day free trial, you'll be charged after the trial expires.
Once you have an account with an active One, Basic, or Premium subscription, launch the Kayo app on your Google TV and log in with your credentials.
Now you can sit back, relax, and enjoy a range of live sports events or programming from Fox Sports, beIN Sports, and ESPN. Note you can log in with your Kayo account on up to three devices (depending on your plan) and stream simultaneously.
Can You Watch Kayo Sports For Free On Google TV?
Yes. With Kayo Freebies, you can get a taste of what you can watch on the platform. Freebies give you access to a limited selection of content, including select live streams from Tier 1 sports, on-demand replays, highlights, clips, and documentaries. You'll still have to register for an account, but there's no need to choose a plan or add your credit card.
To sign up for Kayo Freebies, go to kayosports.com.au/browse in your browser, look for any content with the green "Freebie" tag in the corner, and click the Register For Freebies button. Once you go through the registration process, simply login to the Kayo app on your Google TV and enjoy free sports content.
Read – Astro GO on Android TV
To Conclude
This guide outlines how to install and watch Kayo Sports on Google TV. We recommend Kayo Sports as a must-have streaming app for any Australian sports fan without a Foxtel connection. If your Google TV device has built-in Chromecast functionality, you can use the Kayo app on your phone or tablet to cast sports content onto your big screen.