Astro GO is a free companion streaming app for all Astro TV subscribers in Malaysia. It gives you access to your favorite channels and shows on-demand, and you can watch them on your phone, tablet, or computer on the go. Assuming you have an active Astro pay-TV connection, you can log into the app with your credentials to stream the channels and on-demand content included with your existing plan.
Of course, you're here to learn how to install Astro GO on Android TV, but is it actually possible? This guide has everything you need to know about Astro GO on Android TV.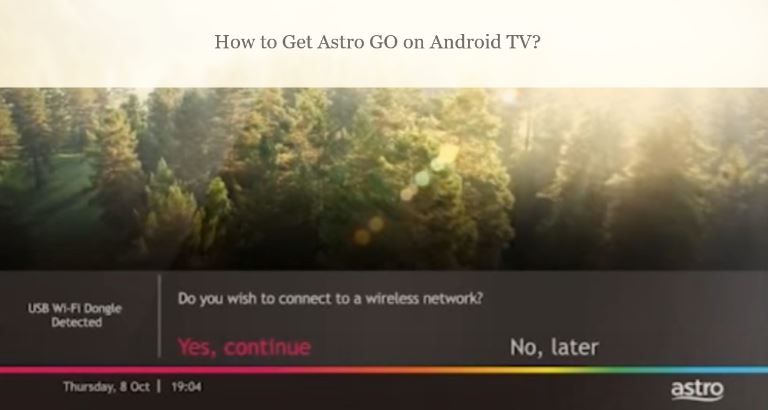 Can you Install Astro GO on Android TV?
The Astro GO is a complimentary streaming platform for Astro TV customers, with 100 TV channels and 65,000+ on-demand videos to offer. You can enjoy the latest episodes of your favorite TV shows and blockbuster films, stay up-to-date with live breaking news, stream English Premier League football games with interactive data, and more.
Other benefits include 200 hours of cloud DVR storage and the ability to record all the programs seven days in advance. With the "Play From Start" feature, you can rewind the moments you've missed while watching your favorite show on a linear channel. Plus, you can continue watching a movie or episode from right where you left off via the app.
Unfortunately, you don't get to use these features on Android TV since Astro GO is available only for Android phones and tablets, iPhones, and iPads. It also has a web version for PCs and laptops. There's no Android TV-specific version of Astro GO, let alone on any other Smart TV platforms.
While a popular workaround involves sideloading the Astro GO APK on Android TV, it's virtually unusable. You likely won't make it past the login screen due to weird UI scaling and navigation issues. However, there are other ways to stream the channels and VOD content included with your Astro subscription pack on your Android TV. Read on to learn more.
Get the Astro Multiroom Smart TV Subscription
Besides your existing Astro TV plan, you can pay for the Multiroom Smart TV add-on to tune into your favorite entertainment, news, and sports channels and stream trending dramas and films on-demand on your Android TV over the internet. Any active Astro customer paying for the Primary pack at a minimum can get the Multiroom subscription.
The drawback is that Astro Multiroom supports only Sony BRAVIA and Sharp Android TVs running Android 8.0 and above. Most of the popular Android TV streaming boxes are incompatible at the time of writing. Provided that you have an Android TV from Sony or Sharp, you're in luck.
Multiroom allows watching Astro content on up to 4 screens simultaneously, shared across one Smart TV and three mobiles, tablets, or computers (via Astro GO). For those wondering, the default limit is two concurrent streams per Astro ID. Visit product.astro.com.my/multiroom to sign up for the add-on.
It's worth noting that Astro offers another Multiroom Astro Box subscription that requires the installation of a second Astro Ulti or Ultra set-top box. Thus, before you pay, make sure to choose the correct add-on, which is Multiroom Smart TV.
Astro Multiroom SMART TV
Steps to Install and Log into the Astro App on Android TV
If you happen to have a Sony or Sharp Android TV and have paid for the Multiroom subscription, here's what to do next:
First, navigate to the Apps tab from your Android TV Home screen and launch Google Play Store.
Select Search (magnifying glass) at the top of the screen and type "Astro" using the on-screen keyboard.
Choose the Astro app tile in the results, then click Install.
Once installed, return to your Home screen and go to the bottom of your "Apps" tab to find and launch the Astro TV app.
Finally, log in to the app with your Astro ID credentials. If you don't have an Astro ID, check out the below section.
And that's it! Your favorite TV channels and shows are a few remote clicks away on your Android TV.

Note you won't get access to NHK World and radio channels and any Netflix or Disney+ Hotstar content, even though your Astro TV subscription may include them. Select on-demand shows, boxsets, and live sports content may be unavailable due to contractual rights.
Unlike on Astro GO, you can't download shows and movies for offline playback on the Astro Android TV app.
Steps to Create an Astro ID
The following steps will show you how to create an Astro ID. You can use it to log in to the Astro Android TV app as well as the Astro GO mobile app/website.
From your browser, visit id.astro.com.my and click where it says "Create now."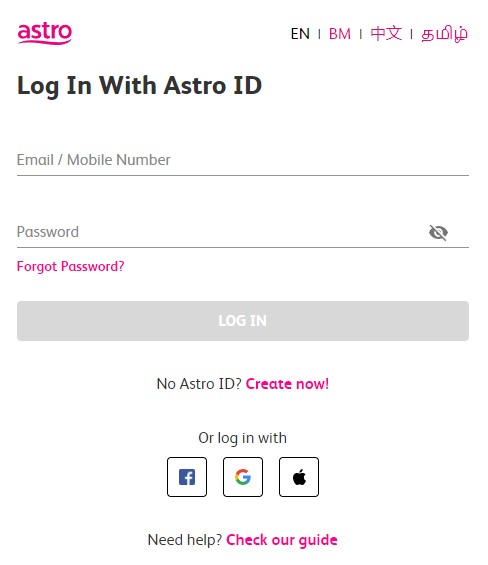 Key in your name, email address/mobile number, and a strong password. Then agree to the terms and privacy and click Create Astro ID.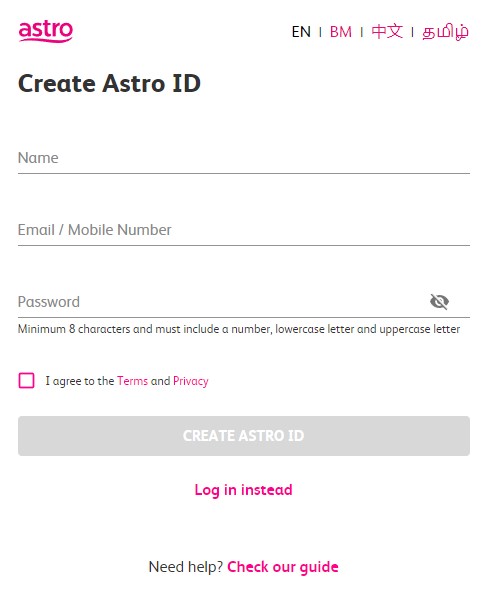 Next, choose MyKad as the ID Type and enter your MyKad identity number, followed by your Astro account or smartcard number. Click Next to continue.
You can find your 10-digit Astro account number on the bills. Alternatively, tune into Channel 200 for your smart card number.
Check your email or SMS for a one-time verification code, then type it in the respective field and click Verify.
You may now use your Astro ID to sign into all Astro services online. It's worth mentioning that anything you purchase or rent on the Astro Android TV app will be linked to your Astro ID.
Related – Watch Channel 4 on Google TV
Wrapping Up
While you can't install Astro GO on Android TV, to be specific, the official Astro TV app is available to access on recent Sony and Sharp Android TV models. Unfortunately, if you have an Android TV from a different vendor or a streaming box, you won't be able to utilize your Astro Multiroom subscription the same way.
While we haven't tested out these workarounds yet, you might as well try them out. The first one involves sideloading the Astro Android TV app on your device, which should be simple enough for advanced users.
Alternatively, you can try casting the Astro GO website from the Chrome browser on a Windows computer to your Chromecast-enabled Android TV and play content.