The following article will show you How to Charge Fitbit Blaze Without Charger. Before Versa and Sense, the Blaze was one of the most popular smartwatches from Fitbit. Released in 2016, the Fitbit Blaze quickly became a viable alternative to the Apple Watch and Android Wear of the time. While they officially discontinued it in 2018, and the watch no longer receives updates, the Blaze remains usable as a fitness tracker.
It's cool if you're still rocking the original Fitbit Blaze, but the device without a charged battery is as functional as a bicycle with flat tires. And since you're here, you've most likely misplaced your charger or the original charging cable for your Fitbit Blaze, now left with no charge on the watch itself.
How to Charge Fitbit Blaze Without Charger
Some may wonder whether there's any other way to charge Fitbit Blaze without charger or the charging cradle. We've prepared this very guide to walk you through a few workarounds.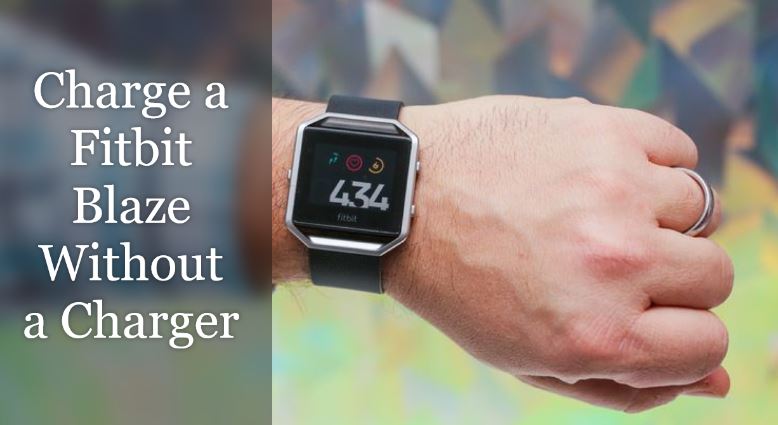 Use a Different USB Power Source
Forgot to bring the charging brick to the vacation? You can also use a power bank to charge your Fitbit Blaze. All you need to do is take the tracker out of its frame, place it into the charging cradle, close the lid, and connect the USB cable to the power bank.
Assuming everything goes correctly, you should see the battery indicator on the watch's display. However, you must verify that the power bank supports a minimum 5V/2A or 10W power delivery. Otherwise, your Blaze will charge very slowly or won't charge at all.
Alternatively, you may use a USB hub or connect the charging cradle directly to your PC or laptop's USB port to charge your Fitbit Blaze. Some hotel power outlets also have built-in USB ports, which you can use to top up your Fitbit without the charging brick. Again, the USB power source must have the capacity to deliver 10 watts of power at a minimum.
Read – Fitbit Versa 3 vs Samsung Galaxy Watch 4
Get a Replacement Cradle / Charging Dock
Unfortunately, if you've lost or managed to break the original charging cradle for your Blaze, you have no choice but to order a new one. Luckily, you can find the official Fitbit Blaze Charging Cable on Amazon for cheap these days.
We also recommend the UKCOCO Fitbit Blaze Charging Dock accessory, which allows users to charge the Blaze tracker without taking it out of the frame. You can connect it to any 5V/1A USB source and place your Fitbit in the cradle to charge it. Plus, it doubles as a phone stand.
Conclusion
Above, we've shown ways to charge Fitbit Blaze without charger. Some users on Fitbit forums have also suggested DIYing their own charger by stripping a USB cable and taping the exposed black and red wires to the charging prongs at the back of the watch, as seen in the above youtube video from Boxplanet. We absolutely don't recommend trying this at home as it can permanently damage your Fitbit Blaze and may cause life hazards.