If you're eyeing a new wearable, you may need to decide between Apple and Garmin. While Apple still makes the best well-rounded smartwatches, Garmins are not too far behind either, and they even beat Apple Watches in some aspects. Ultimately, both offer tons of activity tracking, wellness monitoring, and smartwatch features.
The comparison you're here for is the Garmin Vivoactive 4 vs Apple Watch Series 7, both of which have been floating around in the wearables market for quite some time now. This guide will give you an in-depth look at how they fare against one another in different cases.
Garmin Vivoactive 4 vs Apple Watch Series 7: Specs Breakdown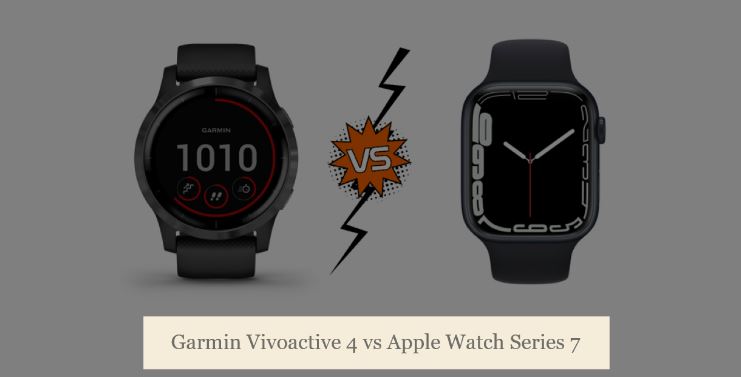 Garmin is a leader in fitness tracking, and it designs its watches for sports enthusiasts who're into running, playing golf, and surfing. The Apple Watch, especially the Series 7 model, is no slouch, but it's more tailored toward the masses.
Although it's a no-brainer for an Apple user to go with the Apple Watch Series 7, the Garmin Vivoactive 4 is available for way less and still provides a versatile feature set inside and outside Apple's walled garden. Before we get any deeper, let us give you a rundown on the core specs of the following Apple and Garmin wearables:
 
Garmin Vivoactive 4
Apple Watch Series 7
Dimensions
45.1 x 45.1 x 12.8 mm
41 x 35 x 10.7mm (41mm)

45 x 38 x 10.7mm (45mm)

Display
1.3″ 260×260 Sunlight-Visible, Transflective MIP
1.8-inch 352×430 Retina LTPO OLED (41mm)

1.9-inch 396×484 Retina LTPO OLED (45mm)

Battery Life
Up to 8 Days
(18 Hours with GPS, 6 Hours with GPS + Music)
Up to 18 Hours
Water-Resistance
Yes (Up to 50 meters)
Yes (Up to 50 meters)
GPS
Built-in
Built-in
Connectivity
Wi-Fi, Bluetooth, ANT+ (Optional)
Wi-Fi, Bluetooth, LTE (Optional)
Notifications
Yes
Yes
Music Storage
Up to 500 Songs
8 GB (32 GB capacity)
Contactless Payments
Garmin Pay
Apple Pay
Heart Rate Monitoring
Yes
Yes
ECG
No
Yes
Sleep Tracking
Yes
Yes
Compatibility
Android, iOS
iOS
There are plenty of similarities between these the Garmin Vivoactive 4 and Apple Watch Series 7 smartwatches, but where they differ is discussed below in detail.
Garmin Vivoactive 4 vs Apple Watch Series 7: Fitness Tracking
Both wearables are excellent workout companions. They come pre-loaded with a bevy of exercise, workout, and sports modes for daily activity tracking, along with features that motivate you to move. It includes on-screen coaching, though the Apple Watch Series 7 users require to pay for Apple Fitness+.
With the Fitness+ subscription, you can view your real-time stats on the Watch while following your virtual trainer from your iPhone, iPad, or Apple TV. Fortunately, every Apple Watch comes with three months of free Fitness+ trial. The Apple Watch Series 7 also seamlessly pairs with GymKit-enabled gym equipment, an added benefit for fitness enthusiasts.
The Garmin Vivoactive 4 also offers on-screen coaching. You can follow the video directly on the watch screen to work out and perform everything from cardio to strength exercises, pilates, and even yoga. You can have a personal running coach with Garmin Coach. It doesn't require a subscription.
The Activity Rings on the Apple Watch allows users to track their daily goals toward calorie burn, active exercise minutes and standing time. The rings close in as you gradually get closer to reaching your goals. It adds to the motivational factor, with the same experience extending to the Series 7 models. One can also view their daily progress on the Garmin Vivoactive 4, but the experience isn't nearly as captivating.
Garmin Vivoactive 4 vs Apple Watch Series 7: Health Monitoring
Besides activities and sports, the Vivoactive 4 tracks heart rate, respiration, blood oxygen saturation levels, sleep, stress, and menstrual cycle. Its hydration tracking feature lets you keep tabs on your daily fluid intake. The daily hydration goal adjusts based on how much you sweat in a day.
Garmin also provides a metric they call Body Battery, which estimates your energy levels on a scale of 1 to 100 by collecting vital info from your activities, heart rate variability (HRV), sleep patterns, and stress levels throughout the day. Based on how high or low the score gets, it tells you whether it's time to work out or take a rest.
The Apple Watch Series 7 is also hefty in the health monitoring suite, offering in-depth insights into your well-being, challenges you can participate in with your friends, and more. Like Garmin Vivoactive 4's relaxation reminders that include short breathing exercises, the Breathe app on the Apple Watch helps you center yourself when you get too worked up.
In terms of heart rate and blood oxygen (SpO2) monitoring, the Apple Watch Series 7 takes readings throughout the day. You can manually measure your SpO2 level and take an ECG by gently pressing your finger on the Digital Crown. You can access all that data alongside sleep, stress, and menstrual cycle from your iPhone's Health app.
Health tracking-wise, the Garmin Vivoactive 4 and Apple Watch Series 7 measure very similarly. Both Apple and Garmin watches feature an altimeter and support fall detection. However, the only significant difference is the lack of ECG scanning on Vivoactive 4.
The ECG app on the Apple Watch can detect symptoms of atrial fibrillation (AFib), a form of arrhythmia or irregular heart rhythm. It's worth mentioning that the Vivoactive 4 can alert users about abnormally high and low heart rates.
Garmin Vivoactive 4 vs Apple Watch Series 7: Design & Build
Both Garmin Vivoactive 4 and Apple Watch Series 7 look like smartwatches, but the Garmin resembles a traditional wristwatch more with its classy circular face versus the Series 7's iconic square face.
Compared to the 40mm Vivoactive 4s, the Vivoactive 4 features a heftier 45mm case with a stainless-steel bezel and silicone band. It's available in two colors: Slate Bezel + Black Case and Silver Bezel + Shadow Gray Case.
The Apple Watch Series 7, more or less, retains the same premium design and dimensions as its predecessor but further shrinks the bezels to make room for a 10% bigger OLED display. Everything else remains similar, including the color-coded Digital Crown on the right, band size, and the sensor suite at the back.
It comes in 41mm and 45mm sizes and is available in three remarkable materials: 100% recyclable aluminum, stainless steel, and titanium. The aluminum variant is what most people go for, and you can grab it in one of the five exquisite colorways: Midnight, Starlight, Green, Blue, and (Product) Red.
Both watches allow users to personalize the look with tons of digital watch faces. The Apple Watch Series 7, in particular, offers a variety to choose from in the App Store, including ones revolving around certain apps. Garmin Vivoactive 4 users can pick from a wide range of official and community-made options via the Connect IQ store alongside apps and widgets.
The Series 7 also has always-on-display, meaning you can simply lift your arm to check the time or your Activity Rings at a glance. It even extends to the fitness experience. For instance, you can wake the screen up to check your heart rate or other metrics while engaged in an intense workout.
The Apple Watch Series 7's screen is larger and, at the same time, substantially brighter and has a higher resolution than the Garmin Vivoactive 4's screen. Garmin's sunlight-visible, transflective MIP (Memory-In-Pixel) screen still does the job. However, look too close, and the lower resolution will disappoint.
Check out: Whoop vs Apple Watch (Comparison): Which One Is Better?
Garmin Vivoactive 4 vs Apple Watch Series 7: GPS, Music, Apps, & More
Both smartwatches pack built-in GPS, meaning you don't have to carry your phone to track routes when going for a brisk walk, run, or bike ride. Apple Watch Series 7, however, has an optional LTE variant, giving users access to smartphone features without their actual phone nearby.
You can view incoming phone notifications on both wearables, including text messages, calls, e-mails, calendar alerts, reminders, and other app alerts. Android phone users can also send pre-defined replies to messages and emails directly from the Vivoactive 4.
The Apple Watch Series 7 features 32 GB of storage for apps and media. Of course, it works seamlessly with Apple Music, meaning you can download and listen to your favorite tracks and podcast episodes without needing your iPhone.
The Garmin Vivoactive 4 also has onboard storage for up to 500 songs. The best thing is that you can import your personal MP3 and M4A audio files or your iTunes library via the Garmin Express app on Windows and macOS. You can even sync your Spotify, Amazon Music, and Deezer playlists.
Both wearables support hundreds of third-party apps for fitness tracking, music, navigation, etc. Apple remains the industry leader in terms of the smartwatch app experience. You can browse and download apps on the Series 7 for everything from calendars to maps to communication to weather and more.
The Walkie-Talkie app, for instance, lets users get in touch with other Apple Watch owners over Wi-Fi or cellular. Taking photos with an iPhone also gets easier with the Camera Remote app, which allows Apple Watch owners to use it as a viewfinder, set a shutter timer, adjust zoom and exposure, and review shots.
Nevertheless, Garmin's Connect IQ store is replete with apps for you to add to the Vivoactive 4. It includes apps for tracking outdoor runs, indoor workouts, navigation, music, weather updates, etc. And as we mentioned earlier, you can download watch faces and at-a-glance widgets for personalization.
The Garmin Vivoactive 4 and Apple Watch Series 7 support contactless NFC payments through their respective payment platforms. The latter also has Siri voice assistant built-in.
You might also want to know: Does Waze work on Apple Watch?
Garmin Vivoactive 4 vs Apple Watch Series 7: Safety Features
Today's smartwatches not only focus on fitness and health tracking but also integrate safety measures to help the user in an emergency or disaster.
The Apple Watch Series 7 has fall detection and emergency SOS for users to immediately contact the authorities in the event of an accident or medical emergency. All you have to do is press and hold the side button below the Digital Crown.
Another helpful safety feature the Apple Watch Series 7 adds is noise notification, alerting the user about exposure to high noise levels in the surrounding environment.
The Garmin Vivoactive 4's built-in incident detection and LiveTrack feature can send the user's live location to select contacts in case of an accident.
Garmin Vivoactive 4 vs Apple Watch Series 7: Battery Life
Battery life is one of the most crucial factors when it comes to smart wearables. Whether you find the data of your nocturnal activities as vital as your health and fitness metrics throughout the day, or you love to keep track of your runs and other exercises, you want a smartwatch that lasts as long as possible on a single charge.
The Garmin Vivoactive 4 is miles ahead of the Apple Watch Series 7 in that regard, offering an exceptional 8-day battery life. However, add GPS tracking to your usage, and the battery life dives to just 18 hours. Throw music playback in the mix, and the Vivoactive 4 can barely make it to six hours.
In contrast, the Apple Watch Series 7 provides the same 18-hour battery life with mixed usage as its predecessors. The GPS + Cellular version may have an even shorter battery life, but that depends on your usage habits. Whichever variant you choose, you'll likely have to charge your Apple Watch on a daily basis.
Garmin Vivoactive 4 vs. Apple Watch Series 7: Verdict
Both the following Apple and Garmin smartwatches offer compelling features at their price segments. But when it comes to picking the winner in this Garmin Vivoactive 4 vs. Apple Watch Series 7 comparison, we think they tailor to different groups of users, and thus both are good choices.
If fitness tracking is your primary focus, and you partake in vigorous workouts, then you can't go wrong with the Garmin Vivoactive 4. It logs just about every stat indoors and outdoors, offers detailed reports of your daily progress, and has loads of sports-specific tracking modes. And the best part is its reasonably affordable price tag.
Where the Vivoactive 4 falls short is the underwhelming transflective display and lack of advanced health monitoring features like ECG. It's a stellar watch nonetheless, checking most of the boxes without being unreasonably expensive.
Apple Watches are in a league of their own. If you are an iPhone user looking for a companion smartwatch for tracking a wide variety of sports, workouts, and day-to-day activities, advanced health monitoring, and taking full advantage of Apple's cutting-edge, ever-evolving watchOS features, you'll love the Apple Watch Series 7. However, if you use an Android phone and expect multi-day battery life, get a Garmin instead or look elsewhere.
Another factor to consider is the type of design you like the most. These two smartwatches couldn't be more different in that respect. If you prefer a more modern look, you might go for the Apple Watch Series 7. Not to mention the nearly edge-to-edge display, which makes it even more attractive.
Others might prefer the traditional look of a circular dial. In that case, the Garmin Vivoactive 4 would be the better option. Plus, it's also the superior choice for Android device users.