Whoop vs Apple Watch: Which One Is Better? Fitness trackers and smartwatches can help you stay fit and give you so much information about your well-being you otherwise wouldn't know. If you've recently been planning to buy a fitness band or watch, you may have heard about Whoop and Apple Watch, two of the most renowned products in the wearable tech industry.
Most consider the Apple Watch the holy grail of smartwatches, all due to its superior integration with the Apple ecosystem and highly-polished user experience. However, one might argue otherwise and claim the new Whoop 4.0 to be the premier smart band for health and fitness tracking.
The truth is both have their own pros and cons, meaning one can't compare them on paper. For instance, the Apple Watch, unlike Whoop, has a large and bright display, but the Whoop can last nearly a week between charges. One similarity between the wearables is they both can sync data to the Apple Health platform.
So, it raises the question– Which one to get? To settle it once and for all, we've got our hands on the Whoop 4.0 and Apple Watch Series 7, comparing them by their key selling features and more in the most in-depth comparison guide. Here's how the two hold up.
Whoop vs Apple Watch: Design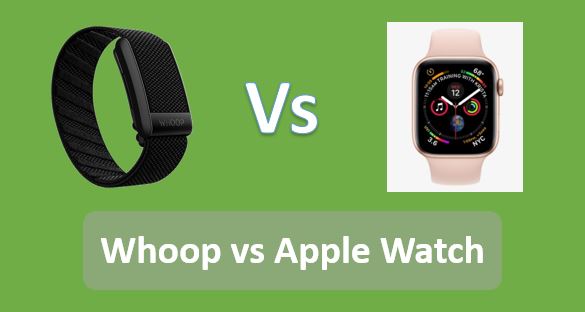 The two wearables are very different in terms of design and craftsmanship. For starters, the Whoop 4.0 is a basic tracker with the essential sensors on the back and doesn't have a screen, meaning a smartphone is necessary for viewing any of the collected health and fitness data. It doesn't even show the time and date, so it's far from being a traditional wristwatch in basic functionality.
For many, having no screen on a fitness tracker can be a dealbreaker. However, for those who don't want a secondary screen on their wrist to look at, the Whoop strap should blend in just fine without sticking out like a sore thumb.
And on the bright side, Whoop offers a wide variety of accessory bands and undergarments for additional placement options other than the wrist. Users can also go for a swim, shower, or dive wearing the Whoop tracker, thanks to its IP68 rating. It's dustproof and water-resistant up to 50 meters.
On the other hand, the Apple Watch Series 7 has a large, nearly seamless OLED touchscreen that gets sharp and bright enough to be visible under bright light. Although Apple's squircle look isn't everyone's favorite, it's iconic and instantly recognizable. It also retains the rotating Digital Crown and physical side button, which makes for tactile and satisfying navigation.
The Series 7, like its predecessors, uses premium case materials like aluminum, stainless steel, and titanium and lets users pick from a sizeable collection of first and third-party watch straps. It's available in 41mm and 45mm sizes with GPS or GPS + Cellular connectivity. You can get the Watch in ten different case finishes, including Midnight, Starlight, Graphite, Gold, Silver, Titanium, Space Black, Green, Blue, and Product Red.
Like the Whoop, it's also water-resistant at up to 50 meters of depth, so you can safely wear it when swimming or showering. However, you can only wear it on the wrist and not anywhere else. In this sense, Whoop provides a lot more flexibility.
Both devices, in their own rights, look good and are very comfortable to wear. That said, most people may prefer to have a screen so they can see basic info without checking their phone. You may like our other comparison article on Amazon Halo vs Whoop.
Whoop vs Apple Watch: Fitness Tracking
The Apple Watch provides some of the best fitness tracking features to its users, including numerous modes for exercises, workouts, sports, and other activities. Plus, it can track your daily steps, runs, biking, and swims with high precision. Not only that, but you can also pair external heart rate monitors with the Apple Watch to get more reliable data.
Of course, the Apple Watch Series 7 has native integration with Apple's Health app and Fitness+ platform. Further, the built-in App Store offers access to an ocean of fitness apps that really unlock the watch's true potential.
In contrast, Whoop's sports tracking capabilities are somewhat limited despite being targeted at professional athletes. The data it collects gives a clear idea of the after-effects of long-duration workouts and intense training sessions on the body, not performance assessments of the actual sessions.
Even the new Whoop 4.0 tracker doesn't have GPS and uses your phone's GPS instead to track jogs and cycling, which sometimes can be imprecise. The good news is that it can auto-detect specific workouts and exercises, so you won't need to fiddle with it too much. With that said, you will miss out on activity-specific data.
The new and improved HR sensor on the Whoop 4.0 collects sufficient biometric data to assess sleep, recovery, and strain scores and help you physically prepare for the day. And unlike the Apple Watch, you can place the tracker on your bicep with the bicep band or in the specialized apparel Whoop sells on their official website to get more accurate readings.
The Whoop 4.0 has Apple Health and Strava integration alongside its own companion mobile app for Android and iOS.
If you want a fitness wearable that reliably tracks your activities and workouts with reasonable accuracy, the Apple Watch is the better choice. In comparison, Whoop's fitness tracking still needs a long way to go to match the competition.
Whoop vs Apple Watch: Health Tracking
Both devices offer comprehensive health monitoring capabilities. The Whoop tracker focuses on your daily health stats and presents them in a streamlined scoring system. It tracks your resting heart rate, sleeps quality, and fatigue to estimate a recovery score, indicating whether you're ready to take on your next-day workout. However, the presentation can seem vague and less focused compared to other fitness trackers and smartwatches.
Whoop 4.0 features improved biometric hardware that can record crucial health data 24/7 like heart rate, blood oxygen saturation level, respiratory rate, heart rate variability (HRV), and body temperature.
The tracker takes about two weeks to set your baselines so that it can alert you to take a break when you're not in your prime range. It can also predict the onset of common illnesses. All that said, Whoop 4.0 relies on its own studies to assess health conditions. It doesn't have the regulatory approval of the FDA, which the Apple Watch does.
The Apple Watch Series 7 has an FDA-approved ECG sensor that helps determine signs of irregular heart rhythm pattern, also known as atrial fibrillation (AFib). The built-in optical HR sensor provides abnormal heart rate alerts as well. Moreover, the watch offers blood oxygen saturation or SpO2 monitoring and allows users to monitor their breathing rate and REM cycles during sleep.
The best thing about the Apple Watch is the ability to pair select Bluetooth-enabled external health devices. You can use this feature to gain more accurate insights into your general well-being.
Access to the Apple App Store also ensures full use of the device's sensors should you want to look at additional health metrics. And lastly, you can use Apple Health to get a detailed or simplified view of your health and fitness data on your iPhone or iPad. The app also allows you to set daily and weekly goals like the Whoop app.
Whoop vs Apple Watch: Sleep Tracking
Sleep tracking is one of the key selling features of the Whoop 4.0 tracker. The in-depth data charts and high accuracy it provides are definitely up there with the likes of Fitbit, Garmin, and Oura.
Whoop can assess the hours of sleep you need, track your time in various sleep stages, and estimate a percentage score of your nocturnal needs. From the Whoop app, you can also get a full breakdown of your sleep sessions, including time in bed, disturbances, heart rate spikes, respiratory rates, and more.
Apple Watch also features sleep tracking, but it is somewhat rudimentary compared to Whoop's. You can download a third-party sleep-tracking app from the App Store to get a more detailed data chart, but it still would be nowhere near as mature and focused as Whoop's sleep tracking capabilities.
Reading Tip: How to Clean Whoop Strap?
Whoop vs Apple Watch: Software
Considering the Whoop 4.0 doesn't have a screen, the Whoop companion mobile app is the only software medium for the user. In the "Overview" dashboard, you can swipe to see your strain, sleep, and recovery data. Swiping up uncovers weekly data, with detailed graphs showing the trends.
From the "Coaching" screen, you can access your performance reports, sleep coaching guidance, health monitor, etc. The app presents everything in a way that's comprehensible to both the general public and physicians.
The official Whoop app is available for both Android devices and iPhones. Apart from the following, users can also use the app to check battery life, set alarms, configure the tracker, and install new firmware updates. The Whoop tracker itself has zero smart features.
Apple Watch Series 7, on the other hand, runs on the watchOS operating system. Sure, you'll need an iPhone to utilize most of its features, but if you do, the experience is unparalleled. Apple's watchOS platform is more mature than ever, with features like on-wrist notifications (with replies), Apple Music and Apple Pay support, cellular connectivity, customizable watch faces, a built-in App Store, and more. It's everything one would expect from a bonafide smartwatch and a prime example where the wearable hardware offers consistent performance.
Additionally, Watch, Fitness, and Health apps on your iPhone further build upon the Apple Watch experience. The Watch app lets users change watch faces, customize settings, manage apps, and more.
The latter two are self-explanatory, offering a comprehensive look at health and fitness metrics, daily/weekly goal rings, sleep details, past workout and activity records, and more. Apple's Fitness+ subscription unlocks additional workout types, audio/video-guided experiences, real-time metrics, etc.
At the time of writing, Apple is testing watchOS 9 Preview for Apple Watch Series 4/5/6/7/SE. It brings heart rate zones, running form metrics, running power, sleep stages, medication reminders, and a redesigned Workout app with an enhanced summary screen, alongside tons of new accessibility and productivity features. Such improvements will put the Apple Watch a few more steps ahead of its competition.
Read – What To Do If I Lost My Whoop Strap?
Whoop vs Apple Watch: Battery Life
The battery life is where the Whoop 4.0 is a clear winner. Having no screen or OS really helps, giving the tracker a runtime of up to five days between charges. You can charge the Whoop by sliding a tiny battery pack over it, meaning you won't need to take off your Whoop to top up its battery. The battery pack itself can be charged over USB-C.
The Apple Watch Series 7 claims an all-day battery life of up to 18 hours. But depending on your usage patterns, it can survive two days on a single charge or even less than the advertised runtime. The magnetic charging cable can top up the watch in about 2.5 hours.
Whoop vs Apple Watch: Verdict
For the vast majority, the Apple Watch, especially the Series 7, is likely the better pick for health and fitness monitoring. It has a premium look, enables advanced smart functionalities, and Apple's watchOS generally is more versatile than every other wearable operating system on the market.
But for serious athletes or fitness enthusiasts who push their bodies to the limits and are interested in having access to in-depth sleep, strain, and recovery data, the Whoop 4.0 will offer more valuable metrics. Furthermore, its long-lasting battery life and unique charging pack make for easy maintenance and convenience.
Of course, both the Whoop 4.0 and Apple Watch Series 7 will burn a sizeable hole in your pocket, the Whoop even more so with its monthly and annual subscription-based model. If you aren't a fan of recurring subscriptions, the Apple Watch will likely be a much better investment in the long run.