Are you ready for the ultimate virtual reality experience? The Meta Quest 3, the latest addition to the Oculus (Meta) Quest line of VR headsets, is set to take the gaming and entertainment industry by storm.
With rumors and leaks circulating about its release date, features, and cost, it's hard not to get excited about this highly-anticipated device.
Let's take a closer look at the information we have about the Meta Quest 3 and what we can expect from this revolutionary piece of technology.
From Meta Quest 3 release date to its rumored features and cost, we've got you covered. Having said that, let's jump into Meta Quest 3 and see what it has to offer.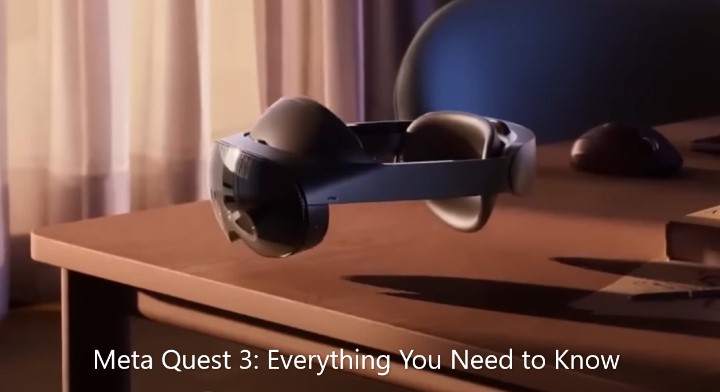 Meta Quest 3 Release Date: Is it Scheduled to be Released Soon?
Speculation and rumors have been swirling around the release date of the highly-anticipated Meta Quest 3. While the official release date has not yet been confirmed, many industry experts believe that we can expect to see the Meta Quest 3 hit the market in October 2023.
This would align with the company's previous release schedule for the Oculus Quest line and would give developers and manufacturers enough time to prepare for the launch.
As the release date draws near, we can expect to hear more official announcements from the company, giving us a better idea of when we can expect to get our hands on the Meta Quest 3.
But one thing is for sure, the Meta Quest 3 is going to be a game-changer in the Virtual Reality industry, and the release date is something that every VR enthusiasts should be looking forward to.
Features: What's new in Meta Quest 3?
Virtual reality is set to undergo a revolution as a result of Meta Quest 3's cutting-edge features. While the official specs have not yet been released, rumors and leaks suggest that the Meta Quest 3 will boast some impressive capabilities. Some of the features that we can expect to see in the Meta Quest 3 include:
Clear visuals with a resolution of 1.920 x 1.800 pixels per eye
Deep blacks and vibrant colors with dual OLED displays
Smooth and fluid motion with 120Hz refresh rate
Wide-field pancake lenses
Adjustable IPD for a comfortable fit
Hand-tracking virtual environments
Fast and efficient Qualcomm Snapdragon XR3 processor
GPU powered by the Adreno 730 with 2.4 Teraflops of power
A minimum of 8-12GB RAM
512GB of storage for apps and games
USB-C and WiFi 6E for fast and reliable connectivity
Long-lasting battery life of 3+ hours
Immersive audio technology
Compact, lightweight design provides enhanced portability and comfort.
These features are expected to take the virtual reality experience to the next level and make the Meta Quest 3 a must-have device for gamers and VR enthusiasts alike.
NOTE: The features listed here are based on rumors and leaks, and have not yet been confirmed.
Price: Is Meta Quest 3 Going to be Expensive?
The cost of the Meta Quest 3, as stated by Mark Zuckerberg during his interview with Microsoft's Satya Nadella, is expected to be in the range of $300 to $500, making it a strong competitor in the high-end VR market.
This price point is quite attractive, as it makes the device accessible to a wider range of users, without compromising on its features and capabilities. It's worth noting that this cost is for the base model and additional upgrades or accessories may come with an extra cost.
The Meta Quest 3 is sure to bring a new level of immersion and realism to the VR experience, making it a must-have device for any VR enthusiast looking for a top-of-the-line experience.
The price range of Meta Quest 3 is expected to be a game changer in the VR industry and it will be interesting to see how other VR companies respond to this pricing strategy.
Design and Appearance: Taking a Look at Meta Quest 3
The Meta Quest 3 is expected to boast a sleek and modern design, with rumors suggesting that it will be more compact and lightweight than its predecessor. From the leaked CAD images, it seems that the device will feature a more streamlined look, with a focus on ergonomic design for a comfortable fit.
The controllers are expected to be designed with a 6DOF tracking, which is a technology that allows for more accurate and realistic movement in virtual environments.
The device is also rumored to have a built-in hand tracking feature, which would allow users to navigate virtual spaces using hand gestures, rather than relying on traditional controllers. Overall, the Meta Quest 3 is shaping up to be a visually stunning device that will provide a more immersive virtual reality experience. You may like our article on how to cast Meta Quest Pro to Samsung Smart TV.
Recommended Reading: HP Reverb G2 V1 vs HP Reverb G2 V2: Which One is Better?
Meta Quest 3: Games & Applications
The Meta Quest 3 is expected to revolutionize VR gaming and entertainment. Because of its superior specs and capabilities, it's expected to offer an unparalleled virtual reality experience.
One of the most exciting aspects of the Meta Quest 3 is the variety of games and applications that will be available on the device. From popular titles to new and exclusive content, the Meta Quest 3 promises to satisfy every VR enthusiast.
The device is expected to have a vast library of games and apps that will be compatible with the device, giving users access to an extensive collection of immersive and interactive experiences.
The Meta Quest 3 is shaping up to be the ultimate device for VR gaming and entertainment, and we can't wait to see what the future holds for this amazing piece of technology.
Related Guides
The Meta Quest 3: Everything We Know About
Final Thoughts!
As we eagerly await the release date of Meta Quest 3, we can't help but feel excited about the potential of this VR headset. With its high-end specs, improved resolution and graphics, and the potential for new technologies, the Meta Quest 3 is set to redefine virtual reality.
The cost range of $300 to $500 gives it a greater appeal, and the compact and lightweight design promises to be comfortable for extended use. We can't wait to see what the Meta Quest 3 has in store for us.