TSN, short for The Sports Network, is a renowned Canadian sports television network. It has established itself as the premier destination for fans of a diverse range of sports. With a rich history of three decades, TSN has become synonymous with top-notch sports coverage, offering live events, insightful analysis, breaking news, and feature stories.
The network's programming spans an extensive array of sporting events, including hockey, basketball, soccer, football, baseball, tennis, wrestling, and more. Celebrated particularly for its domestic ice hockey coverage, TSN airs most Hockey Canada tournaments, Canadian Hockey League, and regional NHL broadcasts.
TSN embraces the digital age by providing a comprehensive online streaming platform where fans can enjoy their favourite sports content anytime, anywhere, with live streams, on-demand highlights, and up-to-date news.
The good news is if you're looking to watch TSN on LG Smart TV, you don't have to go elsewhere. Our guide will help you install and sign in to TSN's official app on your TV with step-by-step instructions, regardless of a cable subscription.
How to Get TSN on LG Smart TV?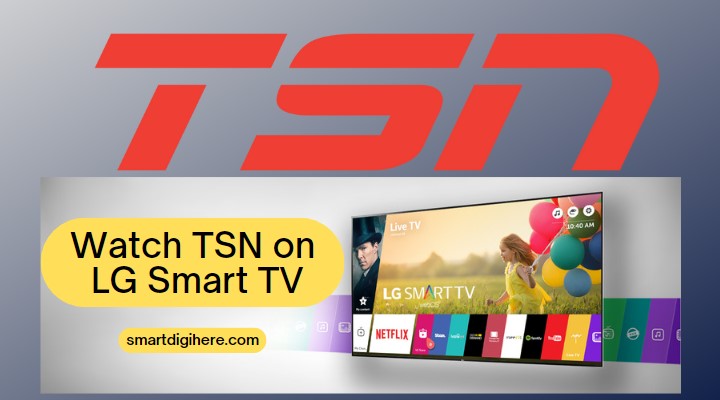 TSN allows eligible subscribers to catch their favourite sporting events live with highlights and recaps, alongside the network's sports news programs, talk shows, and award-winning documentaries on demand on any compatible screen via their official streaming app.
Fortunately, the TSN app is available for most smart TVs and streaming boxes, including select 2017 models and all 2018 and newer LG Smart TVs running webOS 3.5 and above. If yours is a compatible model, here's how you add the sports-streaming app from Content Store:
With your LG TV powered on and connected, take the remote out and press the Home
Scroll to the App List section of the Home screen and select the Apps (four small squares in a grid) icon.

On older webOS TVs, pressing the Home button opens the launcher bar, where you must select the LG Content Store.

Click the magnifying lens icon at the top-right corner to open the Search.
Use the on-screen keyboard to search for the "TSN" app. Then select the matching app icon in the results.
On the app's details and screenshots page, click the Install It should take only a few seconds.
Select Launch to launch the TSN app immediately from the Content Store screen. Or, return to your TV's Home screen or launcher bar and open it from your apps list. Now it's time to sign in, for which you should check out the next section of this guide.
TSN and TSN+: Everything You Need to Know
Downloading the TSN app on LG Smart TV is the easiest part, but you'll also need to log in with valid account details and a subscription plan.
If you get the TSN channels with your current cable/satellite TV, internet, or wireless plan, you can sign in to the streaming app with your provider credentials if supported. The list of participating providers includes Bell, Rogers, Shaw, Telus, CityWest, Execulink, Sasktel, Tbaytel, Virgin Plus, Videotron, etc.
Those who've cut the cord can visit tsn.ca/subscribe and sign up for TSN's $20 Month Pass or $200 Annual Pass for streaming access to all the network's sports content, including the current TSN channel feeds, e.g., TSN1, TSN2, TSN3, TSN4, and TSN5, via its official app or website.
TSN has also very recently introduced TSN+, which provides streams to even more live sports and on-demand originals on top of the programming you get with the above flexible subscription passes. It includes exclusive coverage for PGA Tour throughout the year, plus the NTT Indycar Series, La Liga and La Liga 2 soccer games, and the XFL season.
TSN+ also gets you alternate streaming-only feeds from the tennis Grand Slams, companion camera views for high-octane Formula 1 and NASCAR races, and alternate angles for NFL games, supplementing TSN's primary broadcasts.
Furthermore, TSN+ includes access to sports events that don't air on the network's TV channels, such as the CHL and PHF hockey matches, NBA matchups between American teams, men's and women's NCAA basketball and football games, and the Friday-night AEW Rampage wrestling cards.
Plus, a sizeable selection of sports documentaries from TSN, ESPN Films, and HBO is available on demand.
Note: TSN+ is still in the free preview period at the time of writing. However, depending on when you're reading this, official details on the subscription and pricing should be up on the tsn.ca/tsnplus website.
How to Activate & Watch TSN on LG Smart TV?
Signing up for a TSN or TSN+ account should be straightforward, but once you've done it, use the following steps to activate the TSN app on your LG Smart TV:
Launch TSN from your LG TV's Home screen or launcher bar.
Navigate to the app's Profile menu and click Sign In. An activation screen will appear with a code and some login steps.
Visit tsn.ca/activate from a new browser tab on your phone or computer, then enter the activation code displayed on your TV screen.
If you purchased the TSN Pass or TSN+ subscription earlier, choose "Already a subscriber" and continue entering your email address and password.

If you haven't subscribed yet, choose "New subscriber" or click "Subscribe now!" at the bottom and provide the necessary details to sign up.
To access TSN through your TV provider, select "I'm a TV SUBSCRIBER" and follow the on-screen steps to link your provider account.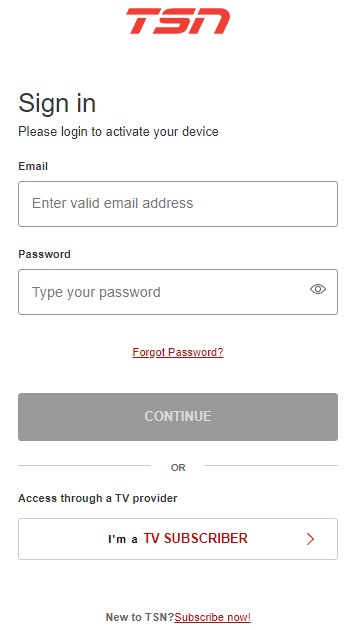 Once you go through the activation process, you should see the "Success!" message in your web browser, after which you can pick up your TV remote and begin exploring all of TSN's live and on-demand sports streaming offerings on your LG TV.
Enjoy TSN on Your LG Smart TV!
We hope the step-by-step instructions in this guide have helped you tune in to TSN on LG Smart TV. Now you can dive right into the Canadian sports network's wall-to-wall coverage of your favourite major sports leagues and tournaments, including the NHL, CFL, PGA, NFL, NBA, NCAA, ATP, WTA, NASCAR, F1, UFC, and so on, plus daily episodes of SportsCentre and other TSN and ESPN studio programs!