TSN is the premier sports network in Canada, just as ESPN is in the United States. Known for its extensive coverage of trending sporting events, TSN has become a go-to destination for Canadian sports enthusiasts. Its in-depth analysis, news, and exclusive content provide an unmatched experience.
And what better way to enjoy the thrilling world of TSN than on your Samsung Smart TV? Whether you're cheering for your beloved hockey team or staying up-to-date with the latest basketball, soccer, or football action, you've come to the right place.
Our guide will help you access and make the most of TSN on Samsung Smart TV, ensuring you catch every moment of the network's unparalleled coverage of your favourite games, matches, and sporting events.
Where to Watch TSN on Samsung Smart TV?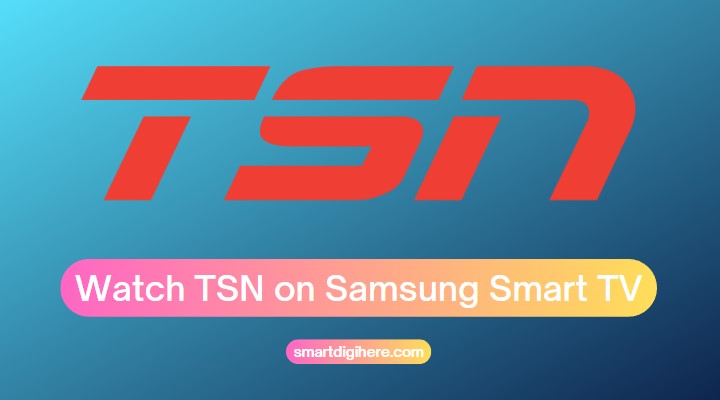 The Sports Network offers its official TSN app for all Samsung Smart TVs manufactured in 2017 or later. It lets you experience the excitement of TSN's extensive collection of 60+ premier tournaments and championship events.
TSN covers it all, from anticipated tournaments such as the Grey Cup and World Juniors to prestigious soccer competitions like the FIFA World Cup, UEFA Euro, and La Liga. Enjoy regional NHL broadcasts, thrilling NBA games featuring the Raptors, captivating golf Majors, tennis Grand Slams, adrenaline-pumping NFL matchups, heart-racing F1 and NASCAR races, tense UFC fights, NCAA competitions, and much more.
You can also catch the network's sports broadcasts and studio shows on-demand, including the nightly episodes of SportsCentre right alongside ESPN's slate of sports programming. Furthermore, you get access to TSN's critically-acclaimed original series and documentaries, plus live streams of its podcasts and radio stations.
TSN on Samsung Smart TV also keeps you informed and up to date with access to breaking news headlines, up-to-the-minute scores and stats, and in-depth analysis from TSN's esteemed roster of experts and insiders, including Bob McKenzie, James Duthie, Darren Dreger, and Pierre LeBrun, just to name a few.
What About Subscription Plans?
TSN isn't just limited to paying cable and satellite TV customers. You can also purchase the flexible Month or Annual Pass directly from TSN official website, giving you streaming access to everything the sports network offers, including its five national live TV feeds: TSN1, TSN2, TSN3, TSN4, and TSN5.
Those already subscribed to TSN through a TV provider (e.g., Bell, Virgin+, Rogers, Telus, Shaw, Eastlink, Novus, SaskTel, Vianet) can log in to the TSN Samsung TV app with their provider username and password to access the sports streaming offerings.
Learn More About TSN+
Not to be confused with the above TSN streaming pass, TSN+ is a separate subscription service that delivers even more live sports streams and exclusive coverage via the TSN app, which includes the following:
4,000+ hours of PGA Tour coverage throughout the season
NTT Indycar Series coverage, exclusive companion feeds for every Formula One race, and all practice and qualifying races from the NASCAR Cup and Xfinity Series
Augmented feeds for every NFL playoff game alongside complete XFL coverage
100+ all-American NBA matchups throughout the regular season
More international soccer with La Liga Santander and La Liga 2
More NCAA basketball and football and CHL games (in addition to the ones already airing on TSN)
Streaming-only court feeds from all four Grand Slams and the ATP and WTA Tour
Exclusive Top Rank Boxing and Friday night AEW Rampage coverage
And more
TSN+ even includes exclusive access to the remarkable on-demand library boasting over 200 titles, encompassing the 30 for 30 and Uninterrupted and more documentaries and features from TSN, ESPN, and HBO.
TSN+ is available for a limited-time free preview and is streaming on Samsung Smart TVs, at least at the time of writing. Keep an eye on TSN's website and social channels for more details on plans and pricing in the coming weeks.
How to Watch TSN on Samsung TV?
Assuming your particular Samsung Smart TV model is supported, use these steps to download the TSN app:
Press the Home (house symbol) button on your Smart Remote, then navigate to the Apps tile among the installed apps row.
Click the Search (magnifying lens) icon at the upper-right corner and search for TSN by typing the app's name.
Once you're on the app's detailed info screen, select Install. TSN should begin installing, assuming you don't get the prompt to log in to your Samsung Account.
Finally, select Add to Home, after which you can launch the TSN app from your Samsung TV's Home screen apps row.
You'll also have to sign in to the TSN app to access its live and on-demand sports content on your Samsung TV. Here's how:
In the TSN app, select the Profile icon at the top-right corner, then click Sign In. The next screen will provide you with an activation code with steps to follow.
Browse to tsn.ca/activate from your computer or mobile web browser and submit the activation code shown on your TV.
Next, enter your TSN account email and password and choose Continue to sign in.

If you haven't registered for an account or subscribed to TSN/TSN+, select "Subscribe now" at the bottom and follow the on-screen prompts.
Those paying for TSN through a TV provider, select "I'm a TV SUBSCRIBER" and sign in with your respective provider account details.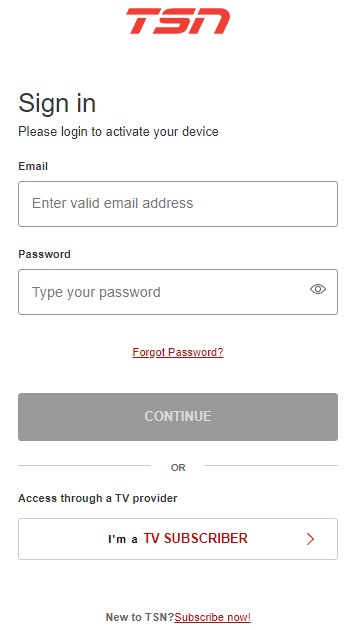 You should see a "Success" message upon successful login. You may now return to your Samsung TV and start watching the live streams of your favourite sports and all the on-demand content your TSN or TSN+ subscription offers.
In Summary
With TSN on Samsung Smart TV, expect an immersive experience with wall-to-wall coverage of all major sports leagues. Whether you're a die-hard sports enthusiast or a casual viewer, a TSN Pass or TSN+ subscription delivers unparalleled access to the sports you love right on the big screen, including the NHL, CFL, NBA, NFL, MLB, XFL, NASCAR, F1, PGA, UFC, NCAA, and more.