One of the widely used home theatre systems is the Panasonic TV. But Panasonic TVs can malfunction just like any other TV. For instance, while your Panasonic TV is in standby mode, the LED light on the TV blinks red, but there is no sound or picture. The LED, however, lights a different colour when the TV is turned on. Your TV occasionally displays images but no audio. While it may provide music, there is no visible image. Another circumstance is when the Panasonic TV does not produce either sound or picture. These issues each have unique root causes.
Own a Panasonic TV yourself? If you own a Panasonic TV or any manufacturer, you should know the fundamental troubleshooting procedures for any issue. In this article, we will show you how to fix Panasonic TV Black Screen, No Picture Problems in easy ways. Continue reading to learn more.
How to Fix Panasonic TV Black Screen & No Picture Problems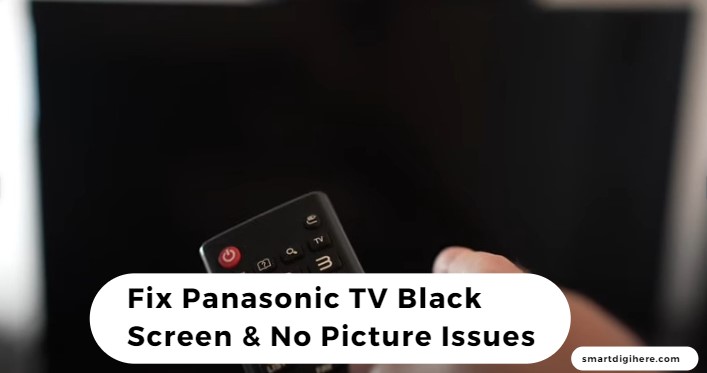 Panasonic TV Has No Picture? How to Fix?
There are only two solutions if there is no picture on your Panasonic TV, regardless of the station you are watching.
Hard reset the device.
Switch out the circuit board.
It would erase any transient errors from the TV's memory after a hard reset. If you can get the picture, running a factory reset to stop it from happening again might be worthwhile.
A technician must replace or fix a damaged circuit board. This is done for free if your TV is still covered under warranty.
If your TV displays images on all channels but one (or a few), the issue is more likely with the connection. To begin with, confirm that you are using the channel that matches your device's port. For instance, to see the device connected to the "HDMI 1" port, choose "HDMI 1" from the source option.
Check to see if the cable is loose once you are certain you are on the correct input channel. Additionally, you have the option of trying a new cable or port. Ensure the channels are tuned, and the antenna is positioned correctly if the satellite TV is the source of the problem.
You should conduct a hard or factory reset on the TV if none of these fixes works.
Related Guide: 8 ways to Fix Blue Tint On TV Screen
Factory Reset Panasonic TV (Step-by-Step Video Guide)
What Should I Do If My Panasonic TV Screen is Black, But There is Sound?
Your TV can go black while still making a sound. Try restarting the TV to see if it resolves the issue.
If restarting the TV doesn't work, your TV's power supply is probably broken.
A damaged capacitor that frequently occurs during power surges is responsible for the harm to the power supply. To avoid damage, you are strongly advised to use a surge protector with your TV.
It would be better at this time to have a certified technician examine your TV and replace any broken parts.
Recommended Reading: Why does My TV Say WiFi is Connected but no Internet
Why Is My Panasonic TV Screen Half Black?
Suppose the screen panel on the PANASONIC TV (or any other TV, for that matter) is shattered and damaged. Consequently, the repair is never cost-effective. The screen panel makes up 90% of the value of a television, but then when labour costs are factored in, replacing a screen is never economically feasible.
Before calling for service, ascertain whether the attached TV, cables, and peripheral devices cause the problem. Poor broadcasting signals and panel and main board issues are two common causes of half-screen displays.
A bad HDMI cable, bad backlights, or interference from connected external devices can all contribute to one side of a TV screen being too dark. Backlight malfunctioning is the most frequent cause. These lights can only be partially lighted on one side, making that side of the screen look black.
Your digital box's power cord must be unplugged; you must wait 30 seconds before plugging it back in. Check to see if the picture has appeared once the box has fully powered back on. If it doesn't work, you may attempt an HDMI handshake if your TV is linked to one through an HDMI connection.
Check out: Fix Pink Screen on LG Smart TV
More Solutions to Fix Panasonic TV Black Screen Problem (Video Guide)
FAQs
How can I fix my Panasonic Viera's red flashing light?
Try a power reset first. After turning off the TV, unplug the power cord from the outlet and turn off the TV. Next, hold down the TV's power button (or switch) for 30 seconds before letting go. Reattach the electrical cord to an outlet, then turn on the outlet.
Why does my TV's power light blink?
While the TV is on, either solid or blinking:
The television is powered on if there is a solid Green or White light at the front of the device. When you push a button on the remote control, a Green or White light will blink to indicate that the TV has received the signal. This feature is absent from some televisions.
What is the functioning of Panasonic TV Anywhere?
While away from home, you may view live or recorded TV shows on your smartphone or tablet using the TV Anywhere/TV Anytime feature on a Panasonic VIERA or recorder. In addition to watching, you may also record TV shows from outside your home on a timer.
Why are there 7 red blinks on my Panasonic TV?
Seven blinks signal a failing SC, SU, SD, or all three boards. According to my tech, this results from heat buildup caused by a heat dispersal system (heat sink) that is not designed properly.
Conclusion
It can be very irritating to figure out what went wrong and how to fix a Panasonic TV Black Screen and No Picture issues. Getting a service professional to fix every issue can be expensive and time-consuming. This article lists some of the most frequent problems users have with Panasonic TVs and how to fix them on your own.