The anticipation for the NFL 2023-24 season is palpable, and the excitement is building like never before. Professional football in the United States has become a cultural phenomenon, captivating fans from coast to coast with its electrifying displays of athleticism, strategic brilliance, and unforgettable moments that can shape the destiny of teams.
With an LG Smart TV, you can witness spectacular catches, bone-crushing tackles, and game-changing touchdowns from the comfort of your living room, all at the touch of a button. Gone are the days of being tied down to cable packages, as the power of webOS unlocks a new realm of possibilities for NFL enthusiasts.
The kickoff is just moments away, and you don't want to miss a second of the action. Get ready to dive into the thrilling world of pro football with our ultimate guide to watching NFL on LG Smart TV, where we explore many viewing options and highlight streaming services that bring the gridiron to your big screen.
US Channels Airing the NFL 2023 Games
The NFL regular season consists of 272 games spanning 18 weeks. Like in previous years, the 2023 NFL coverage takes place across several television networks, including CBS, FOX, NBC, ESPN, ABC, and the NFL Network. It's likely to continue till the 2023 season with NFL's recent 11-year media deal.
The networks listed above continue to feature their exclusive NFL coverage for the 2023 season. CBS covers AFC games, Fox covers NFC games, ESPN hosts Monday Night Football (with some simulcasts on ABC), and NBC continues airing Sunday Night Football.
The following networks have the right to air the games on their Spanish-language channels, such as Fox Deportes, ESPN Deportes, Telemundo, and Universo.
NFL Network continues to broadcast a selection of regular-season matches, mainly focusing on late-season Saturday games and the International Series, just as they have done in the past.
Where to Watch NFL on LG Smart TV?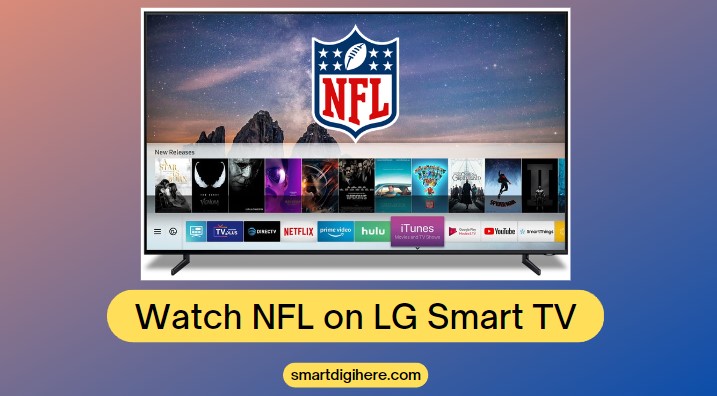 With the advent of services like Netflix, Hulu, and Prime Video, streaming has revolutionized how we consume movies and TV shows, and sports are no exception. With the streaming magic, you gain access to a treasure trove of live NFL football streams, highlights, analysis, and exclusive NFL content –- all on your LG Smart TV.
For Existing Cable/Satellite Subscribers
Before we dive headfirst into the subscription-based streaming picks, let's explore the options for existing cable, satellite, and digital TV subscribers. If you get the channels airing the NFL games with your current TV plan, there's a way you can utilize it to stream them online on your LG Smart TV – and that's the TV Everywhere apps the networks offer.
For example, you can tune into FOX's NFL 2023-24 seasonal coverage via the FOX Sports app live and on-demand, plus every other sports and studio show airing on FOX, FS1, FS2, and Fox Deportes. The app is compatible with 2020 and newer LG Smart TV models running webOS 5.0 and above.
Similarly, you can stream CBS's AFC match-ups on CBS Sports, including the pre and post-game coverage, plus 24/7 live news and highlights via CBS Sports HQ. The app is available for 2018 and later models (webOS 4.0+).
Both the above apps require authenticating your TV provider. With the list of supported providers spanning a few pages, you should have no problems signing in with your provider, provided you get the channels with your rolling plan.
You can catch Sunday Night Football on the NBC Sports app and Monday Night Football streams on the ESPN app. Although unavailable for webOS, with an iPhone/iPad and an AirPlay-enabled LG TV, you can download the following apps on your Apple device, log in with your TV provider, and cast the NFL streams to your big screen via AirPlay.
For Cord-Cutters
Cut your cable a long time ago? It doesn't matter – you can still enjoy streaming the NFL on your LG Smart TV, thanks to over-the-top live TV services like FuboTV, Hulu with Live TV, Sling, and YouTube TV.
Hulu + Live TV is your best option for streaming the nationally-airing NFL regular season games. Its 85+ channel lineup includes the entire suite of pro football broadcasters: ABC, CBS, FOX, ESPN, NBC, and the NFL Network. Additionally, you're getting unlimited cloud DVR, up to two device streams, and complimentary access to the Disney Plus and ESPN Plus streaming offerings.
YouTube TV is the closest alternative to Hulu Live TV, with a slightly broader channel list featuring all the networks airing local and national NFL games, unlimited space for live TV recordings, and up to three streams shared across six household accounts.
The main reason to go with YouTube TV over the latter is its optional NFL Sunday Ticket offering. Previously exclusive to DIRECTV subscribers, this premium sports package lets you catch your favorite teams' out-of-market Sunday afternoon match-ups otherwise blacked out on your local channels.
Note:
NFL Sunday Ticket is available separately via YouTube Primetime Channels for those interested only in the out-of-market NFL coverage.
If you're looking for the cheapest streaming TV plan for watching the NFL games, Sling TV's Orange is a solid pick. However, it doesn't include CBS and the NFL Network, so you'd miss out on their National Football League broadcasts.
Live TV Services
Recommended Plan
NFL 2023 Broadcasters (US)
CBS
FOX
NBC
ESPN
NFL Network
FuboTV
Pro
✔
✔
✔
✔
✔
Hulu
Hulu + Live TV
✔
✔
✔
✔
✔
Sling
Sling Orange
✖
✔
✔
✔
 ✔*
YouTube TV
Base
✔
✔
✔
✔
✔
*not included with Sling Orange. NFL Network comes with Blue and the combined Orange & Blue plans.
All the above live TV apps are available for LG webOS TVs. However, before you subscribe, make sure to verify which channels are available in your area by visiting the provider's site (e.g., hulu.com/live-tv, sling.com, tv.youtube.com) and entering your zip code.
More Streaming Options!
Looking for more NFL streaming options? Here are a few other choices for you to watch the NFL on LG Smart TV:
With Paramount+, you can watch your local NFL on CBS match-ups, including the Thanksgiving and Christmas Day games.
Peacock's Premium subscription will give you access to about a dozen Sunday Night Football matches during the 2023-24 season, with the option to switch between English and Spanish commentaries.
Amazon Prime Video is the streaming home to 16 Thursday Night Football games (and a single pre-season match-up), with live in-game states through the X-Ray feature. Accessible to Amazon Prime members and standalone Prime Video subscribers.
ESPN Plus is where you can catch select MNF games and Monday Night Football with Peyton and Eli single NFL International Series game. Available as a standalone monthly/annual plan and bundles. [Requires streaming over AirPlay on LG Smart TVs]
Watch NFL 2023 on LG Smart TV For Free
You can watch NFL 2023 games on your LG Smart TV for free by setting up a digital indoor/outdoor antenna. Under ideal conditions, it should let you access your local ABC, CBS, FOX, and NBC affiliate stations airing numerous NFL games throughout the season, including the playoffs and the Super Bowl.
To determine the available channels in your particular location, use FCC's DTV Reception Map tool. While a high-quality digital antenna like this one requires an initial investment, it'd serve you well with free, uninterrupted professional football coverage in the longer run. Plus, you can enjoy an array of other popular American sporting events, including the NBA, NHL, MLB, etc.
If installing an antenna isn't feasible, you can still explore the possibility of utilizing the free trial promotions streaming television services like FuboTV or YouTube TV frequently offer for new subscribers.
Touchdown
Get a head start on planning your next NFL watch party because it's never too early to dive into a world of touchdowns, rivalries, and heart-stopping moments. With our ultimate guide to watching NFL on LG Smart TV, we hope you have a great time witnessing another year of great NFL plays from your favorite teams and players.