Dolby digital vs Dolby digital plus: What's the difference? Surround sound plays a crucial role in any home theater setup. In fact, there are several surround sound formats available, with Dolby Digital and Dolby Digital Plus being the most familiar options. Dolby Digital EX is also a part of the family, but it isn't as relevant as the other two.
Chances are you've heard about these two Dolby sound technologies before. And since you're reading this, you seem interested in learning more about them in detail. Lucky for you, our "Dolby Digital Plus vs Dolby Digital" comparison guide has everything you will ever need to know about the following surround sound formats.
What's Dolby Digital?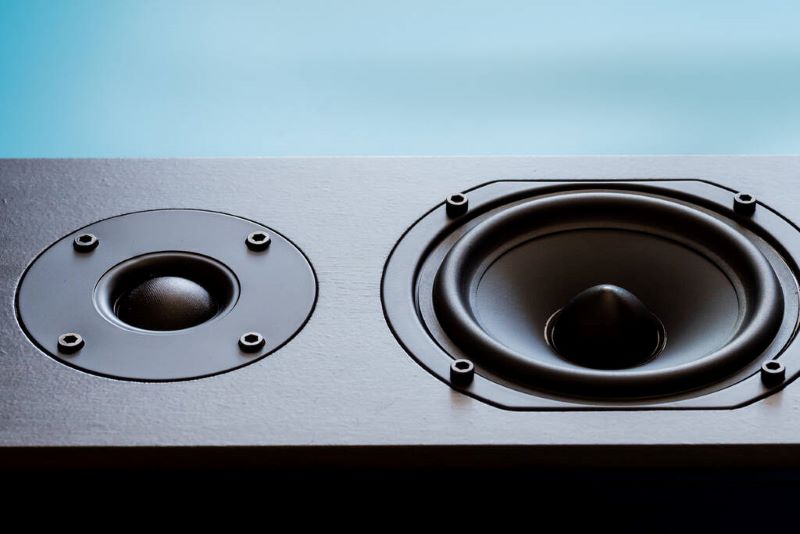 Dolby Digital, formerly known as Dolby Surround AC-3 and Dolby Stereo Digital before, is a digital audio coding system introduced in the late '90s. Initially designed and developed for DVD and Blu-ray and then making its way to 4K Blu-ray, it's now available for TV broadcasts and streaming content.
Dolby Digital offers efficient transfer for compressed audio signals, with up to six discrete channels for a compatible AV receiver to decode and distribute to one or more speakers. Nearly every modern home theater receiver has an integrated Dolby Digital decoder handling the tasks. All DVD, BD, and UHD-BD players use "Bitstream" technology to pass the Dolby Digital signals through compatible receivers.
Most companies commonly refer to Dolby Digital as a 5.1-ch surround sound system. But the term refers to the digital audio coding standard and not the number of channels it has. You can also check out the different Dolby Digital channel configurations below.
2-Channel: It uses two normal-range speakers, one on the left and the other on the right. It provides front-firing stereo audio to the listener.
4-Channel: In this quad-speaker arrangement, one speaker pair sit on the left and right sides in front of the listener. The other pair also sit on the left and right sides but is slightly behind the listener this time.
1-Channel: The most common use of Dolby Digital involves five channels of speakers (left, center, right, left surround, right surround) and a single subwoofer, hence the term "5.1."
The five channels for "normal-range" speakers have 20 Hz to 20 kHz allotted audio, and the one subwoofer channel drives 20 Hz to 120 Hz audio. Dolby AC3 supports up to 48 kHz audio sample rates.
What's Dolby Digital Plus?
Dolby Digital Plus or DD+, also known as Enhanced AC-3, is a high-definition, digital audio coding format that supports up to eight (7.1) channels of surround sound decoding. The channel configuration includes seven normal-range speakers (front left, front center, front right, left surround, right surround, left surround back, right surround back) and a subwoofer.
In contrast to Dolby Digital, Dolby Digital Plus offers a higher maximum bitrate (from DD's 640 kbit/s to 6.144 Mbit/s), support for more discrete audio channels, and improved coding methods to lower compression artifacts. Though E-AC-3 is incompatible with existing AC-3 (Dolby Digital) hardware, it can transcode to AC-3 for receivers connected over S/PDIF.
It includes a DD 5.1 substream backward-compatible with regular Dolby Digital receivers. It means a 7.1-ch audio track downmix to 5.1 when using a 5.1-channel receiver. Here, the left and right surround back channels combine with the left and right surround channels.
Dolby Digital Plus is also one of the many audio formats utilized for Blu-ray Discs. Publishers use it to graft additional channels onto an existing 5.1 AC-3 audio stream and for mixing bonus director's commentary or descriptive audio with the primary tracks.
Other applications for DD+ include streaming content and HDMI audio. It's also integrated into the newer versions of Windows (10 and 11) and the Microsoft Edge browser and works natively on the latest Apple devices.
Read – What is SPDIF & Optical?
Dolby Digital Plus vs Dolby Digital: Side-by-Side Comparison
Let's begin the side-by-side comparisons of Dolby Digital Plus and Dolby Digital technologies with what they support and what they don't:
| | | |
| --- | --- | --- |
| | Dolby Digital Plus | Dolby Digital |
| 2-ch (Stereo) | ✓ | ✓ |
| 5.1-ch | ✓ | ✓ |
| 7.1-ch | ✓ | ✕ |
| Dolby Atmos | ✓ | ✕ |
| Lossless | ✕ | ✕ |
| S/PDIF | ✓ (via transcoding) | ✓ |
| HDMI ARC | ✓ | ✓ |
| HDMI eARC | ✓ | ✓ |
Apart from 7.1-ch support, the biggest difference is DD+ recievers can decode Dolby Atmos bitstreams. However, it isn't lossless and has a maximum bitrate of 768 kbit/s due to the limited bandwidth and lack of processing power. Legacy Dolby Digital decoders can't play even the lossy variation of Atmos bitstreams.
And for packaged media formats like HD DVD and Blu-ray, here's how the Dolby audio codecs compare:
DVD (HD)
Blu-ray
Channels
Max Bitrate
Channels
Max Bitrate
Dolby Digital+
1 – 7.1
3.024 Mbit/s
6.1 – 7.1
1.664 Mbit/s
Dolby Digital
1- 5.1
448 kbit/s
1 – 5.1
640 kbit/s
As you can see, DD+ offers higher audio bitrates over DD for both HD DVD and Blu-ray. Hence, you get improved audio fidelity and reduced compression artifacts with Dolby Digital Plus.
You may Like – Does Waze work on Apple Watch?
Comparing Dolby Pulse vs. Dolby Digital Plus
Final Words
This is where we wrap up this detailed comparison of Dolby Digital Plus vs Dolby Digital. In summary, DD+ gives you not only better audio quality than DD but also up to 7.1 channel surround sound. Furthermore, it can have the lossy variant of Dolby Atmos stream embedded in it. Thanks for reading this article, keep visiting smartdigihere.com.