Having a Sky Glass is the same as having a 4K QLED TV hooked up to a Dolby Atmos sound system and a Sky Q box. Except the only thing you need is the TV and an internet connection – no satellite dish or set-top box. The setup process is also relatively effortless.
Of course, it seems impractical (and pricey) to buy Sky Glass for every room if you want Sky's IPTV and streaming offerings other than in your living room. Sky has a solution, and it's the Sky Stream Puck. Here's everything you need to know about Sky Glass Multiroom.
How Does Sky Glass Multiroom Work?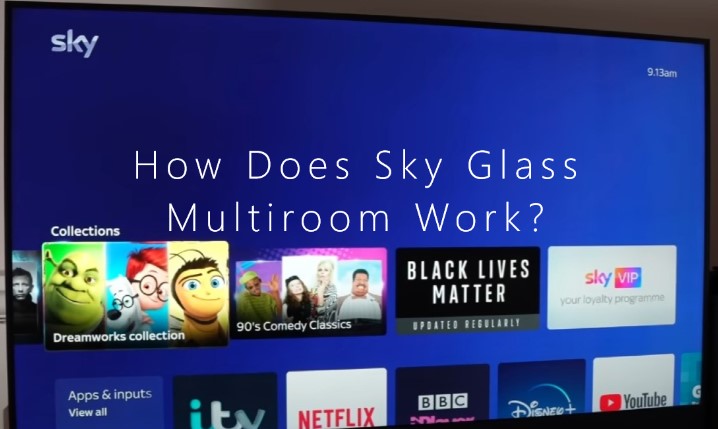 Multiroom allows users to watch the channels and on-demand content they enjoy on Sky Glass but on other TVs in the household. It's achieved with a Sky Stream Puck, a separate streaming box powered by the same Entertainment OS as the Sky Glass. It's like how Sky Q Mini boxes enable multiroom with Sky Q.
In order to watch on multiple Sky Stream Pucks, you must have a Sky Glass linked to your account and pay monthly for the Whole Home multiroom subscription add-on. Of course, you'll also have to purchase the Pucks separately for £50 a unit, with a maximum limit of six per household.
Suppose you have a standard TV in your bedroom or five other rooms. In that case, the Sky Stream Puck will let you access your Sky TV package on those TVs if you have your Sky Glass in the living room downstairs.
With the Sky Ultimate TV and Whole Home package on Sky Glass, you can watch Sky on up to three Sky Glass TVs (if you want to) or six other TVs via Pucks. Sky's pricing is unnecessarily complicated. The subscription price you'll be paying every month will vary depending on your setup.
One downside is that the Sky Steam Puck will cease to function if you cancel your Sky TV subscription (Ultimate TV + Whole Home) and use your Sky Glass as an ordinary television. Access to TV apps like BBC iPlayer, ITVX, and Netflix won't be available either.
It's worth mentioning that while both Sky Glass and Sky Stream are 4K-capable, you'll need the Sky Ultra HD & Dolby Atmos monthly subscription to watch Sky content (Sky Entertainment, Movies, and Sports) at that mentioned quality.
For an optimal Sky Glass multiroom experience, Sky recommends a minimum of 30 Mbps internet connection. Streaming Ultra HD content will require even faster internet speeds.
What's the Sky Stream Puck?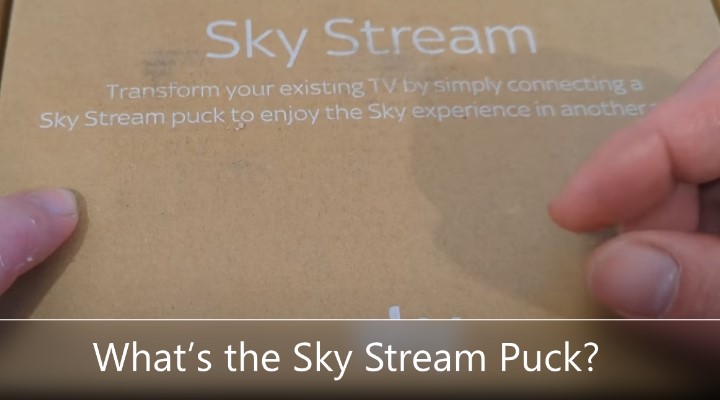 Sky Stream Puck is what enables multiroom with Sky Glass. It's a palm-sized, internet-enabled streaming box, allowing you to enjoy Sky's streaming channels and on-demand programmes on any TV in your home other than the Sky Glass. Once again, no satellite dish is required.
Sky Stream doesn't limit your viewing experience, unlike the Sky Q Mini boxes. It features the same interface as Sky Glass, its "Playlist" feature, and personalised content recommendations.
The device also supports 4K HDR / Dolby Atmos playback (only when paired with a compatible TV and soundbar), meaning it lets you stream the same content on your preferred screen to the primary Sky Glass TV.
The Puck even comes with a voice-enabled Sky remote identical to that of Sky Glass. However, being a plug-and-play streaming box, it doesn't enable Sky Glass-exclusive features like Glance and hands-free voice commands.
Setting up the Puck is straightforward. It hooks up to your TV via an HDMI cable and requires power from the mains. Once you connect the Puck to your broadband hub or router via Wi-Fi or Ethernet, perform the on-screen instructions using the remote, and you're all set up to watch live and on-demand TV from Sky and its partners.
Besides Sky content, you'll be able to stream from Apple TV+, Disney+, Discovery+, Netflix, Prime Video, and other UK streaming apps like iPlayer, ITVX, All 4, etc. It's just like Sky Glass but without the TV itself and, in many ways, other media streamers from Apple, Amazon, and Roku.
Here are the specs for the Sky Stream if you're interested:
Dimensions (L x W x H): 8 x 10.8 x 1.8 cm
Output Capabilities: 4K HDR (Dolby Vision) w/ Dolby Atmos
Connectivity: HDMI 2.1, Wi-Fi 6, Ethernet
Remote: Included (Voice-enabled Sky remote)
Colour: Anthracite Black
Sky Stream Explained (Video Guide)
Sky Stream Multiroom without Sky Glass
The best part is that you can now get a Sky Stream as a standalone media streaming box, even if you don't have a Sky Glass TV. It's available on a 31-day rolling plan or an 18-month contract with additional setup fees.
Having it in more than one room will need you to pay for the Whole Home pack, which gets you an additional Sky Stream Puck for free, with subsequent ones costing £40 apiece. 4K streaming with surround sound costs you extra per month for the UHD & Dolby Atmos add-on.
Is Recording Available with Sky Glass Multiroom?
Sky Q boxes come with a 1 or 2 TB hard drive to store TV recordings and on-demand programmes locally. On the other hand, Sky Glass doesn't have much storage space for backing up your favourite programmes. In fact, there's no Record button on the Sky Glass remote.
Instead, Sky has added a Playlist (+) button on the remote, allowing users to add a TV show, movie, football match, or any other programme to their playlist to watch at a later date. When the time comes, Sky streams the content from its servers or one of its streaming partners over the cloud. It eliminates the need to clean up DVR space to make room for new stuff.
Unlike Sky Q Mini boxes that require connection to the main Sky Q set-top box, Sky Stream Pucks around the house don't need to connect to your Sky Glass TV. They simply connect to the internet over Wi-Fi or Ethernet and stream the requested content from the servers.
Sky Q's "Series Link" feature auto-records the new episodes of a given TV show when they air, plus allows users to access the recordings remotely on Sky Q Mini boxes in a multiroom setup. Adding a title to your Sky Glass' "Playlist" has the same effect, though it works differently.
Let's say you add "Love Island" to your Sky Glass Playlist. Sky will auto-record the new episodes, just like with Series Link. However, it'll also go through its own on-demand catalogue and any streaming service you pay for (e.g., ITVX) to aggregate all episodes of that particular ITV show in one place for you to stream seamlessly on your Sky Glass, plus all connected multiroom devices.
So, while Sky Glass doesn't support local recording, the Playlist feature is an excellent substitute that makes on-demand viewing in a multi-room setup much easier.
Also Read: Can I Cast ITVX via AirPlay?
Final Words
Whether you're planning to buy a Sky Glass or looking for ways to get the same Sky TV experience across other screens in your home, this guide to Sky Glass multiroom discusses all you need to know.
If you already have a decent home theatre solution that you don't want to swap with Sky Glass, the standalone Sky Stream box is a great option – and it supports multiroom too.