Created for gamers as a TeamSpeak alternative, Discord has evolved into a multifaceted social platform drawing in diverse communities from different backgrounds sharing the same interests. It's a one-stop shop for social interactions among like-minded users and a hub for content of all kinds, serving over 150 million monthly active users.
With an array of features at its disposal, Discord ensures its users always have a seamless experience. It allows for chatting in individual text channels, sharing images, videos, music, and other files, engaging in voice and video chats, and even partaking in fun minigames with others.
You can join servers based on your preferences, with the sole requirement of following the rules and regulations established for each server. Can't find a server that aligns with your interests? You always have the option to create your own!
Those uninterested in joining or creating servers can also send private DMs (Direct Messages) to other users, which are visible to only you and the recipient. In fact, it's one of the vital features of Discord, and as the title suggests, this article revolves around it. Here's what happens when you close a DM on Discord.
What Happens When You Close a DM on Discord?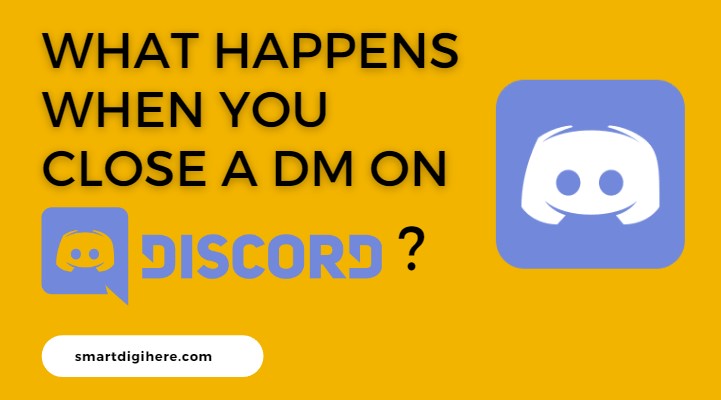 For those familiar with Discord, it's no secret that most conversations are via public and private servers. Besides, the social platform also offers a direct messaging (DM) feature, allowing you to connect privately with your buddies and other community members. It's separate from the public chats and VoIP calls on the servers.
Direct Messages are a private way for individuals to engage in conversation they otherwise can't conduct through a public text or voice channel. It works across all supported platforms, including desktop, mobile, and browser. However, not everyone's comfortable with receiving unsolicited messages from strangers, even if direct messages are a popular form of communication.
Discord is aware of it, letting users customise who can send a direct message to them from the "Privacy & Safety" settings. You may configure it to receive DMs from either added friends, server members, or all users on the platform. Alternatively, you can close a DM on Discord if you don't want to continue a private convo with a user – about which you're here to know more.
When you close a DM on Discord, all it does is remove the chat from your visible Direct Messages list. As a result, chat histories that matter to you remain organised and easily accessible in your Direct Messages menu. It offers the convenience of filtering the individuals with whom you primarily participate in active conversations.
However, remember you can always pick up from where you stopped before by sending a message to the individual in question. Contrary to popular belief, Discord doesn't auto-delete private conversations over direct messages, letting users access them easily.
How to Close a DM on Discord From Mobile / PC
Anyone using Discord for a long time is probably no stranger to situations where they've been bombarded with direct messages from various users, bots, and spammers, with unimportant chats stacking up and pushing the more important ones to the bottom of the list.
That's when you close your DMs to clean it up a bit. Of course, there are other things one can do to stop this from happening, including tweaking a few options in their "Privacy & Safety" settings and disregarding unnecessary and unwarranted texts that may arrive at any time.
But that isn't why you're here, is it? Well, we're glad to help you close DMs on Discord which are irrelevant to you. Simply follow the steps corresponding to your respective platform:
PC / Browser
Launch Discord from your desktop or visit discord.com app from your browser. Log in if you aren't already.
Once you're on the Direct Messages page, right-click on the DM (name of the user) you want to close.
Select "Close DM" in the options. Repeat the following steps for other DMs too.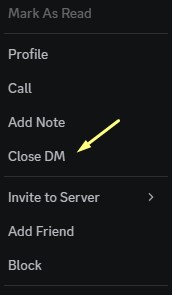 By doing so, you remove the chat history with the user from your list. Once again, it's important to note that your chat history with the user remains preserved, and you can retrieve it at any time by starting a new DM with the individual.
Mobile
Open the Discord app on your phone and tablet. Sign in if required.
Swipe right from the middle of the screen or tap the burger (≡) icon in the top-left corner to bring up the navigation bar.
Next, tap the chat bubble (?) icon at the top to open the Direct Messages page.
On the following list, tap and hold on to the DM (or the username) you wish to close.
Tap Close DM to clear the chat from your list of Direct Messages.
To stop receiving DMs from members of servers you're in, go to the Settings (cog icon on desktop/web client or profile icon on the mobile app) menu and select Privacy & Safety.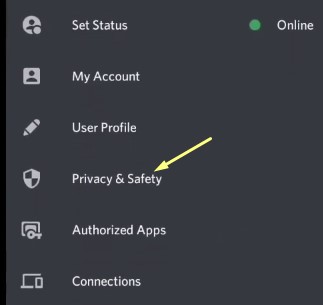 After that, scroll down to the "Server Privacy Defaults" section and disable "Allow direct messages from server members".
See Also:
To Conclude
Closing a DM with a user in Discord only hides the conversation from your current list of direct messages. Here in this article, we've discussed this topic in detail and shown how to close a DM on Discord.
With a DM "closed", your private messages with the individual will disappear from view, but the chat history remains preserved. Access the entire conversation whenever you want by clicking the "Send Message" option on their profile. It's useful when you wish to reply to a user without losing the context of the previous chat.
You may be curious if closing a DM on Discord alerts the user on the other side, but the answer is no. The sender will neither receive any notification about the closure. However, note closing the DM won't remove the chat history from their side unless they do it manually. Still, all the sent and received messages will stay intact until deleted by both parties involved.