During the regular season, CBS and FOX broadcast two NFL games each in the early and late afternoon on Sundays. They hold coverage rights from the AFC and NFC conferences through long-term contracts with the league, albeit with some blackout restrictions.
RedZone, operated by the NFL Network, provides live coverage of these Sunday afternoon NFL matches every week of the season. The channel airs from 1 PM to the end of the late afternoon games, usually around 8 PM Eastern Time; no commercial breaks or blackouts applied.
NFL RedZone is all about high-octane, adrenaline-rushing football action. The channel uses a fast-paced "whip-around" format, with host Scott Hanson continually shuffling between the games to give viewers an in-depth look at every touchdown and game-changing play from all ongoing Sunday afternoon games on CBS and FOX simultaneously.
Historically, RedZone was only available via specific cable or satellite packages, though that has changed in recent years, with the NFL being more accessible through online streaming platforms.
Whether you're torn between multiple NFL games that unfold on Sundays, struggling to keep track of your favorite teams, or eagerly chasing every magical touchdown around the league, RedZone is your go-to for non-stop football excitement. And now, with NFL RedZone on Apple TV, you can grab your virtual seat amongst the crowds. Here's how.
Watch NFL RedZone on Apple TV via the NFL App [For Existing Cable Subscribers]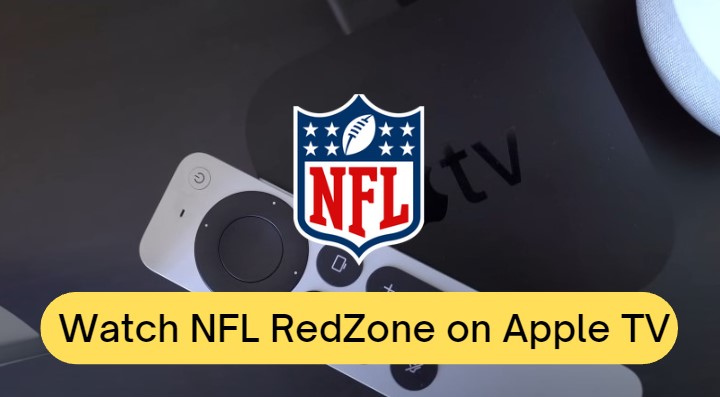 Let's say you already get RedZone alongside the NFL Network with your cable/satellite TV provider, e.g., Cox, Dish, DirecTV, Optimum, Spectrum, Verizon, Xfinity, etc. In this situation, you can download the official NFL Apple TV app (requires tvOS 15.0 and above) and log in with your provider credentials.
Provided your plan includes all the NFL-broadcasting channels, you'll also gain access to the live streams of local and primetime regular-season games, playoffs, the Super Bowl, and game audio (home, away, and national) for every match. Use these steps to get the NFL app from your Apple TV App Store:
Pick up the Siri Remote and browse to the App Store from your Apple TV Home Screen.
Scroll to the Search (magnifying lens) tab from the floating navbar at the top.
Enter "NFL" using the on-screen keyboard and select the app (from NFL Enterprises LLC) with the ever-familiar NFL emblem.
Select Get on the following App Store preview pane. Confirm your passcode if prompted, and the NFL app should begin installing.
With the streaming app downloaded, launch the NFL app from the bottom of your Home Screen apps drawer and perform the following steps to activate it with your TV provider:
Skip through the welcome prompts and select the Profile icon in the top-right corner of the app's primary screen.
Navigate to the TV Provider settings menu and click where it says "Sign in with TV Provider."
Go to nfl.com/activate from your phone, tablet, or laptop, enter the device code you can see in the NFL app, and tap Continue.

Continue through the rest of the website prompts, i.e., choosing your respective TV Provider from the list, then signing in with your provider account details.
That's it! The NFL will send you back to its Home page upon successful login. On Sundays during the regular season, you should be able to access the live NFL RedZone stream from the top banner or the "On Now & Upcoming" row.
Note you can't watch the live RedZone channel or the local/primetime games on Apple TV with NFL+ as it's a mobile-only subscription. NFL+ on connected TV devices only gets you on-demand highlights, replays, and streaming titles.
Similarly, the standalone RedZone Pass available via the NFL app is exclusive to mobile. Even AirPlay or Screen Mirroring from your iPhone or iPad won't work because of licensing restrictions.
Fortunately, you still have other ways to watch NFL RedZone on Apple TV without cable. Read on to learn more.
Watch NFL RedZone on Apple TV Without Cable
As mentioned at the beginning, National Football League is more accessible on streaming than ever before. It also applies to the NFL RedZone channel, now available via live TV providers like Sling TV, Hulu, FuboTV, and YouTube TV, all of which support Apple TV, among other streaming media devices and smart TVs.
Sling TV is the cheapest in the bunch. It offers NFL RedZone as part of the Sports Extra add-on when added to the Blue or Orange & Blue base plan. And depending on your subscription and market, you get access to your local ABC, FOX, and NBC stations and ESPN, meaning you can enjoy even more of the NFL season.
Sling Orange with Sports Extra doesn't get you NFL RedZone. Newcomers can get the first month of their Blue or Orange & Blue subscription at half the price.
Next up is Hulu + Live TV, an all-in-one streaming bundle carrying over 90 US networks. It includes ABC, ESPN, CBS, FOX, NBC, and the NFL Network, providing extensive football coverage on its own. And for those interested in NFL RedZone, it comes with Hulu's Sports Add-on.
Besides TV channels and Hulu and Disney+ on-demand libraries, the above plan also bundles ESPN+, home to Monday Night Football.
RedZone on YouTube TV is available with the Sports Plus channel add-on. The Base Plan boasts over 100 channels and features all the American networks airing the NFL, ensuring your access to every in-market and national game.
The only reason to choose YouTube TV over either of the above options is its NFL Sunday Ticket offering, a seasonal purchase that'll let you tune into every out-of-market game, free from RedZone's whip-around format, with exclusive features like Multiview, Stats View, and unlimited DVR recording.
NFL Sunday Ticket and RedZone come as a bundle if you still fancy watching the in-depth simulcasts now and then. It's also a standalone YouTube Primetime Channel, which you can subscribe to via the standard YouTube tvOS app.
It's worth mentioning that all the above services are on the list of the NFL's participating TV providers. Therefore, you can use your streaming account to sign into the NFL Apple TV app (as shown in the previous section) and enjoy the RedZone football streams from there.
Related posts:
Overtime Thoughts
That's everything we can tell you regarding NFL RedZone on Apple TV. Gone are the days of paying for RedZone through traditional pay-TV providers; you can enjoy seven hours of non-stop, uninterrupted NFL Sunday afternoon football over streaming on your favorite TV devices.
Of course, NFL fans take their Sunday setup very seriously, even when they're not in the US. For those die-hard football enthusiasts, NFL Game Pass remains an option for tuning into the RedZone simulcasts, along with every regular and postseason game live, full game replays, highlights, original programs, and more.
DAZN, the premier global sports streaming service, is the official distributor of the NFL Game Pass in select countries. Provided you can get it, it's a matter of downloading the DAZN app on your Apple TV, signing up for the subscription, and logging in.